After receiving widely-positive response to Kaye Communications Founder and Chief Strategist
Bonnie Kaye
's opening remarks as Emcee at the July
Greater Boca Raton Chamber of Commerce
Monthly Membership Breakfast, we are proud to share them below:
Kaye Communications
(KCOM) is your Seriously Strategic!
℠
Communications "Think Tank"
and award-winning leader in regional and national public relations and integrated marketing. Below are Bonnie's opening remarks from the Chamber Breakfast at Woodfield Country Club sponsored by Florida Atlantic University, with spirited presentation by Dr. Patrick Chun, FAU Director of Athletics.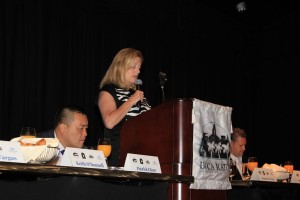 Good morning, I am Bonnie Kaye, founder and chief strategist at Kaye Communications Integrated Marketing & Public Relations, a board member of the Boca Raton Chamber of Commerce and Instructor of the Young Entrepreneurs Academy (YEA!).
July is a very important month in the business cycle. To use a football term appropriate for today's program, July marks the official 2013 halftime for our businesses… it is the critical time for planning your end game.
So to borrow from a proven educator — Sesame Street, I am dedicating this morning to the letter "P"…the Kaye Top 10 P's to get you in shape for a victorious championship.
1)
Always start with

Passion

…It's a defining game-changer!
2) Plan well
. To empower your brand, you can't leave it to chance!
You need to be Seriously Strategic!
℠
3) Be Pre-emptive
. Remember to prepare for the unexpected as it will happen and you want to be penalty-free.
4) Be Progressive
. In this fast-paced world, tomorrow arrived yesterday.
5) Be Precocious
. Ask questions because questions often lead to
6) Be Prophetic.
Remind yourself of your vision and mission every day as you plant the seeds for next stage of growth… don't be afraid to re-invent or make revisions if the business-scape requires.
7) Be Protective
.
You've
worked hard to get where you are; protect what you have as you take risks to grow and expand.
8) Be Proud
… but not so proud you don't ask for counsel or help.
You want to surround yourself with those smarter than you!
9) Actively Promote
what makes your brand authentic to the right
people (key niche audiences).
10) Pay it forward!
Make vital private-public partnerships that make your community strong. Participate in Boca Chamber Festival Days, Golden Bell Scholarship Fund, and Young Entrepreneurs Academy (YEA!).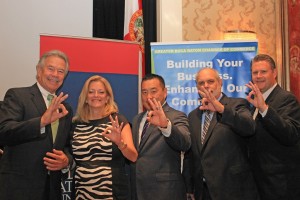 Make the most of your halftime
…its the perfect time for planning your end-game, enlisting experienced coaches (strategic "Think Tank" advisors), cheerleading your brand, engaging with your fans and rallying new ones to drive greatness. It's a perfect time to "Buy Chamber!"