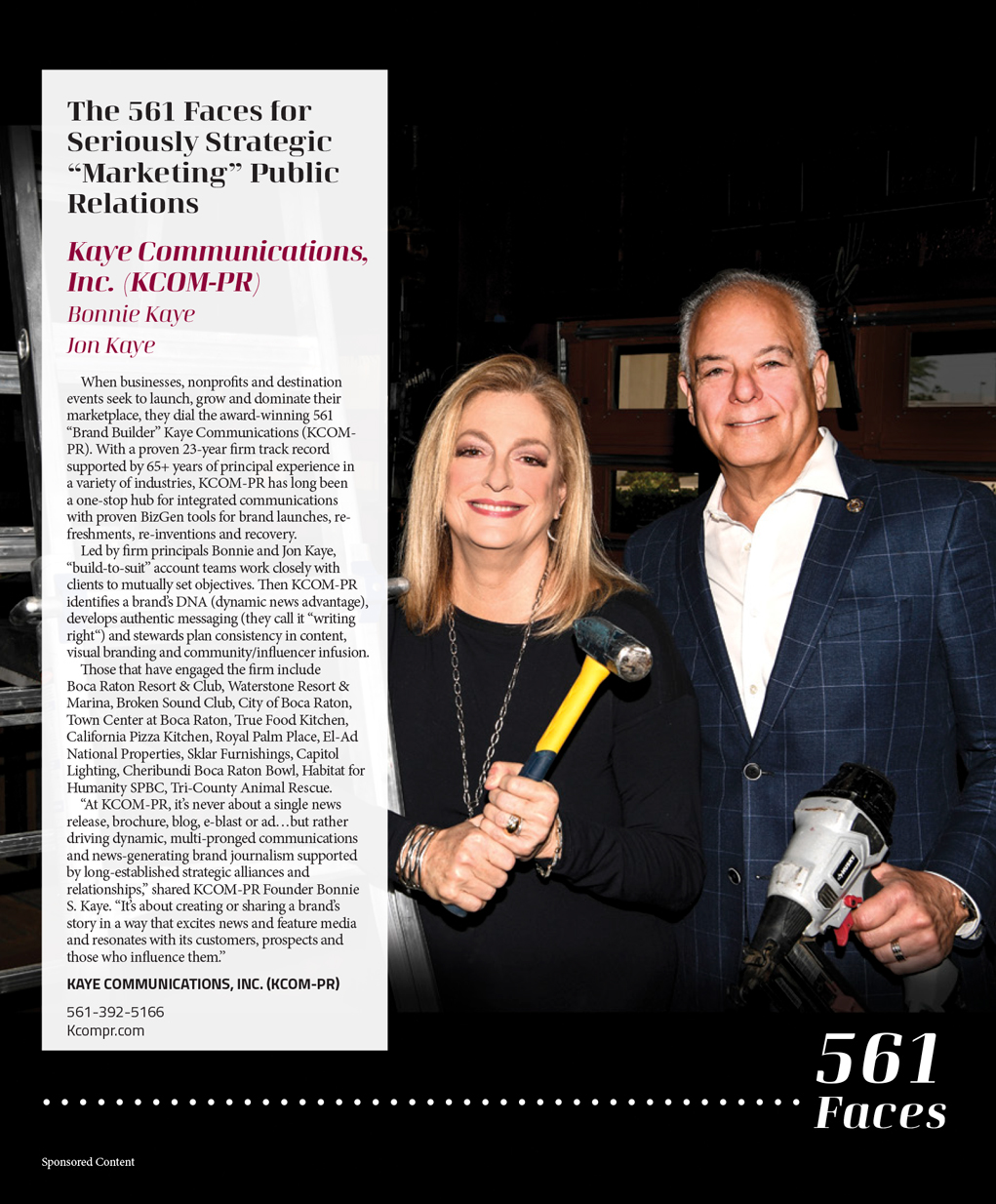 Profile
Headquartered in South Florida, Kaye Communications, Inc. (KCOM) designs and
implements Seriously Strategic!℠ regional and national broad-based communications programs for corporations and entrepreneurial ventures; healthcare providers; hotels/resorts/private membership clubs; residential and commercial real estate developers; retail, mixed-use, lifestyle and downtown destinations; purveyors of upscale consumer products and services; professional service firms; entertainment and cultural arts venues; special event producers and government agencies. Specialties include brand communications development and multi-channel activation, re-visioning and reinvention initiatives; consumer and business-to-business marketing; crowd and fan raising public relations programs; media relations; reputation management and crisis communication; mission-critical introductions and alliance-building and community engagement.
Our seasoned management and creative teams reflect an "expert blend of wisdom and youth" with a broad professional history that demonstrates first-hand understanding of both in-house corporate communications and public relations/marketing agency counsel.
Active in business and nonprofit communities, Kaye Communications, Inc. is a member of the Boca Chamber of Commerce with principal Bonnie S. Kaye having served on its board of directors for six years and as an instructor for the initial three years of its YEA! program for young entrepreneurs from seventh through 12th grades. She currently serves on the Chamber's Tourism Committee.
Known as Community Connecteurs℠, principals Jon Kaye and Bonnie Kaye have held leadership roles on several boards and on committees, including the Florida Atlantic University Foundation Charles E. Schmidt College of Medicine at FAU (Jon as a founding member of Dean's Advisory Board, KCOM presented 13 consecutive White Coats-4-Care fundraisers, and co-chairs of inaugural "Your Medical School" Scholarship Gala); March of Dimes (co-chairs of record-breaking Signature Chefs event), Boy Scouts of America (co-chairs of record-breaking Distinguished Citizen Luncheon), Florence Fuller Child Development Centers (Bonnie is a former board member); League for Educational Awareness of the Holocaust (both served terms as board members and inaugural gala co-chairs), Nat King Cole GENERATION HOPE, etc.
In addition to serving as a Community Captain for the Boca Raton Bowl, after his membership for 6 years of the Rotary Club Boca Raton, Jon was a founding member of Rotary Club Downtown Boca (2012) and served as its president (2015-2016), He developed and co-chaired and KCOM-PR produced the Club's inaugural Boca Raton Mayors Ball that has become an annual sell out event raising funds for health and wellness of area nonprofits. As Fund Board Chair (2016-2017). He spearheaded the development of the organization's Service Above Self (SAS) grant program.
Bonnie currently serves on the executive board of the ESPN Boca Raton Bowl, and has served on the advisory board the Dorothy F. Schmidt College of Arts & Letters and served for five years on the board of the Adolph & Rose Levis Jewish Community Center.
Actively inspiring hundreds of companies to engage in public/private partnerships as a best practice, Kaye Communications has also supported Tri-County Animal Rescue, Boca Raton's Promise: BOCA BRAVE Campaign, American Cancer Society, Spirit of Giving Network, Nat King Cole Generation Hope, American Association of Caregiving Youth, Centre for the Arts at Mizner Park (as a founding sponsor and advocate), Boca Raton Historical Society, Palm Beach International Film Festival, the School District of Palm Beach County, and the Pet Protection Foundation through firm commitment and in building public/private partnerships.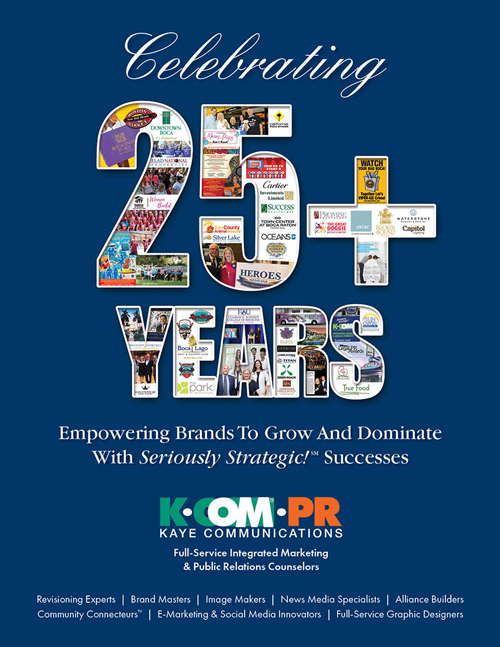 The KCOM Difference
As a client, you'll find:
we are a convenient, full-service, one-stop creative communications hub and brand manager to ensure consistency of messaging and activation, including visual and content development, business intelligence, graphic design and video capabilities.
our "firm-in-the-field" approach supported by our business generation (BizGen℠) collaborations and communications tools do not limit our talent pool to those who must reside within a 30-minute drive from our office.…decades before remote work trended per the pandemic.
our flexible "build-to-suit" business model ensures clients have the best strategists, account teams, content experts and brand journalists focused on their brand mission.
we are accessible 24/7, structured to be on-call to support clients in all time zones, capture a timely "news opportunity" or diffuse a crisis.
with firm principals at the helm of every account, our proven track record demonstrates we are "in it for the long haul," ideally poised to handle both short-term and multi-year phased-in projects.
our candid counsel has often prevented costly tunnel vision, brand misperceptions, litigation, non-results-oriented activities/initiatives, and thus related expenses.
our firm's own investment (in time, memberships, board and committee participation, sponsorships, etc.) in the South Florida community results in immediate and effective interfacing and positioning for our clients.
we have an impressive working knowledge and understanding of the regional and national consumer, business, healthcare, hospitality, real estate, social, nonprofit, government and media communities.