Excellence
GREATER BOCA RATON CHAMBER OF COMMERCE
"Small Business Leaders of The Year"

(2023)

Boca Chamber selected KCOM-PR principals Bonnie and Jon Kaye as the Chamber's 2023 Small Business Leaders of the Year. In front of 300 of their business peers, including government officials, prominent business leaders, influential community members, media and supporters and partners the Kayes were awarded for "their industry achievements and for making public/private partnerships a priority cornerstone of their day-to-day business operations, long before it was adopted as a standard "best practice" of community engagement or corporate social responsibility. In doing so, these 'community connecteurs' set the standard for greater community engagement, encouraging clients and businesses and nonprofits to follow suit. Jon and Bonnie Kaye's unwavering commitment, perseverance, and philanthropic support have made them pillars of the Boca Raton business community. Through their "seriously strategic" 25+ year track record, demonstrated expertise, established relationships, hard work, diligence, and innovative news-generating strategies, Jon and Bonnie Kaye have elevated their clients, Boca Raton's iconic assets, while taking their PR & Marketing agency to great heights, setting an inspiring example for aspiring entrepreneurs."
"As PR & Marketing professionals whose sole mission is to put other brands in the spotlight, we are humbled to receive this coveted spotlight…and now added to the roster of so many past awardees whose brands we have represented and/or collaborated with for 27 years, "shared Bonnie Kaye during their acceptance speech.
BERNAYS AWARD FOR PR & MARKETING EXCELLENCE:
Best PR Campaign by a Small Company or Firm
Inaugural Moms & Pups "Bark & Brunch"

to
Benefit Tri-County Animal Rescue
(2022)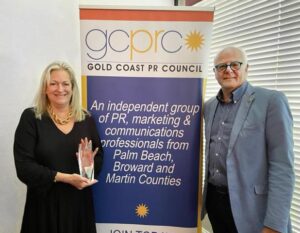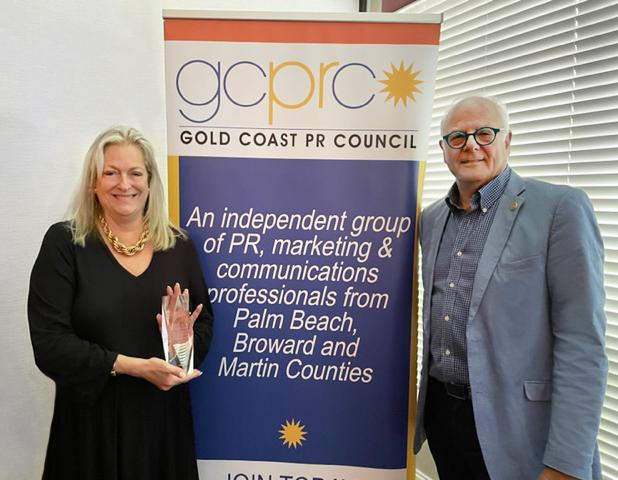 With so many COVID-19 nonprofit needs taking priority at the time for 15+ months with extensive media attention, TCAR needed to create a news-generating springboard fundraiser to amplify awareness of yet another vulnerable population: families of pets who were desperately in need of vet care but were financially forced to neglect care or even gut-wrenchingly surrender pets.
This Bernays Award recognized KCOM-PR for its event ideation, strategy, production, community relations and media relations for the sold-out inaugural Moms & Pups "Bark & Brunch" 'fun, fan and fund' raiser to benefit Tri-County Animal Rescue's "Together Fur-Ever" Medical Fund. Positioned as a news-generating kick-off for Mother's Day week, more than 125 paw-loving advocates and dozens of pups enjoyed a joyful open-air, courtyard brunch and themed festivities to celebrate pup rescue moms and raise funds. These included live music, free-flowing Bloody Mary and Mimosa Bars, a doggie treat buffet, Mom & Pooch Photos, Mother's Day boutique gift shopping and a silent auction, "
Exceeding all its messaging, fundraising and awareness goals, the first-time event helped heal and save the lives of the most vulnerable, generated zero surrenders of pets treated, and increased Medical Fund resources to serve 53 families, secured and engaged new donor and sponsorship relationships, laid the foundation for a formidable new branded annual TCAR fundraiser, and increased media coverage about TCAR.
BERNAYS AWARD FOR PR & MARKETING EXCELLENCE:


Best PR Campaign by a Small Company or Firm

"The New Way to Club"​ for Boca Lago Golf & Country Club
(2021)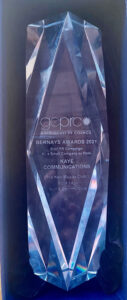 The New Way to Club" campaign was created and activated by
KCOM-PR to rebrand and reposition Boca Lago Country Club, a private, equity country club following purchase by a private owner. New ownership
infused $11 million in an extensive renovation program and transitioned it into a private, non-equity membership. It was time for BLCC to emerge from the game-changing watershed pandemic health and economic environment as a vibrant new club model that is poised to disrupt the area's golf and country club market.
KCOM-PR repositioned the Club from "best kept secret" to "industry disruptor" and begin building a long-term brand authority. Understanding it to be "a marathon, not a sprint," there needed to be a critical shift in the current embedded public mind-set ("aging" membership) and major adjustment in public misperception (outdated club facility, subpar golf courses) of the brand.
Through "The New Way to Club" multi-channel marketing communications campaign launch in fourth quarter 2020, the rebranded, reinvented BLG&CC is well-positioned as a visionary "market void filling" golf and country club choice in today's marketplace as a full-service, non-equity private club membership opportunity with industry-competitive amenities and programs at affordable, mid-market pricing.
SOUTH FLORIDA BUSINESS & WEALTH MAGAZINE (SFB&W)
Prestigious Women Award to KCOM-PR Founder Bonnie Kaye (2021)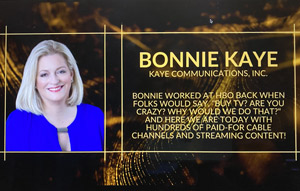 Bonnie S. Kaye, president and chief strategist of Palm Beach County-headquartered Kaye Communications PR & Marketing (KCOM-PR) was recognized by South Florida Business & Wealth Magazine (SFB&W) with its Prestigious Women Award. Kaye was honored along with other high-profile women business leaders in several industries during an interactive virtual reception and featured in an online profile on the publication's website and in its March issue.
SFB&W's Prestigious Women Awards recognizes top leaders in the South Florida tri-county area who have created business success stories and provided leadership to women and the broader community. The awards are based on nominations by the public and SFBW research.
Kaye, a 40-year "marketing" public relations veteran, founded and leads the women-owned integrated communications and marketing firm that empowers for-profit and nonprofit brands to grow and dominate their marketplace(s). Celebrating 25 years in "business and community," the Boca Raton-based "seriously strategic" firm has driven communications initiatives for a diverse roster of regional and national clients in a variety of industries. Under Kaye's leadership, KCOM-PR has developed and activated brand strategies, launches, reinventions, refreshments, news media and influencer engagement, community relations, social media content, crisis communications management and reputation repair. This followed an affiliate relations tenure (including public-private partnerships, news-generating programming premieres and events) at HBO's NYC headquarters and a decade in South Florida PR agency field.
PALM BEACH COUNTY MEDICAL SOCIETY


Heroes In Medicine Award: Community Organization (2019)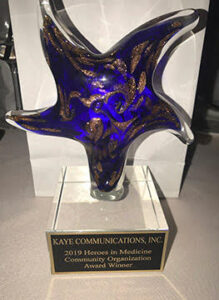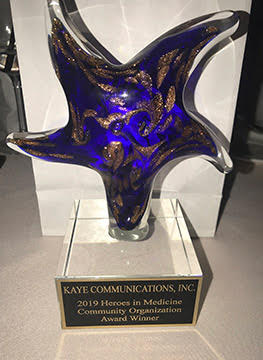 The Palm Beach County Medical Society Heroes in Medicine Awards honor local individuals and organizations who provide extraordinary services that address or have responded to health care needs in the county, the nation or around the world. As a Community Organization Hero, KCOM-PR was recognized for its public/private partnership, public relations and media relations initiatives in which it has devoted time, skills and/or other resources to assist others and/or contribute to the betterment of health care. The firm's efforts promoted Palm Beach County as the optimal place in which to live, work and play, but also learn and heal through client representation, pro bono services and volunteerism.
Since 1996 KCOM-PR and its principals have devoted time, corporate and consumer branding and communications skills and/or other resources to assist in Palm Beach County and beyond (eight states throughout the country). As a firm "best practice," KCOM principals have used their professional DNA, expertise and relationships as strategic Community Connecteurs℠ to inspire, counsel and guide hundreds of business leaders and companies and nonprofits since firm inception to engage in meaningful public/private partnerships as a best practice.
The firm has represented long-term and short-term acute care hospitals, a wide range of physician practices and several health and wellness-focused nonprofits that include two previous PBCMS Heroes in Medicine honorees: Boca Raton's Promise and Dr. G. Richard Cohen of Cohen Laser and Vision Center and provided pro bono PR, event and media relations services, volunteer scholarship fundraiser chairman leadership for Florida Atlantic University's Charles E. Schmidt College of Medicine. Kaye Communications and its principals conceived and have chaired the college's White Coats-4-Care "fund and fan" raising receptions, now in its ninth year, that was created to welcome and help "dress and equip" incoming classes through scholarship funding. We have supported the health and wellness initiatives on behalf of the Rotary Club of Downtown Boca Raton. This has included the conception and producing of its annual Mayors Ball, now in its fifth year (from which proceeds underwrite grants to support the health and wellness needs of Boca's nonprofits) and its annual "Honor Your Doctor" Luncheon that raises funds for healthcare scholarships at Florida Atlantic University, Lynn University and Palm Beach State College.
BERNAYS AWARD FOR PR & MARKETING EXCELLENCE


2019 Best

PR Campaign by a Small Company or Firm
for 2018 Habitat for Humanity of South Palm Beach County's WOMEN BUILD
(2019)
Utilized the WOMEN Build 2018 as a springboard to increase public/donor/volunteer/media awareness and education of HFHSPBC and the benefits of supporting its life-changing "hand up" mission. "Powered by passion", HFHSPBC's second annual WOMEN BUILD combined fundraising with "camaraderie-of-a-rare-kind" that brought together mission-driven women during days leading to Mother's Day to help transform their community. The annual three-day build offers an inspiring, fun and positive environment for women to step out of their comfort zone to give back and learn a few construction skills from our women crew leaders along the way. The 2018 women volunteers provided a life-changing "hand up" for three hard-working, low-income moms and their families through constructing, installing drywall and painting for the homeowner family and "sprucing up" two neighboring Habitat homes for a block of impact. The South Palm Beach County Build is part of the Habitat for Humanity National "Women Build" that was founded in 1991.
BERNAYS AWARD FOR PR & MARKETING EXCELLENCE

Best PR Campaign by a Small Company or Firm


BEE Positive Now™ for Broken Sound Club

(2017)

For conception, development, production and marketing of BEE Positive Now campaign to showcase client Broken Sound Club, the 5-Star Platinum Club of America private club and internationally respected sustainability leader and its vision and best practices by putting a broad spotlight on the plight of the blighted honeybee population that is threatening/ endangering our nation's eco-system and food supply. The initiative/movement is based on BSC GM and COO John Crean's premise that "once someone realizes that one in three mouthfuls of what he/she eats is dependent upon these pollinators, they will know just how critical it is that they do their part to respect and protect these life-sustaining eco-heroes and encourage others to do so." BSC's BEE Positive NOW™ campaign significantly increased community-at-large awareness and "Bee the Solution" education outreach among diverse niche, multi-generational audiences to encourage engagement and word-of-mouth endorsement. All while at the same time reinforced BSC's role as a "lead by example" sustainability model and positioning as a relevant, engaged premier "golf and country club community of choice".
BERNAYS AWARD FOR PR & MARKETING EXCELLENCE

Best Nonprofit/Charity Project or Campaign – Budget un
der $100,000

Great Doggie Dine-Out & Paws Fest to benefit Tri-County Animal Rescue
(2016)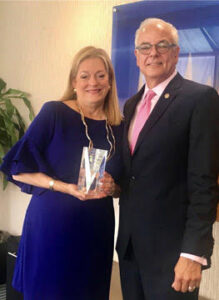 For conception, development, production and marketing the free and open-to-the-public inaugural Great Doggie Dine-Out & Paws Fest (GDD&PF) to raise awareness, community engagement, animal rescue and adoptions and medical care funds to benefit client Tri-County Animal Rescue (TCAR) the establish it "top of mind" as Boca Raton's 'Own' Humane Society. KCOM-PR recruited sponsors and partners and the firm produced as 'pro bono' giveback value-add to client contract so that no TCAR funds were required.
Held in Downtown Boca at Sanborn Square, the first-time-ever 'peeps and pups' event served as a community education and engagement springboard from which to garner new relationships and revitalize past relationships, increase news media interest and coverage, social media and meaningful community–centric story-telling of TCAR's features, advantages and benefits. The fun, casual and very social event resulted a groundswell of new and renewed relationships for TCAR among a cross-section of targeted niche audiences, influencers, recommenders including civic leaders, businesses, area residents, pet lovers and vendors and significant gain in media coverage, social media, donations and adoptions.
Resulted in significant media and blogger coverage, first time sponsors-90%, first time media partners, introduction of TCAR to new audiences (businesses, families, pet lovers, vendors etc.), re-education/revitalized re-engagement of past TCAR supporters. TCAR social media/e-blasts were increased, engagement of first-time volunteers were achieved via its diverse community 'pawtners' committee representing niche audiences and onsite working volunteers-95% never before engaged in TCAR events. Online and social media echo was generated via yet untapped third-party event participants and endorsers: sponsors, committee members, dog bed design competitors. Drawing more than 1,500 pet lovers, 400 pups, both onsite donations and pup adoptions were achieved.
BERNAYS AWARD FOR PR & MARKETING EXCELLENCE

Best Special Event:
Inaugural Boca Raton Mayors Ball Presented by the Rotary Club Downtown Boca Raton
(2016)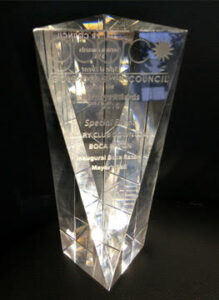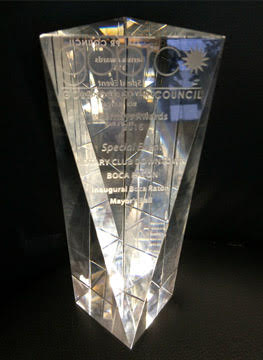 For conception, pre-event marketing, public relations, community engagement, media relations and sponsor outreach/collaboration and event planning more than 400 Boca stakeholders and visionaries were on hand for all the 'pomp and circumstance' of the first-time ever Boca Raton Mayors Ball that made its indelible mark as the newest coveted annual social season opener. Celebrating the City's long, rich history, attendees at the gala black-tie dinner/dance at Broken Sound Club toasted to 'all that is great' in Boca Raton and danced the night away as the evening honored the elected officials who exemplify Rotary International's motto, 'Service Above Self' and recognized the City's visionaries who have elevated the community nationally and around the globe.
FLORIDA ATLANTIC UNIVERSITY BOARD OF TRUSTEES
Appreciation Award as Community Influencer for FAU College of Medicine
(2013)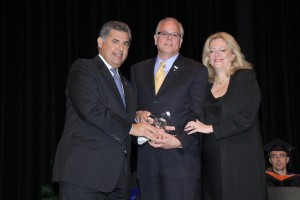 Nominated by the dean of the Charles E. Schmidt College of Medicine and presented by Chairman of the FAU Board of Trustees Anthony Barbar, the FAU Trustees Appreciation Award recognizes extraordinary service to the University by members of the greater community. KCOM-PR principals were the third recipient(s) of the award that was created to honor former FAU Board of Trustees Chair Nancy Blosser.
As shared by Barbar at the ceremony, the Kayes and Kaye Communications have fully embraced the medical school in the most meaningful of ways, using their influence as opinion leaders to rally support for it in the community. We are delighted to present the Board of Trustees Service Award to them as a token of our great appreciation for all they have done and are doing for Florida Atlantic University and its community."
Bonnie S. Kaye served on the FAU Foundation Board and Jon Kaye who served on the Dean's Advisory Board of the FAU Charles E. Schmidt College of Medicine founded, branded, chaired and sponsored the annual White Coats-4-Care events (now in its 10th year under their co-chairmanship), and chaired the medical school's inaugural "Your Medical School" celebration that raised vital scholarship funds to attract the best and brightest future doctors to the Boca Raton community. Their firm Kaye Communications spearheaded event messaging, community engagement, media relations, and content and graphic design strategy in collaboration with the College of Medicine's Director of Development, Dean's Advisory Board, faculty and staff.
BERNAYS AWARD FOR PR & MARKETING EXCELLENCE


PR Star Award
(2013)
Presented by its peer, KCOM-PR received this honor for best overall and long-standing excellence for "building a solid reputation for serving a variety of business, lifestyle and nonprofit clients over the years…all great ultra-creative campaigns. BEST OF ALL, they get great results for their clients – and that's the best thing anyone can ever say about a PR firm."
Referenced was its notable trailblazing initiatives that included its branding, destination marketing and dedicated website development and management for Downtown Boca for the Boca Raton Community Redevelopment Agency (CRA), which included the firm's conception and development of a comprehensive strategic marketing plan with a Friday Night LIVE! monthly entertainment series and inaugural Downtown Boca's Brazilian Beat destination celebration in collaboration with the Consulate General of Brazil in Miami and the Palm Beach County Visitors & Convention Bureau that drew 10,000 visitors. The firm also led media relations and community engagement initiatives to support California Pizza Kitchen's debut of new national corporate brand-reinvention "flagship" showcase restaurant in Sawgrass Mills and spearheaded community and media initiatives for seven consecutive years for the PGA Champions Tour's Allianz Championship that brings more than 70,000 visitors to Boca Raton and delivers an economic impact of $15 million. It provides strategic integrated communications counsel and implementation for 5-Star Platinum Club Award-winning Broken Sound Club and the current reinvention and transformation of the Boca Raton Bridge Hotel into the Waterstone Resort & Marina, 4-Star boutique property.
Other Boca Raton brands empowered at the time included the Boca Raton Resort & Club and its Premier Club; Muvico Theaters; Town Center at Boca Raton; the mixed-use village of Royal Palm Place; Promise Healthcare with long-term acute care hospitals in six states; and Boston Market (for its 25th anniversary brand reinvention/repositioning pilot market initiative that served as prototype for the brand's national activation).
As longtime advocates of initiating and building meaningful public-private partnerships, Kaye Communications "leads by example." At the time of the award Bonnie Kaye served on the boards of directors for the Greater Boca Raton Chamber of Commerce and the FAU Foundation. Jon Kaye served on the Dean's advisory board for the FAU's Charles E. Schmidt College of Medicine and Rotary Club Downtown Boca Raton. Together have created public/private partnerships that have positively impacted the good and welfare of the community in which the firm works.
BERNAYS AWARD FOR PR & MARKETING EXCELLENCE


Best Project by or on behalf of a Nonprofit Organization

"Our Legend, Her Legacy": Countess de Hoerlne 100 Birthday Gala and Community Celebration to benefit The Order of St. John (OSJ) of Jerusalem, Knights Hospitaller
(2013)
Demonstrating the firm's expertise and community engagement, Kaye Communications received the Bernays Award for its success in spearheading the "seriously strategic" communications, community relations and media relations for the "Our Legend, Her Legacy" birthday gala benefit and community engagement initiative to celebrate the Countess de Hoernle's 100th milestone and her philanthropic legacy while fulfilling her personal single birthday wish of raising significant funds to benefit Boca Raton area nonprofits who help "the sick and the poor."
While the OSJ's initial plans were solely for an "Our Legend, Her Legacy" gala, KCOM-PR recognized the need to expand the scope of the celebration within the greater Palm Beach community. The OSJ embraced the firm's recommendation for a community-wide philanthropy awareness and education initiative that included a 'Red, White & Boca-Blue Countess Appreciation Day' and the creation of a record-setting community birthday wishes campaign.
Community participation exceeded goal the of 5,000 to deliver 6,100 personal "wishes" from businesses, chamber of commerce members, nonprofits, schools, military branches and OSJ members that was assembled as a "wall of [birthday] wishes" debuted at the gala. The event that drew 500 dignitaries and community, business and nonprofit leaders donned in black or white tie, military or Scottish equivalent, tiaras, regalia and decorations to celebrate in royal style and raised $250,000+ in net proceeds to benefit Boca Helping Hands, Family Promise of South Palm Beach County, Gulfstream Goodwill Industries, Inc., HomeSafe and Spirit of Giving Network.
BERNAYS AWARD FOR PR & MARKETING EXCELLENCE
PR Campaign by a Large Company or Firm
Grand opening of global steak industry icon Old Homestead Steak House's first location in the Southeast U.S.
(2007)
Putting aside the traditional ho-hum grand opening ribbon-cutting ceremonies and event, KCOM instead strategized with the client to utilize the debut of a $100 Tri-Beef Burger (introduced as the world's most decadent burger featuring the most decadent of beef from three continents) as a springboard to communicate "the news" that the famed internationally renowned Old Homestead had opened in Boca Raton at the Boca Raton Resort & Club. New York City's oldest and finest steak house, the Old Homestead Steak House was established in 1868 in the city's famed meat packing district and continues to serve up rare select cuts of beef and freshest seafood and poultry from around the world to a celebrated world-renowned clientele at its three locations in NYC's Meat Packing District, the Borgata Casino Resort & Spa (Atlantic City), and the Boca Raton Resort & Club. In the first four days following the media tasting, the story garnered more than $1.9 million in broadcast coverage, and that was not including an NBC Today "grilling" segment. Before the internet was a major news component, the news was covered around the world: dubbed the "Rolls Royce of burgers" was featured around the globe, from the U.S., and Canada to as far as China, Australia, Japan (secured a live interview of Marc Sherry for a morning television show), Germany, and worldwide internet. The story and photos were distributed on Associated Press, UPI, Getty Images, and European News Agency wires and was published by hundreds of their affiliated international print, broadcast and internet members. Broadcast coverage included Associated Press Radio, NBC Newsfeed, CNN Newsfeed, FOX, Newsfeed, ABC Newsfeed, etc.
VISIT FLORIDA


Henry Flagler Award: Public Relations Creativity

Boca Raton Resort & Club's 75th Anniversary Initiative (2002)
Awarded by VISIT Florida for Public Relations Creativity for Boca Raton Resort & Club's global 75th anniversary initiative that Kaye Communications conceived and implemented on behalf of the BRR&C. Named for Henry Flagler, the designation was established in 2000 to recognize outstanding tourism marketing in the state of Florida.
Community
2023 Concert-4-Kindness: Visioned, produced and co-chaired community concert
at FAU, hosted by the FAU Dorothy F. Schmidt College of Arts and Letters.
Concert-4-Kindness: Visioned, produced and co-chaired community concert at FAU, hosted by the FAU Dorothy F. Schmidt College of Arts and Letters.
2015 Men with Caring Hearts Nominee, FAU Charles E. Schmidt College of Medicine: Jon Kaye
2013 Woman of Distinction Nominee, Soroptimist Club: Bonnie Kaye

Men with Caring Hearts Nominee — Rotary Club/Downtown Boca Raton: Jon Kaye
2012 Woman Volunteer of the Year Nominee — FAU Charles E. Schmidt College of Medicine: Bonnie Kaye
2009 President's Award for Public Relations — Rotary Club Boca Raton: Kaye Communications
2008 Rotary International Outstanding Public Relations Award: Kaye Communications

Presented to chapter for Kaye Communications' efforts in reinventing, re-branding and producing the 2009 OPAL (Outstanding People and Leaders) Awards event. Awarded to only 123 clubs worldwide out of 33,000 clubs around the globe.
2007 Rotary International Outstanding Public Relations Awards — Rotary International

President's Award for Public Relations — Rotary Club Boca Raton: Kaye Communications
2006 President's Award for Public Relations — Rotary Club Boca Raton: Kaye Communications
2006 Pillars of the Community — League for Educational Awareness of the Holocaust: Bonnie & Jon Kaye
2005 Woman Volunteer of the Year Nominee — League for Educational Awareness of the Holocaust: Bonnie Kaye

Men with a Caring Heart Nominee & Winner — Boca Raton Educational Television: Jon Kaye
2003 Woman Volunteer of the Year Nominee — Florence Fuller Child Development Centers: Bonnie Kaye

Soroptimist Woman of Distinction — Florence Fuller Child Development Centers: Bonnie Kaye
2002 Leading Men of Palm Beach County Honoree — Cystic Fibrosis Foundation: Jon Kaye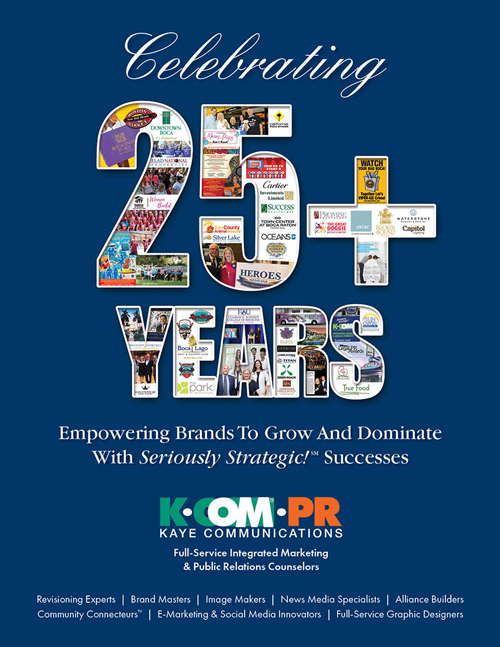 The KCOM Difference
As a client, you'll find:
we are a convenient, full-service, one-stop creative communications hub and brand manager to ensure consistency of messaging and activation, including visual and content development, business intelligence, graphic design and video capabilities.
our "firm-in-the-field" approach supported by our business generation (BizGen℠) collaborations and communications tools do not limit our talent pool to those who must reside within a 30-minute drive from our office.…decades before remote work trended per the pandemic.
our flexible "build-to-suit" business model ensures clients have the best strategists, account teams, content experts and brand journalists focused on their brand mission.
we are accessible 24/7, structured to be on-call to support clients in all time zones, capture a timely "news opportunity" or diffuse a crisis.
with firm principals at the helm of every account, our proven track record demonstrates we are "in it for the long haul," ideally poised to handle both short-term and multi-year phased-in projects.
our candid counsel has often prevented costly tunnel vision, brand misperceptions, litigation, non-results-oriented activities/initiatives, and thus related expenses.
our firm's own investment (in time, memberships, board and committee participation, sponsorships, etc.) in the South Florida community results in immediate and effective interfacing and positioning for our clients.
we have an impressive working knowledge and understanding of the regional and national consumer, business, healthcare, hospitality, real estate, social, nonprofit, government and media communities.