Jon Kaye
Chief Operating Officer, Chief Marketing Officer
Jon Kaye serves as Chief Operating Officer and Chief Marketing Officer for Kaye Communications, Inc. (KCOM), an award-winning Boca Raton, FL-based, full-service Seriously Strategic (sm) integrated marketing and public relations firm.
Under his leadership
with partner Bonnie S. Kaye, KCOM-PR has been recognized as the 2023 "Small Business Leaders of the Year" Award by the Boca Chamber and has been recognized by the Gold Coast Public Relations Council with nine Bernays Awards (the "Oscars" for the regional PR Industry). These, include the coveted
PR STAR Award (2013) for overall excellence and leadership and others for campaigns, projects and special events.
He along with Bonnie Kaye were presented the coveted 2013
Florida Atlantic University Trustees Appreciation Award

for their full embrace of the Charles E. Schmidt College of Medicine "in the most meaningful of ways, using their influence as opinion leaders to rally support for it in the community." In 2015, Jon was nominated as a "Man with A Caring Heart" by Charles E. Schmidt College of Medicine and in 2013 by the Rotary Club of Downtown Boca Raton, having previously won the overall "Man with A Caring Heart" title in 2005.
Bringing more than 45 years of experience in diversified hospitality industry marketing, sales, public relations counsel and communications plan implementation to Kaye Communications, Inc., Kaye oversees the firm's operations, manages the firm's marketing and sales consulting services, and is responsible for new business development. He served on the dean's advisory board of the new Charles E. Schmidt College of Medicine at Florida Atlantic University, is a former board member of Boca Raton Educational Television (BRET), a board member and former president Rotary Club Downtown Boca Raton, community advisory board of Boca Raton Championship Golf Charities, board member of League For Educational Awareness of the Holocaust (LEAH), and has served as chair and/or committee member for several high-profile nonprofit fundraising events and community outreach initiatives.
Immediately prior to joining Kaye Communications, Inc., Kaye served as Director of Club Marketing and Sales for the Boca Raton Resort & Club's Premier Club following his tenure as the Resort's National Sales Manager for Group Sales and Director of Sales & Marketing for RockResorts. His cumulative career expertise includes the development of integrated marketing and sales programs; consumer and business-to-business communications and cross-promotions; sponsorship package development and support; tourism partnership initiatives on local, regional, national and global levels; property pre- and grand openings; special events; internal/external sales programs; corporate trade/consumer communications programs; community relations collateral design and production for hotels, resorts, private membership clubs, and retail products and services.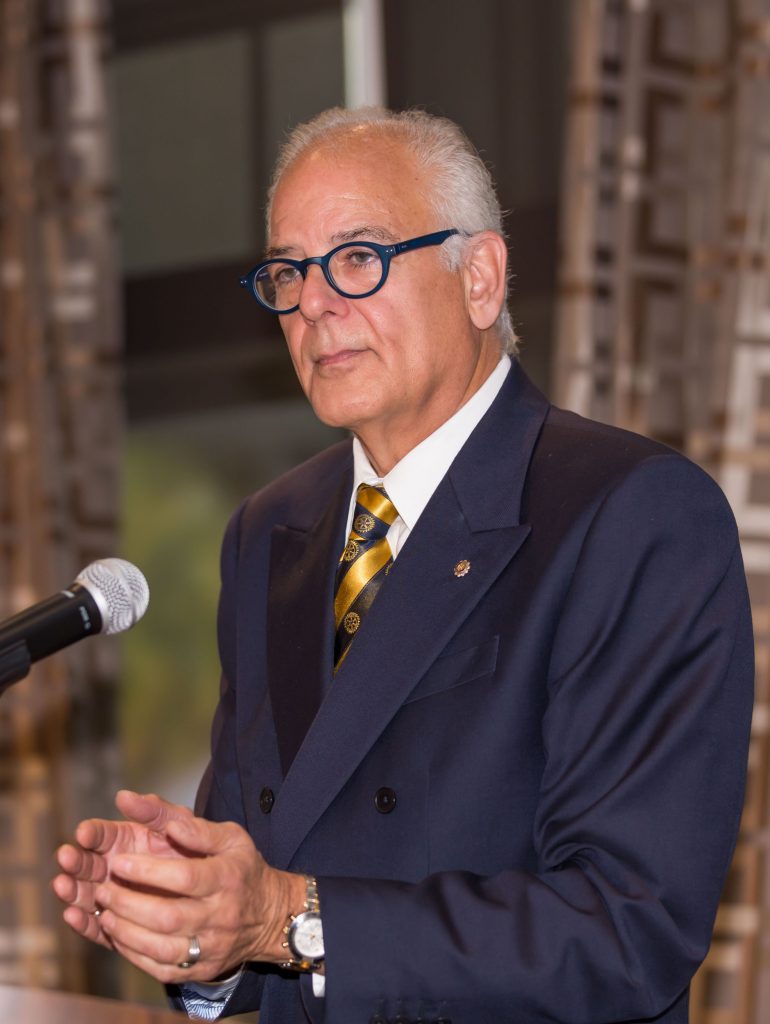 A seasoned local, regional, national and global tourism specialist, Kaye has held marketing and sales management positions with Loews Hotels, Renaissance Hotels International, RockResorts, Inc. (the pre-opening and launch of The Lodge of Koele and the Manele Bay Hotel in Lanai, HI), Regent International Hotels [including Kapalua Bay (Maui), Halekulani (Honolulu), Cerromar Beach and Dorado Beach (Puerto Rico)], Hospitality Franchise Systems (Ramada), Pratt Hotel Corporation (the pre-opening and launch of Hotel Maxim's, New York City-aka The Peninsula), Wyndham Hotels and Resorts (including the pre-opening and launch of Wyndham Virgin Grand Beach/St. Thomas, The Reach/Key West, Wyndham/SeaWorld in Orlando, and Royal Bahamian/Nassau), and the $55 million transformation (1999-2001) of the Radisson Aruba Resort, Casino & Spa (formerly the Aruba Caribbean, the island's first hotel). Kaye Communications was again retained by the new management team of the Radisson Aruba Resort, Casino & Spa in January 2011 as the public relations firm of record.
As an active "community connecteur" — both in New York and Florida — Kaye has been a "hands on" member and supporter of several business, civic, and charitable organizations including the Boca Raton Chamber of Commerce, Boca Raton Champions Golf Charities, Boca Raton Historical Society, Florence Fuller Child Development Centers, Boy Scouts of America, The Rotary Clubs of Boca Raton, and the Cystic Fibrosis Foundation (CFF). He was a major initiating force in the team development of the highly successful CFF's "Leading Men of Palm Beach County" fundraising gala, and in 2002 became an honoree himself.
Formerly serving on the dean's medical advisory board of the Charles E. Schmidt College of Medicine at Florida Atlantic University as a founding member, he together with Bonnie developed and chaired the inaugural "White Coats-4-Care" reception and fundraiser (now in its 10 th year). Additionally, Jon along with Bonnie co-chaired the Inaugural Medical School Fundraising Celebration that raised more than $260,000. As a result, the Board of Trustees of Florida Atlantic University recently bestowed upon the Kayes the highly coveted Trustees Appreciation Award for 2013.
For Jon's efforts as event producer for the 2009 OPAL Award Gala presented by the Rotary Club of Boca Raton, Rotary International presented the club with its coveted "Significant Achievement Award" that was awarded to only 123 clubs worldwide, out of 33,000 clubs around the globe. Kaye is an active Founding Member of the Rotary Club Downtown Boca Raton, current member of the Fund Board and a recipient of the Paul Harris Award. Kaye co-chaired and produced the inaugural Boca Raton Mayors Ball; now in its eighth year Kaye Communications continues to produce the event.
Kaye co-chaired the 2004 Boy Scouts of America "Distinguished Citizen Luncheon," the first ever in Boca Raton, and provided media relations support and event counsel for the Gulfstream Council's 2004 and 2005 "Friends of Scouting" luncheons. Actively supporting the 2005 Distinguished Citizen Luncheon, Jon positioned Town Center at Boca Raton GM Sam Hosn to receive the honor, along with Richard Gold, Executive Vice President of Promise Healthcare, Inc. another KCOM client. Presenting sponsor for the event was the Boca Raton Resort & Club, also a KCOM client. Jon and Bonnie Kaye then co-chaired the 2008 Boy Scouts of America "Distinguished Citizen Luncheon" honoring Peter R. Baronoff and raising (a BSA luncheon) record amount, and the March of Dimes Signature Chefs Extravaganza that raised more than $100,000.
Kaye served on the board of directors for LEAH, a not-for-profit organization that raises funds to support education that seeks to eradicate hatred and bigotry among children, and along with partner Bonnie Kaye, he served as co-chair of LEAH's inaugural "Bridge Builder of the Year" gala. KCOM provided public relations, branding and media relations counsel from LEAH's inception for a period of 11 years. In 2006, Jon and his partner Bonnie were recognized by LEAH as "Pillars of the Community" for outstanding commitment to the community for advocacy for and dedicated service to many organizations."
Kaye also served on the board of directors for BRET. For his dedication, fundraising support and co-chairing BRET's 2004 Rising Star Talent competition finale that was held at Town Center at Boca Raton, BRET nominated Kaye as its nominee for the 2005 "Men with Caring Hearts" Award. He, along with four other Boca Raton nominees (out of 30), was awarded the title honor.
Kaye earned a Bachelor of Business Administration, with a major in marketing, from Northwood University in Midland, Michigan.
He is married to Bonnie Kaye, his partner in biz and life for 36 years, and together they have two sons Matt and Mike, a daughter(in-law) Ariel, a grandson Brent and have been devoted "pup parents" to six rescues.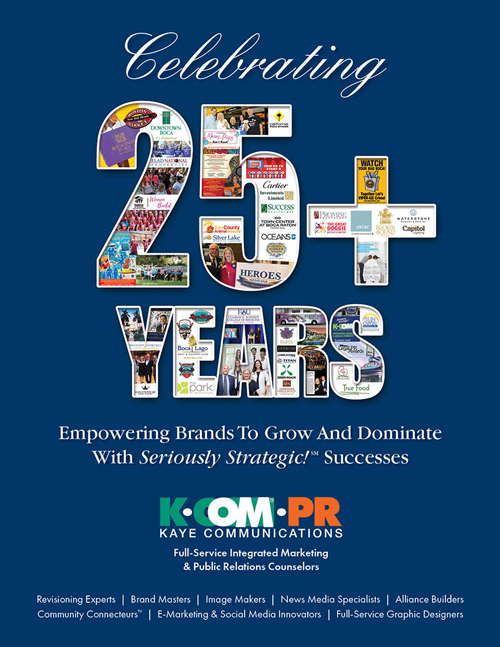 The KCOM Difference
As a client, you'll find:
we are a convenient, full-service, one-stop creative communications hub and brand manager to ensure consistency of messaging and activation, including visual and content development, business intelligence, graphic design and video capabilities.
our "firm-in-the-field" approach supported by our business generation (BizGen℠) collaborations and communications tools do not limit our talent pool to those who must reside within a 30-minute drive from our office.…decades before remote work trended per the pandemic.
our flexible "build-to-suit" business model ensures clients have the best strategists, account teams, content experts and brand journalists focused on their brand mission.
we are accessible 24/7, structured to be on-call to support clients in all time zones, capture a timely "news opportunity" or diffuse a crisis.
with firm principals at the helm of every account, our proven track record demonstrates we are "in it for the long haul," ideally poised to handle both short-term and multi-year phased-in projects.
our candid counsel has often prevented costly tunnel vision, brand misperceptions, litigation, non-results-oriented activities/initiatives, and thus related expenses.
our firm's own investment (in time, memberships, board and committee participation, sponsorships, etc.) in the South Florida community results in immediate and effective interfacing and positioning for our clients.
we have an impressive working knowledge and understanding of the regional and national consumer, business, healthcare, hospitality, real estate, social, nonprofit, government and media communities.