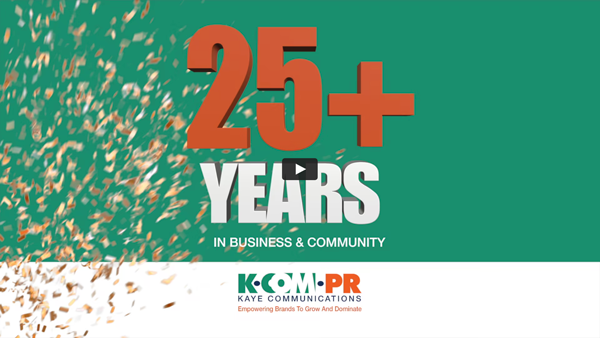 Business and Community Leaders Share 25 Ways That Distinguish KCOM-PR
KAYE COMMUNICATIONS, INC. –
The Seriously Strategic!℠ "Marketing" Public Relations Firm
Empowering Regional and National Brands to Grow and Dominate
If you're ready to succeed with a proven, full-service brand communications innovator that generates business with fresh approaches, marketplace intelligence, and on-point integrated strategies and implementation… you've found your BizGen℠ engine!
Our clients know us — first and foremost — as business generators. They: 
succeed with our strategic think tank counsel, biz intel, and activation for results-focused brand development, re-visioning, reinvention, launches and reputation management. Serving as a trusted advisor seated at the decision-making table, KCOM-PR has been essential in helping guide for-profit and non-profit clients navigate strategy through the unprecedented Covid-19 health and business crisis to rebound stronger.
stand out with our original content development, design, and video services
dominate with our consumer, business-to-business, and destination marketing initiatives and BizGen℠ tools and collaborations
crowd and fan raise with our contagious grassroots, consumer/business, and
cause-related initiatives
grow with our news-generating brand journalism storytelling expertise and media relationships
ignite with our viral digital, online, social media and e-marketing campaigns 
avert or diffuse crises that challenge brand integrity and bottom-lines with our "brand-knowledgeable" ER (Ever-Ready) Crisis Communicators℠ poised to instantly kick into high-gear at a moment's notice. Paradigm shifts are not new to us; we've helped businesses and nonprofits work through unexpected changes and pivots in their marketplaces. Meaningful planning, content and talking points have well-positioned brands to communicate successfully not just now during the Covid-19 crisis, but also through reputation repair, 9/11, bankruptcy/litigation hostile takeovers, new management transitions and prep and recovery from hurricanes…and even snowstorms.
As you explore our site, you'll see how our South Florida-headquartered team has

successfully

impacted brands

with our game-changing marketing and public relations for more than 25 years. We are ready when you are…to start empowering your brand to dominate your marketplace!