The KCOM Advantage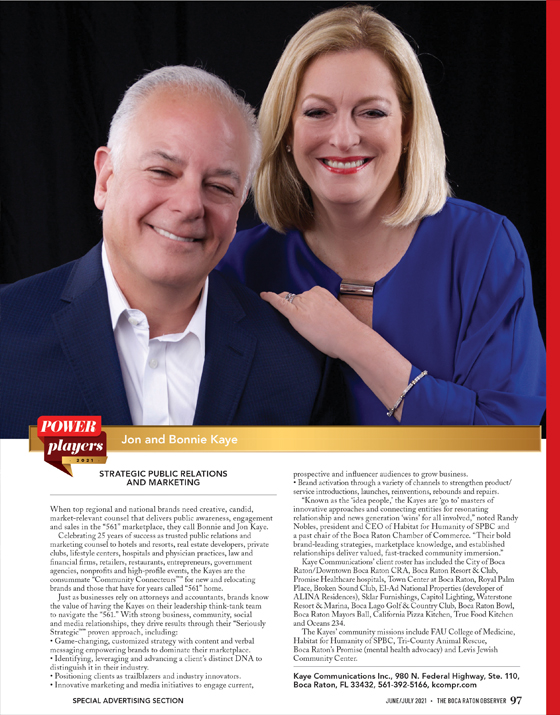 At the helm of account teams and alliance partnerships with more than 85 years of experience in marketing, sales, media relations and community outreach,firm principals Bonnie and Jon Kaye drive Seriously Strategic!℠ innovative business-generating marketing communications, media initiatives, relationship-building, community engagement and reputation management for a diverse roster of regional and national clients in a variety of industries.
Our clients will tell you that we:
are "game changing" strategists, always starting with a blank canvas and business intelligence to conceive, develop and implement traditional as well as trend-setting innovative communications strategies that best target and engage current, prospective and influencer audiences.
position clients as trailblazing "stand out" leaders in their industries, by identifying and focusing on what distinguishes them from others in their marketplace.
are brand communications masters, developing original, authentic and engaging visual, written and verbal messaging and content that empowers brands/companies/missions to grow and dominate their marketplace.
are an effective blend of wisdom and youth, making the most of seasoned expertise and experience applied with the mastery of the latest marketing approaches and technologies to engage across generations.
excel at brand activation through a variety of approaches, initiatives and channels for product, service and destination introductions and launches to brand expansions, re-visioning, re-inventions, and total transformations.
are exceptional at "reporting" and "creating" news (as well as keeping clients of "out of the news" during times of crisis) with strong relationships that span across global mainstream and niche print and broadcast, online and blog media.
are experts in both mainstream and niche social media platforms, identifying  the best fit and content for their organization's social presence.
are proactive, professional and protective in our approach, with integrity and credibility being our hallmarks.
are on the daily pulse of South Florida business and nonprofit communities with our principals serving as respected community leaders themselves with strong, established relationships and knowledge of area businesses and business organizations, government officials, residential communities, nonprofit organizations and media.