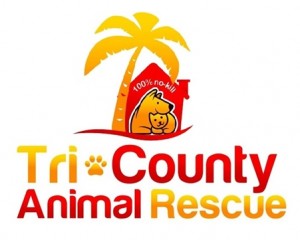 The 100% No Kill Nonprofit TCAR Seeks Donations To Continue Its Life-Saving Rescues From Puppy Mills Raids and High-Kill Shelters  
BOCA RATON, Fla. (November 14, 2014) — Responding to an emergency call about 100 distressed and abused purebred dogs forced to live and repeatedly deliver litters with little medical attention in deplorable conditions at a Lebanon, Tenn. puppy mill, the Tri-County Animal Rescue (TCAR) team headed out on Wednesday to do what it does everyday, this time beyond South Florida borders. Arriving back early this morning after 16 hours of travel, 15 rescued pups (some who have never left their small cages to see the light of day, walk on grass or be hugged) have found a safe, loving haven, tender loving care, and medical attention at the Boca Raton center, being readied for adoption beginning this Sunday.
As the region's largest 501c (3) nonprofit 100% no kill rescue and adoption center, TCAR worked in partnership with the Animal Rescue Corps (ARC) via its "Home For The Holidays" campaign and Gibson County Sheriff 's Office to rescue the group that includes a mix of female and male Pomeranian, Poodle, Maltese, Yorkie, and Boston Terrier pups, ranging from four months to 10 years of age. This follows TCAR's puppy mill 'mission of mercy' in August that 'gave a new leash on life' to 19 purebred Labrador Retriever dogs and eight puppies from abuse, malnourishment, and deplorable conditions in a Lake Worth puppy mill/backyard breeder.Within days of that rescue, the number of lives saved increased by an additional 16 when two of the three pregnant females gave birth to litters at TCAR. The "mission of mercy" puppy mill rescue was particularly challenging in that so many were severely underweight, dehydrated, needed vitamins, including two who were pregnant.
"Puppy mill raids are vital and extremely complicated and complex, and thus the rescue efforts require rapid, yet intensive planning and orchestration by experienced and compassionate rescue partners and team members along with the funding for travel, medical treatment and housing until adoption," noted TCAR Executive Director Suzi Goldsmith who received the call from Animal Rescue Corps who spent weeks in preparation with local government and regulatory agencies to dispatch to the TCAR team. "These rescues, like those Tri-County has done in Oklahoma and New Orleans after large-scale natural disasters, take a lot of people working in keen and delicate collaboration, from the moment a suspect puppy mill is identified and a complaint is filed through the investigative efforts by local governing agencies to prove poor conditions and abuse, and then seizure and relocation to well-vetted licensed rescue, foster and adoption organizations like Tri-County. Rescue teams then need to bathe, evaluate the medical treatment needs of each animal and provide immediate care to ensure ability to travel. Once on the road, the rescue team must stop every four hours to walk and feed the animals, clean their cages, get them settled and then begin the process again until they reach their temporary haven as they are readied for adoption."
According to Goldsmith, many of the rescues were dehydrated, needed vitamins, and underweight. "With a vet onsite upon arrival, all medical issues are being treated. But of course, the long-awaited humanity, hugs, cuddling and TLC started the moment each dog was surrendered to our rescue team."
She shared that the general public needs to learn more about what happens in puppy mills and why they need to be stopped, added Goldsmith. "They will be devastated when they understand the stress and medical risk to these animals who, without any compassion, must produce a litter twice a year in appalling conditions. It is highly conceivable that the 10-year-old we rescued, delivered 20 litters during her life at this puppy mill."
She also reported that rescue and adoption shelters have dogs and cats of all sizes, ages and breeds—many who are purebred rescues. "The more adopted, the more room opens to save those in high kill shelters."   According to dosomething.org (https://www.dosomething.org/facts/11-facts-about-puppy-mills), puppy mills are commercial dog-breeding facilities that focus on increasing profit with little overhead cost, and thus the health and welfare of the animals is often not a priority. To maximize profits, they breed a female dog every time she is in heat which means a five-year-old dog could have given birth to 10 litters of puppies. Each year retail pet stores across the U.S. sell 500,000 dogs, while 5 to 7 million dogs enter shelters.
Adoptions from the Tennessee rescue mission are expected to begin on this Sunday, November 16th, with some rescued pups available tomorrow, Saturday, November 15th during the second annual Bow Wow Meow hosted by Burt & Max's Bar & Grill to benefit TCAR at Delray Market Place from 2 p.m. to 5 p.m. Tickets available at www.TriCountyAnimalRescue.com/bowwow.
TCAR actively participates in Palm Beach County-focused efforts for the Countdown To Zero Initiative, collaborative effort to end euthanasia for adoptable dogs and cats in Palm Beach County within 10 years, as well as efforts by municipalities to ban puppy mills, or retailers who sell puppy mill dogs and cats.
Saving lives, one pet at a time, in Palm Beach, Broward, Miami-Dade and Martin counties and beyond, TCAR is a protective haven to thousands of abandoned, abused or neglected dogs and cats from other facilities in South Florida, Treasure Coast and as far as Sarasota, Alabama, Tennessee, Oklahoma, Louisiana, the Bahamas and most recently abroad from Istanbul, Turkey. A top-rated animal rescue center not limited to regional borders, TCAR has rescued more than 42,000 animals since its inception in 1996, offering homeless pets a welcoming forever home, either on campus or through carefully vetted adoptions that total more than 3,000 per year.  The 501c (3) nonprofit organization operates solely on donations, sponsorships, grants, and proceeds from events and its thrift shop. It receives no local, state or federal government funding.
Located at 21287 Boca Rio Road, Boca Raton, Florida 33433, TCAR is open for adoptions five-days-a-week Tuesdays, Thursdays, Fridays, Saturdays and Sundays from 10:30 a.m. to 4:00 p.m. For frequent updates or more information on TCAR, call (561) 482-8110, visit tricountyanimalrescue.com; connect via facebook.com/TriCountyHumane, twitter.com/TriCountyAR, and Instagram/TRICOUNTYANIMALRESCUEFL.  
ADOPTABLE DOGS: https://tricountyanimalrescue.com/category/boca-raton/dog-adoption-boca-raton/ ADOPTABLE CATS: https://tricountyanimalrescue.com/category/boca-raton/cat-adoption-boca-raton/ DONATIONS: https://tricountyanimalrescue.com/donate-tri-county-animal-rescue/                               VOLUNTEER: https://tricountyanimalrescue.com/volunteer/