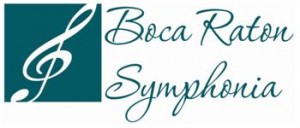 CELEBRATE THE SOUND OF THE SEASON DURING
THE 2010 – 2011 BOCA RATON SYMPHONIA
CONNOISSEUR CONCERT SERIES
DECEMBER 5, 2010 – APRIL 10, 2011
WHAT:
The 2010 – 2011 Boca Raton Symphonia Concert Series
The 2010 – 2011 Boca Raton Symphonia Connoisseur Concert Series features the Orchestra's new, internationally-renowned Principal Conductor and Piano Soloist Philippe Entremont, one of the most recorded artists of all time who has served as music director of Vienna Chamber Orchestra, Israel Chamber Orchestra, New Orleans Philharmonic, and the Denver Symphony; accomplished Pulitzer Prize-winning composer Guest Conductor Gunther Schuller who has received two Guggenheim fellowships; and Guest Conductor David Commanday who has conducted the National Symphony, Israel Philharmonic, the American Symphony, the Louisville, Belgian Radio, and Vienna Pro Arte Orchestras, and the Seattle, Atlanta, and Richmond Symphonies. Concert soloists include Itzhak Perlman protégé and cello soloist SuJin Lee, mezzo soprano soloist Daniela Mack, violin soloist Ludwig Mueller, cello soloist Christophe Pantillon, and piano soloist Soyeon Lee.
WHEN:
Various Sundays Between December 2010- April 2011
December 5, 2010; January 23, 2011; February 20, 2011; March 20, 2011; April 10, 2011
All concerts begin at 3 p.m. Sunday
WHERE:
Boca Raton
The Roberts Theater at Saint Andrew's School
900 Jog Road, (just ½ mile south of Yamato Road) Boca Raton, FL
HOW MUCH:
Season Subscriptions range from: $120 – $212 (based on seating)
(20% discount over single tickets)
Single Tickets range from $30-$53; available online beginning November 1
(5% discount for online single ticket purchases)
Sponsorships are available
CONTACT:
Visit www.bocasymphonia.org or call 561-376-3848.
The 2010-2011 Boca Raton Symphonia Connoisseur Concert Series/2/2/2/2
WHO:
About the Boca Raton Symphonia
The mission of the Boca Raton Symphonia, Boca's world class orchestra, is to perform and to make accessible classical music through concert performances and educational outreach programs featuring nationally and internationally acclaimed conductors and soloists, including renowned Principal Conductor Philippe Entremont and Guest Conductors Gunther Schuller and David Commanday. The 2010-2011 season soloists include Itzhak Perlman protégé and cellist Sujin Lee, mezzo soprano Daniela Mack, violinist Ludwig Mueller, cellist Christophe Pantillon, and pianist Soyeon Lee. For more information, visit www.bocasymphonia.org or call 561-376-3848.