For more information and interviews, please contact:
Kaye Communications, 561-392-5166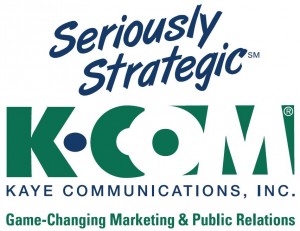 SOUTH FLORIDA-HEADQUARTERED
"SERIOUSLY STRATEGIC!™"
WINS TWO COVETED BERNAYS AWARDS THAT
HONOR EXCELLENCE IN PR & MARKETING
BOCA RATON, FL (January 21, 2013) —
Kaye Communications
, a South Florida integrated marketing and public relations firm that provides seriously strategic integrated communications counsel, develops authentic original content and implements market-relevant multi-audience initiatives for regional and national brands in a variety industries, was presented two coveted 2013 Bernays Awards that honor excellence by the local PR & Marketing community. The firm received the Gold Coast PR Council's (GCPRC) BERNAYS PR STAR AWARD for best overall and long-standing excellence and a BERNAYS AWARD for a project on behalf of a nonprofit organization, the Order of St. John, for its Our Legend, Her Legacy: Countess de Hoernle's 100th Birthday Gala and Community Celebration. This is the 9th year the competitive award program has been hosted by the GCPRC, the largest independent organization in South Florida of PR, marketing and communications professionals from Palm Beach, Broward, Martin and Dade counties.
Kaye Communications is now a three-time Bernays Award winner (named for the father of Public Relations Edward Bernays), previously honored by the GCPRC for the firm's worldwide media campaign for the debut of the $100 Hamburger for the Old Homestead Steakhouse at the Boca Raton Resort & Club in 2007 that generated $1.7 million in broadcast coverage alone within the first two days of the debut (followed by a live cooking segment on NBC TODAY and mentions on Letterman and Jay Leno) plus an Associated Press article and photos that was published around the globe as far as Australia and Japan.
"We are so honored and pleased to be presented these significant industry awards and thank our clients, colleagues, advocates and all those in the community who have been an integral and indelible part of writing our success story for 17 years…demonstrating that 'seriously strategic' game-changing communications with original content delivers empowering results," said Kaye Communications Founder, President and Chief Strategist Bonnie S. Kaye. "Proud to be recognized for excellence along with fellow Boca Raton-based award recipients: Lynn University [President's Award and Best Online Campaign] for the 2012 Presidential Debate and The Boating & Beach Bash Corp. LLC [Community Service Award] for the 4th Annual Boating & Beach Bash For People With Disabilities."
HONORED BY PEERS WITH "PR STAR" AWARD
Representing last year's PR STAR AWARD recipient Florida Atlantic University, Lisa Metcalf, FAU Director of Media Relations presented firm principals Bonnie and Jon Kaye the award, sharing that "Kaye Communications has built a solid reputation for serving a variety of business, lifestyle and nonprofit clients over the years…all great ultra-creative campaigns. BEST OF ALL, they get great results for their clients – and that's the best thing anyone can ever say about a PR firm."
Most recent notable trailblazing initiatives by Kaye Communications include its branding, destination marketing and dedicated website development and management for
Downtown Boca
for the Boca Raton Community Redevelopment Agency (CRA), which included the firm's conception and development of a comprehensive strategic marketing plan with a Friday Night LIVE! monthly entertainment series and inaugural Downtown Boca's
Brazilian Beat
destination celebration in collaboration with the Consulate General of Brazil in Miami and the Palm Beach County Visitors & Convention Bureau that drew 10,000 visitors. The firm also led media relations and community engagement initiatives to support
California Pizza Kitchen
's
debut of new national corporate brand-reinvention "flagship" showcase restaurant in Sawgrass Mills and spearheaded community and media initiatives for seven consecutive years for the PGA Champions Tour's
Allianz Championship
that brings more than 70,000 visitors to Boca Raton and delivers an economic impact of $15 million. It provides strategic integrated communications counsel and implementation for 5-Star Platinum Club Award-winning
Broken Sound Club
, the current reinvention and transformation of the Boca Raton Bridge Hotel into a 4-Star boutique property

and the Radisson Aruba Resort, Casino & Spa's $55 million transformation in 1999 and then again in 2011 for its recent $26 million refreshment.
Other Boca Raton brands
empowered by Kaye Communications include the Boca Raton Resort & Cluband its Premier Club; Muvico Theaters; Town Center at Boca Raton; the mixed-use village of Royal Palm Place; Promise Healthcare with long-term acute care hospitals in six states; and Boston Market (for its 25th anniversary brand reinvention/repositioning pilot market initiative that served as prototype for the brand's national activation).
As longtime advocates of initiating and building meaningful public-private partnerships, Kaye Communications "leads by example. Bonnie Kaye serves on the boards of directors for the Greater Greater Boca Raton Chamber of Commerce and the FAU Foundation. Jon Kaye serves on the Dean's advisory board for the FAU's Charles E. Schmidt College of Medicine and Rotary Club Downtown Boca Raton. Together, the Kayes have developed and hosted White Coats-4-Care fundraising receptions to "equip and dress" the incoming classes of the FAU medical school, as well as the recent inaugural "Your Medical School" Student Scholarship Benefit Celebration (that sold out before save-the-date notices and invitation could be sent out) that raised more than $3.26 million.
WINS BERNAYS AWARD FOR PROJECT BY OR ON BEHALF OF A NONPROFIT ORGANIZATION:
The Order of St. John (OSJ) of Jerusalem, Knights Hospitaller.
Demonstrating the firm's expertise and community engagement, Kaye Communications received the Bernays Award for its success in spearheading the "seriously strategic" communications, community relations and media relations for the "Our Legend, Her Legacy" birthday gala benefit and community engagement initiative to celebrate the Countess de Hoernle's 100th milestone and her philanthropic legacy while fulfilling her personal single birthday wish of raising significant funds to benefit Boca Raton area nonprofits who help "the sick and the poor".
"While the OSJ's initial plans were solely for an "Our Legend, Her Legacy" gala, we recognized the need to expand the scope of the celebration within the greater Palm Beach community," added Jon Kaye, chief operating officer and chief marketing strategist. "The OSJ embraced our recommendation for a community philanthropy awareness and education initiative that included a communitywide 'Red, White & Boca-Blue Countess Appreciation Day' and the creation of a record-setting community birthday wishes campaign."
Community participation exceeded goal the of 5,000 to deliver 6,100 personal "wishes" from businesses, chamber of commerce members, nonprofits, schools, military branches and OSJ members that was assembled as a "wall of [birthday] wishes" debuted at the gala. The event drew that drew 500 dignitaries and community, business and nonprofit leaders donned in black or white tie, military or Scottish equivalent, tiaras, regalia and decorations to celebrate in royal style and raised $250,000+ in net proceeds to benefit Boca Helping Hands, Family Promise of South Palm Beach County, Gulfstream Goodwill Industries, Inc., HomeSafe and Spirit of Giving Network.
Kaye Communications, Inc. is headquartered at South City Plaza, 1515 South Federal Highway, Suite 103, Boca Raton, FL 33432. For more information, call (561) 392-5166, visit
www.kcompr.com
, or email
[email protected]
.