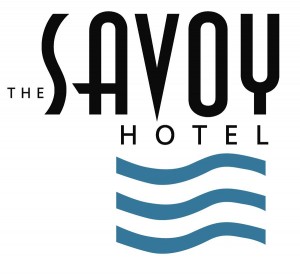 MIAMI BEACH, FLA (May 30, 2012)–
The
Savoy Hotel
on South Beach is offering three new value-added guest packages at the historic, all-suite oceanfront boutique hotel located in the heart of Miami Beach's Art Deco District
on a lush 2-acre expanse of tropical paradise from street to beach
. The "Savor the Savoy," "Florida Resident" and "Have a Love Affair at the Savoy" packages encourage guests to indulge in a memorable vacation experience in one of 75 recently "refreshed" accommodations, value-priced with savings and starting from $149. The packages provide for plenty of time to both relax and play with direct, private beach access and the attractions of the "SOBE" lifestyle and nightlife just steps from The Savoy, including the destination's diverse selection of nightclubs, boutiques, arts and culture, and VIP hotspots, where something for everyone awaits.
·
The Savor the Savoy Package
for two offers guests a discounted rate for multiple-night stays, allowing guests to experience a taste of the SOBE lifestyle at The Savoy and surrounding Miami Beach's variety of area restaurants, activities, sports arenas and attractions for friends and family alike to enjoy. Continental breakfast for two daily provides the energy to take in all the destination has to offer, just a half block from Ocean Drive's vibrant, exciting promenade with a huge selection of activities on The Savoy's doorstep; available starting at $149 with the promo code SAVOY15 through September 30, 2012.
·
The Florida Resident Package
encourages guests to stay and play in their own backyard by offering 15% discounts on stays of two or more nights, value-priced overnight valet parking and two welcome drinks starting at $169 with the promo code FLRESIDENT through September 30, 2012. Proof of residency required.
·
The "Have a Love Affair at the Savoy" Package
, coupled with the resort's picture-perfect setting located directly on the beach makes The Savoy an ideal destination for honeymooners, those celebrating anniversaries, and couples needing a quick recharge. The package, valid through November 30, 2012, starts at $169 and includes a bottle of champagne and continental breakfast for two daily with the promo code LOVE.
The Savoy is a historic storied beachfront hotel nestled in a private neighborhood within the
Miami Beach Art Deco Historic District
, providing guests a choice of the "best of all SOBE worlds"… the quiet, intimate and private retreat and lifestyle locals enjoy; the world renown eclectic collection of designer fashion boutiques and shows, galleries, museums and dining SOBE visitors crave; the ultimate beach and business experience executives and meeting planners seek; and the vibrancy and excitement of Ocean Drive that guests expect. It is also home to globally renowned destination events that ignite the area, annually drawing hundreds of thousands of natives and vacationers from around the country and globe. Ready for romance, this beachfront oasis with its oceanfront sun decks offering spectacular ocean views and its intimate ballroom is a popular venue for destination weddings…a favorite of wedding planners and brides.
A $1 million guest-focused "soft" renovation was completed in January 2012 that included new
sofa beds, flat-screen TVs, curtains, furniture, carpeting, fresh paint and upgraded linens in guest rooms and suites, and refreshment of its Art Deco lobby; restaurant, and its intimate private dining room: Albert's Place and its terrace; the Arlington Ballroom; meeting rooms and pool area and sundecks.
For booking and more package information, please call (305) 532-0200 or visit
SavoyMiami.com
.
Coral Hospitality that operates and manages The Savoy Hotel is a full-service hospitality management and investment company specializing in beach, mountain and golf resorts that has ranked a Top 5 independent management firm for the past eight years. Coral Hospitality has widened its spectrum to include a diverse portfolio of resorts, hotels, condominiums, private golf clubs, spas and community associations. Currently managing a collection of more than 25 properties throughout the southeastern United States and Caribbean, Coral Hospitality operates each with a core belief in providing thoughtful service in unique surroundings. Coral Hospitality continues to pursue a growth plan to enhance its portfolio with new resorts and clubs, as well as identifying additional capital partners with similar interests in developing and managing unique properties within the hospitality industry. For more information, visit online at
www.CoralHospitality.com
.