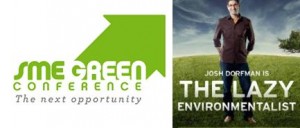 2010 SME GREEN CONFERENCE: "THE NEXT OPPORTUNITY" TO HELP BUSINESSES GROW WITH GREEN
Environmental Television Host, Radio Personality, Author and CEO Josh Dorfman — "The Lazy Environmentalist" — To Give Keynote Address
WHAT: The 2010 SME GREEN Business Conference: The Next Opportunity
Designed to further the future of business for small and midsized enterprises (SME), the SME Green Conference: "The Next Opportunity" will educate South Florida business owners, entrepreneurs and C-suite executives on why and how there is both money to be made and sustainability to be achieved when incorporating GREEN into everyday business practices. Developed and hosted by the Wyland Living Green Fair and the South Florida Business Journal and presented by PNC Bank, the conference will teach attendees how to profit from going GREEN and offer the practical information they need to be successful, whether they own a current business or interested in starting a new one. Featuring the best minds in the business who will share real success stories of entrepreneurs and business owners who made the leap into Green and how it significantly impacted their business, attendees will hear from industry leaders in a variety of fields, including environmental television host, radio personality and author Josh Dorfman, "The Lazy Environmentalist". Attendees will have a good road map to going Green following sessions addressing: Where the green opportunity is for small and mid-sized businesses, and how to create a green concept, make a current business green, follow green incentives, operate a green business, and build growth through sales and marketing.
WHEN: Friday, November 5, 2010; 8:30 a.m. to 5:30 p.m.
WHERE: Florida Atlantic University, Student Union: Grand Palm Room
HOW MUCH: $75, includes post-conference reception at Boca Raton Museum of Art with Internationally renowned marine life artist and conservationist
CONTACT: To register visit: www.livinggreenfair.com/SME, or visit http://www.livinggreenfair.com/, join twitter/green_fair, check us out on Facebook, http://www.facebook.com/greenfairbeach, contact us at info@livinggreenfair.com or call 561-241-7309.
About The Wyland Living Green Fair:
The 2010 Wyland Living Green Fair — set for Saturday and Sunday, November 6-7, 2010 from 10 a.m. to 6 p.m. each day in Downtown Boca — is a free and open-to-the-public interactive community experience that brings together art, community involvement, and awareness to teach individuals, families and businesses how easily they can go green in just a few simple steps, do better for the Earth and live a higher quality of lifestyle. In an entertaining way, activities will engage fair goers of all ages through an array of interactive experiences, product showcases, unique exhibitions, stage performances including "Rock the Planet" by Disney's shining stars Anna Margaret, Jasmine Sagginario, and Ryan Newman, cooking demos and organic food tastings, displays of eco-friendly hybrid cars, previews of organic fashions, a kids eco-zone, the Wyland Clean Water Mobile Learning Center, Wyland's Extreme Water Maze, Wyland painting 50-foot murals with children (a new one each day), movies, live music, concert performances by Disney Channel and Radio Disney teen stars, and a host of other activities including. A portion of proceeds benefit the Wyland Foundation (http://www.wylandfoundation.org/). Wyland — who was hailed a "Marine Michelangelo" by USA Today and is a leading international advocate for marine resource conservation — is lending his name and commitment to this year's fair as the City of Boca Raton that serves as host to the fair, lends the green space in Downtown Boca. For more information on the Wyland Living Green Fair event and exhibitor and sponsorship opportunities, visit www.livinggreenfair.com, follow twitter/green_fair, friend on Facebook, email to info@livinggreenfair.com or call 561-241-7309.
About Wyland:
Marine Life Artist Wyland (http://www.wyland.com/) has earned the distinction as one of America's most unique creative influences, and a leading advocate for marine resource conservation. An accomplished painter, sculptor, photographer, writer, and SCUBA diver, he has traveled the farthest reaches of the globe for more than 25 years, capturing the raw power and beauty of the undersea universe. The artist's efforts, moreover, have been recognized by the United Nations, Sierra Club, the Underwater Academy of Arts and Sciences, where he is listed among its Diving Hall of Fame, and private and public institutions throughout the world. Listed in Who's Who in American Art, the Guinness Book of World Records, and many other national and international publications, the multi-faceted artist has even hosted several series for television, including, "Wyland's Ocean World" on the Discovery Channel's Animal Planet Network. In spring 2010, the United Nations unveiled a commemorative stamp issue of Wyland artwork to celebrate the 50th Anniversary of the UNESCO'S Intergovernmental Oceanographic Commission. Today, Wyland is considered one of the most influential artists of the 21st Century, with artwork in museums, corporate collections, and private homes in more than one hundred countries. For more information, call Steve Creech at stevec@wylanddesign.com or 949-973-7070.
About the Wyland Foundation:
Founded by renowned environmental artist Wyland, the nonprofit Wyland Foundation has helped children and families around the nation to rediscover the importance of healthy oceans and waterways through public art programs, classroom science education, and live events. The foundation gives children the tools they need to become more creative, positive, and solution-oriented. It has supported numerous conservation programs since its inception as a 501(c)(3) non-profit organization in 1993, including marine artist Wyland's monumental Whaling Wall mural project — an epic series of one hundred life size marine life murals that spans twelve countries on four continents, and is viewed by an estimated 1 billion people every year. The Wyland Foundation, in partnership with the Scripps Institution of Oceanography, is actively engaged in teaching millions of students about our oceans, rivers, lakes, streams, and wetlands. For more information, visit http://www.wylandfoundation.org/.