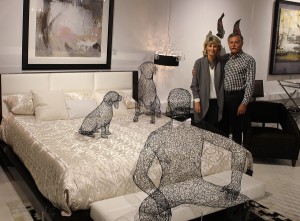 In ramp-up to Love Your Dog Week and the free and open-to-the-public Great Doggie Dine-Out & Paws Fest in Downtown Boca on February 21st, Sklar Furnishings is sponsoring the Inaugural Great Pet Bed Design Competition. Awards will be presented for the Most Macho, Ultimate Pampered Diva, Most Luxurious, Most Creative, The Sports Fan, Most Whimsical/Humorous, The Astro (Futuristic), Ultimate Pet Pool or Beach Lounger, Best 'Recycled' Rest (that can be made from old clothing, furniture), The 'OMG' Outrageous Bed, The Ultimate 'Boca Bed'; all entries will be eligible for Best In Show, Designers Choice, People's Choice trophy recognition.
According to Pat Howard, co-owner of Sklar Furnishings with husband Rick Howard, the design competition is open to pet lovers of all ages, including professional architects; home, office, furniture and fashion designers; artists, crafts enthusiasts; students and seniors. "We invite and encourage entries from credentialed designers and artists as well as school classes, families, businesses, and service clubs who value the companionship and well-being of dogs and cats. We look forward to receiving a variety of interesting,               eye-catching and of course 'pet comfy' entries in all categories."
"Since we specialize in custom contemporary furnishings and accessories, our Sklar team is very excited about joining in the 'unleashed' fun of the Great Doggie Dine-Out & Paws Fest by sponsoring this wonderful blend of furniture, art, creativity and passion for a compassionate community mission as pet rescue and adoption," added Rick Howard.
The Inaugural Great Pet Bed Design Competition is presented to increase awareness of Tri-County Animal Rescue (TCAR), the region's largest 501c (3) 100% NO KILL animal rescue and adoption nonprofit organization and to raise monies for its Medical Care Fund for all levels of veterinary evaluation, surgical, preventative and well-being (i.e. vaccinations, vitamins). These funds are required to support TCAR's intensive life-saving rescue initiatives to 'rescue, rehabilitate and re-home' abused, discarded or neglected dogs and cats it saves from high kill shelters and puppy mills as well as those surrendered or abandoned.
Sklar designers recommend that entrants search the internet (http://goo.gl/4oDBS1 or http://goo.gl/tkpfVK) or 'channel' their own pet wants and needs to serve as the inspiration for their signature creations. As avid volunteer leadership and home builders of Habitat for Humanity, the Howards suggest entrants consider stopping by a HFH ReStore or the           Tri-County Animal Rescue Thrift Shop to purchase materials, old furniture and accessories to recycle into entries as well as looking in their own homes to ignite creativity.
Per competition rules, entries can be submitted to accommodate small to extra large dogs, with a maximum width of four feet and maximum height of 4 feet. The types of materials used will determine the eligible category:
Display Only

(created as an art piece or sculpture) that is made of materials that do not accommodate frequent use, have breakable pieces, use non-water base paints.

Pet-Friendly (

made of durable pet-safe materials, paints, fabrics, etc.) NOTE: Affixed accessories cannot break off or be able to separate in any way as to cause harm to pet or be ingested; mattresses must be clean, comfortable and covering removable for washing.
To qualify, entries must be delivered with the official Great Pet Bed Design Competition Entry Form by noon on Monday, February 16th to Sklar Furnishings, 6300 North Federal Highway, Boca Raton, FL 33487. For more information, contact Jon Kaye at Kaye Communications at jkaye@kcompr.com or 561-392-5166, Ext. 2.
The public can view the entries at Great Doggie Dine-Out & Paws Fest in Downtown Boca at Sanborn Square on Saturday, February 21st from Noon to 9 p.m. The top 10 entries will be featured in the Couture Section of the silent auction at the Bone-Nanza pre-party at 13th Annual Tri-County Animal Rescue Doggie Ball at Boca West Country Club on Sunday, March 22nd.
Media Contact: Kaye Communications, (561) 392-5166
Bonnie S. Kaye, bkaye@kcompr.com – (561) 756-3099 (cell)
Jon A. Kaye, jkaye@kcompr.com – (561) 756-3097 (cell)