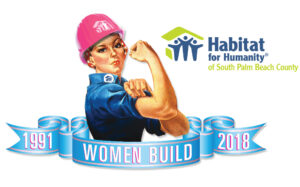 Delray Beach/Boynton Beach, Fla. (August 13, 2018) — In a moving home blessing and dedication ceremony, participants in the 2018 Habitat for Humanity of South Palm Beach County (HFHSPBC) WOMEN Build returned to celebrate the 2018 "House That Women Built".  The WOMEN Builders — who donned pink hard hats and raised hammers, drills and $215,000 to construct the home — blessed the keys and walls as Matthew Linderman, chief operating officer and general manager of Boca West Country Club that was the presenting home sponsor handed the keys to Habitat's newest homeowners: the March-Allen Family.
The festivities were a culmination of the unbridled passion of 125+ women who took meaningful action by helping build, fundraise and advocate for good, affordable housing for everyone. Empowered by a "camaraderie-of-a-rare-kind" and the unstoppable drive to come together to help transform their community, the women volunteers provided an inspiring "hand up, not a hand out" for three hard-working, low-income moms and their families. They did this by constructing, installing drywall and painting for the March-Allen family and then "sprucing up" two neighboring Habitat homes for a block of impact.
HFHSPBC's "Sisterhood of the Pink Hard Hats" that hailed from a cross-section of business, civic and community sectors worked alongside the Habitat team and homeowners Dreamer March and Willie Allen. At the end of each build shift every WOMEN Builder inscribed the wooden beams with a meaningful message to the family. The inscriptions included prayers, a drawing of a mezuzah on the doorway, quotes from favorite scriptures, Buddhist blessings as well as a colorful mosaic of names and inscriptions honoring and celebrating the strong women in the lives of each Women Builder.
At the home dedication, alongside their parents, March and Allen, their six children, Marco (16), Marcel (13), Aaliyah (11), Miracle (9), Faith (5) and Hope (1) led the Pledge of Allegiance and presented original drawings of their new four-bedroom home to Linderman. This is the fifth Habitat home sponsored by Boca West Country Club, with a partnership that began with General Manager Jay DiPietro and continues with the leadership of current GM Linderman.
In addition to their full-time jobs, March (at Walmart) and Allen (at BrandsMart) worked more than 500 sweat equity hours building other Habitat homes and fulfilling 100 hours of financial literacy classes to earn their zero-interest mortgage for their new Habitat home. They wanted to be sure that their children will never have to go through the struggles they had growing up, including homelessness. They worked hard to ensure stability and realize the American Dream of homeownership…that includes a first-ever backyard for the children.
According to HFHSPBC Vice President & Chief Development Officer Kari Oeltjen, the annual WOMEN Build initiative creates safe, decent and affordable homes for local, hard-working, low-income families through both financial sponsorship and hands-on building. By doing so it also helps to break the challenging poverty cycle, one family, at a time. When Habitat homeowners earn their homes through sweat equity programs and qualifying for interest-free mortgages, it changes the trajectory of entire families for generations because they are the first in their family line to achieve homeownership and be in a position to contribute back to their community.
One hundred percent of monies raised from initiatives like the HFHSPBC WOMEN Build are critical to the Habitat "Fund for Humanity" program that helps hard-working, low-income families in the South Palm Beach County community who have been unable to get ahead by qualifying for traditional bank mortgages. It thus underscores that sustainable community growth begins with a stable home foundation for families and children.
At the helm of the 2019 WOMEN Build Honorary Co-Chairs will be a Mother-Daughter team who are women builders every day in the construction industry: Beverly Raphael Altman, President and CEO, RCC Associates and Robyn Raphael-Dynan, Vice President of Operations, RCC Associates and HFHSPBC board member.
HFHSPBC is a 501(c)(3) organization that brings people together to build homes, community and hope in the cities of Boca Raton, Delray Beach and Boynton Beach, Florida. The nonprofit depends upon volunteer labor and tax-deductible donations of money, materials, services and property to fulfill its mission. It is headquartered at 181 S.E. Fifth Ave., Delray Beach, with home improvement thrift shop ReStores in East Boca Raton and Delray Beach.
To learn more about the 2019 WOMEN Build and register as a builder visit www.habitatsouthpalmbeach.org or contact HFHSPBC Vice President & Chief Development Officer Kari Oeltjen at koeltjen@hfhboca.org or (561)819-6070.
#  #  #