PARAMOUNT, CALIFORNIA (June 20, 2013) – Promise Healthcare, a leading national long-term acute care (LTAC) hospital company, announced the appointment of Michael Kerr as Chief Executive Officer of its Promise Hospital of East Los Angeles facility.
Serving most recently as Chief Executive Officer of Kindred Hospital in Westminster, California, Kerr brings more than 25 years of senior healthcare management experience to his new role at Promise Hospital. He has held CEO and various senior leadership positions at several specialty hospitals, including Executive Director for Kindred Hospitals in the Southern California area.
Kerr's responsibilities at Promise will include providing strategic leadership for all clinical operations, establishing and executing goals that directly impact hospital operations and patient care, physician development and business growth.
"Michael not only has a solid understanding of the Southern California healthcare market, he also has a proven record of developing and expanding specialty programs and services, establishing successful physician recruitment processes, building referral networks, improving physician satisfaction scores and increasing operating revenues," says Brian Dunn, SVP of Hospital Operations for Promise Healthcare. "I am confident his business development and clinical expertise along with his commitment to delivering quality patient care will be a great benefit to our hospital and community."
Kerr earned a Bachelor of Arts in Business Administration at Utah State University and a Master of Public Health, Health Services Administration at UCLA.
About Promise Hospital of East Los Angeles
Promise Hospital of East Los Angeles specializes in high acuity long-term hospital care for patients suffering from the most complex of medical conditions. The hospital's distinctive LTAC environment provides acute medical and aggressive therapy services for patients who require an average length of stay of 25 days or more. Promise concentrates on acute respiratory/pulmonary care (including ventilator management and weaning), infectious disease management (including long-term IV antibiotics), advanced wound management, complex medical management, and treatment for multi-organ failure and post-surgical complications.
Promise Hospital of East Los Angeles has two campuses located at:
Suburban Medical Center Campus
16453 South Colorado Ave.
Paramount, CA 90723
East Los Angeles Campus
443 South Soto Street
Los Angeles, CA 90033
For more information, admissions, or physician referrals, contact Maria Morales-Stewart at 562-408-7402 or visit www.promiseeastla.com.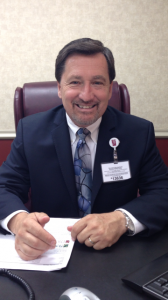 Michael Kerr