DOWNTOWN BOCA IS CALLING "FORE" DECORATED GOLF CARTS AND
A SHAMROCK FIELD OF SPECTATORS TO LINE THE STREETS
INAUGURAL "OFF THE GREEN" DOWNTOWN BOCA GOLF CART PARADE
TO LAUNCH DESTINATION CELEBRATION
BOCA RATON, FL – Downtown Boca invites families, area neighborhoods, country clubs and golf courses, schools and universities, and visitors to "rev up" their St. Patrick's Day celebration on Saturday, March 17th by registering to participate in or lining the streets for its First Annual "Off The Green" Downtown Boca Golf Cart Parade presented by Delray Hyundai-Delray Acura and held in conjunction with Festival of the Arts BOCA St. Patrick Day Extravaganza. Including several solar-powered carts featured by Shamrock GREEN Sponsor: the PGA Tour's Allianz Championship, the free, family-friendly, open-to-the-public parade will begin at 12 Noon at Mizner Park Amphitheater
(590 Plaza Real)
.
To showcase Downtown Boca's great shopping, dining, cultural, entertainment and lifestyle offerings, the golf cart parade route will take the decorated carts all throughout Downtown Boca– through Mizner Park, across the pedestrian promenade and Sanborn Square, down Palmetto Park Road and around Royal Palm Place, with all carts returning to Mizner Park Amphitheater for judging. Spectators can watch the festivities from Sanborn Square or from the official "watch spots" and favorite Irish pubs and eateries in Downtown Boca.
A $250 cash prize and "Irish Gift Basket" will be awarded at the conclusion of the parade at the Mizner Park Amphitheater clock tower to the most creatively decorated golf cart, as judged by representatives from local Irish establishments.
"We are proud to be the presenting sponsor of this inaugural event in Downtown Boca and are looking forward to all of the day's festivities," said Jim O'Neil, president of Delray Hyundai-Delray Acrua. "We are excited about an entire week of world class entertainment with the Festival of the Arts BOCA, and the culmination being this new parade and the Irish extravaganza in Downtown Boca. It's going to be great fun for the community."
With emphasis on making it an even GREENER St. Patrick's Day, Allianz Championship tournament director Ryan Dillon notes that "the parade gives us yet another opportunity to advocate for the on-going ambitious GREEN goals we put into swing at our 2012 tournament to set a national zero waste precedent for other large spectator events and directly benefit and support the 'greening' initiatives of the City of Boca Raton, our tournament host for the past six years."
More Celebration Follows Parade
At 1:30 p.m., free festivities
courtesy of Mizner Park, The Dubliner and coordinating sponsor Festival of the Arts Boca will feature c
hildren's
activities and b
agpipes.
The Festival of the Arts BOCA St. Patrick's Day Extravaganza at the Mizner Park Amphitheater begins at 3:00 p.m. with performances by the Drake Irish Dancers, fiddler James Kelly. Founded by Karl Drake, the Drake School of Irish Dance is one of the strongest schools of Irish Dance in the southeast, producing many regional and national champions as well as World Medal holders. Beginning at 6 p.m., the Festival of the Arts will present a free live concert by Celtic band Seven Nations.
Premier seating is available: $20 for adults and $10 for children over 12 years old. Limited free general "on-the-lawn" admission is available for those who bring their own chairs or blankets.
"It's wonderful to see the downtown community coming together to celebrate and start a new tradition in the City," said Festival of the Arts Chairman Charles Siemon. "We are very thankful to festival sponsors General Growth Properties, Delray Hyundai Delray Acura and the Dubliner for providing us with the opportunity to bring great talent to the party."
City of Boca Raton Downtown Manager Ruby Childers agrees. "It is collaborations, business engagement, and sponsor support like this that make Downtown Boca a stronger, more vibrant destination where visitors and residents can come early, stay late …knowing something for everyone awaits."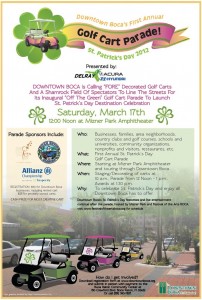 Please click to enlarge poster/
flyer.