Jon A. Kaye, Kaye Communications, Inc., 561-392-5166-office/561-756-3097-mobile
Bonnie S. Kaye, Kaye Communications, Inc., 561-392-5166-office/561-756-3099-mobile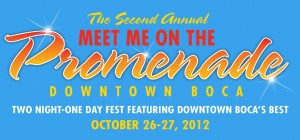 MEDIA ADVISORY–2012 MEET ME ON THE PROMENADE: DOWNTOWN BOCA
BOCA RATON, FL (October 25, 2012) –Due to the National Weather Center's forecasting of sustained winds from 35 to 40 miles per hour with wind gusts up to 60 miles per hour with intermittent rain on Friday, and in alignment with the Palm Beach County School District's decision to close schools this afternoon and all day Friday, Downtown Boca announced today:
·
FRIDAY NIGHT
opening night activities and entertainment
(October 26th)
for the 2nd Annual Meet Me On The Promenade two-night, one-day street fest in Downtown Boca
have been cancelled
for the safety of performers, participants, vendors and event-goers.
·
ALL SATURDAY DAY AND NIGHT
live entertainment, family-friendly programming, Halloween Happenings! and "after parties" on October 27th WILL REMAIN AS PLANNED from 10 a.m. to 10 p.m.
When possible, entertainment and activities from Friday will be rescheduled to the Saturday line-up of festivities for a jam-packed day and night of Stroll, Shop, & Savor programming to include live entertainment, plenty of "friends and family" fun and staged "Fall For Downtown Boca" keepsake photo opportunities both inside a gigantic "walk in" commemorative globe and next to the Office Depot Tony Stewart NASCAR show car. There will be Family and Sports Zones, themed villages, a Doggie Depot, classic and antique car showcases, an artists and crafters expo, Cocktails-4-Charity "fund" and "fun" raising, dining specials, retail discounts, and much more. Saturday afternoon and evening schedule features memorable Halloween Happenings! including a costume contest for children and families, a pet costume showcase, shop-to-shop "trick or treating", early family dining specials and "Happy Halloween Hours", BeetleJuice's Rock 'N Roll Monster Revue and "after parties" at participating Downtown Boca pubs and clubs.
MORE ABOUT MEET ME ON THE PROMENADE
Just days after Monday's history-making "Rock the Vote" concert and presidential debate watch party in Downtown Boca, the "next big thing" to be staged in Downtown Boca is the second annual "Meet Me On The Promenade". The free street fest featuring the downtown destination's best will be held now (due to weather conditions) only on Saturday, October 27th from 10:00 a.m. to 10:00 p.m. with Sanborn Square serving as the event hub (71 North Federal Highway). On-going activities are scheduled along the Promenade and the areas that it connects such as Palmetto Park Road, N.E. First Avenue, Boca Raton Road, Mizner Park and more.
Free "jump on, jump off" trolley service, sponsored by Mizner Park and General Growth Properties, will make stops from 9:00 a.m. to 11:00 p.m. on Saturday from the south end of Mizner Park to City Hall, Downtown Library, Boca Raton Museum of Art, and back again. There will be plenty of free parking, including VIB (Very Important Bicyclist) Parking on Saturday from 10
:
00 a.m. to 6:00 p.m. sponsored and hosted at Comerica Bank
at 1 South Federal Highway, corner of South Federal Highway and East Palmetto Park Road.