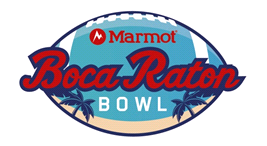 Celebrity Judges Include Mid-American Conference Commissioner Dr. Jon Steinbrecher,
Legendary Head Coach Howard Schnellenberger, FAU First Lady Carolyn Kelly And
ESPN West Palm On-Air Personalities
To kick-off and build on the newest holiday season-timed tradition of Palm Beach County's Marmot Boca Raton Bowl, the community-at-large is invited to 'sport' their college colors and network at the bowl's Inaugural Great Chefs Tailgate Showcase And
College Football Spirit Night on Wednesday, November 18, 2015 at 6 p.m. at Via Mizner Country Club, 6200 Boca Del Mar Drive in Boca Raton. All event proceeds benefit the bowl's charity partner Spirit of Giving (SOG) in support of its 2015 holiday gift drive.
To 'turn up the heat' early for the postseason college football bowl game with casual 'game on' networking and 'pride rallying' fun, the area's top country club, hotel, restaurant and celebrity chefs will showcase tastings of their 'coolest, hottest and most quenching' football tailgating food and drink recipes. All will be 'served up' in 'friendly' competition at the first community lead-in event for the 2015 Marmot Boca Raton Bowl that will match up the Mid-American Conference and American Athletic Conference at FAU Stadium this December. Sampling of culinary participants includes Via Mizner Golf & County Club, Boca Raton Resort & Club, PGA National Resort & Spa, Broken Sound Club, Florida Atlantic University, Tilted Kilt, M.E.A.T. Eatery & Tap Room and The Little Chalet among others.
Event-goers are encouraged to gather their fellow college alumni to join in the evening's 'football fever' to win team prizes, score for their individual favorite 'draft pick' tailgate recipes, show their spirit in the 'alma mater fight song' contest, try their skills in the tailgate game section and compete at the halftime football trivia challenge. Bowl game day tickets will also be on sale for individual, family pack and group game day tickets to what has been dubbed 'Boca's Biggest Annual Outdoor Party℠' on Tuesday, December 22nd at FAU Stadium in Boca Raton.
All Great Chefs Tailgate Showcase recipes — with a special nod to the winning entries voted on by both attendees and a panel of local celebrities and 'foodie' experts — and event photos will be featured online in the Inaugural Official Marmot Boca Raton Bowl Tailgate E-Cookbook. Celebrity judges include Mid-American Conference Commissioner Dr. Jon Steinbrecher, legendary head coach Howard Schnellenberger, ESPN West Palm on-air personalities, FAU First Lady Carolyn Kelly aka 'College Football Tailgate Queen' and foodie experts. Those attending can continue the college football spirit immediately following the Great Chefs Tailgate Showcase by joining Commissioner Steinbrecher for an onsite MACtion Watch Party at 8 pm.
"The Chefs Tailgate Showcase night is a perfect way for residents and businesses to rally their collegiate spirit in helping to raise awareness of Palm Beach County's own collegiate bowl game and fill the stadium stands, hotel rooms, restaurants and retail hubs as ESPN sheds a nationally televised spotlight on 'Boca's Biggest Annual Outdoor Party'," notes Marmot Boca Raton Bowl Executive Director Doug Mosley. "Just as hometown hosts to other major longtime college bowls cheerlead to shine with city and county pride and benefit from their televised traditions, Boca Raton is building its own with community lead-in events like this one."


Mosley added that the evening promises to be exciting and entertaining as attendees get to know more of their own fellow college alumni in the Palm Beach County community, enjoy halftime entertainment, have the opportunity meet and game watch with Dr. Jon Steinbrecher and purchase their game day tickets all while supporting Spirit of Giving, the Marmot Boca Raton Bowl's charity that "makes sure that hundreds of children in need locally will enjoy the magic of the holiday season."
Tickets to the Chefs Tailgate Showcase event are $40 per person, which includes chefs tastings and two cocktails. To purchase tickets to the Great Chefs Tailgate Showcase, visit www.spiritofgivingnetwork.org or call 561.385.0144.