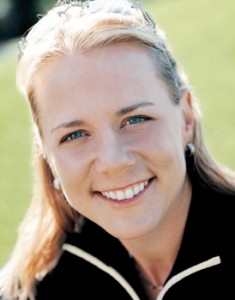 Getting the ladies into the swing of championship golf, LPGA legend with 72 LPGA victories and eight-time "player of the year" Annika Sorenstam (www.annikasorenstam.com) will give 36 executive women (nine foursomes) expert golf tips at the start of the second annual Allianz Championship Women's Executive Pro-Am on Tuesday, February 7th at the Old Course at Broken Sound Club at 10:30 a.m. The women's tournament is part of the 2012 Allianz Championship, a celebrated week-long PGA Champions Tour event that brings the legendary champions of golf to Boca Raton to vie for a $1.8 million purse.
Chipping in net proceeds to benefit Boca Raton Regional Hospital, the Women's Executive Pro-Am offers women the opportunity to participate in a golf and business networking experience like no other while giving all skill sets a chance to play nine holes with a PGA Champions Tour player. The fun-filled day includes a private group clinic with Sorenstam presented by JM Lexus that follows a continental breakfast with an "up close and personal" Q&A session with her and a shotgun start at the conclusion of her clinic. Registration is $750 per player, and includes Pro-Am gift package, two invites to VIP Draw Party where awards will be presented for the women's back nine play, and two VIP Partners Club Tickets.
"We are delighted to feature Annika this year at our popular Women's Executive Pro-Am as she was one of the most dominant players in women's golf," noted Allianz Championship Tournament Director Ryan Dillon. "In addition to a great 'ladies day' on the course, participants will enjoy a rare opportunity to learn from and get to know one of LPGA's storied champions who has rewritten the LPGA and Ladies European Tour record books, won countless awards and events, and brought unprecedented attention to women's golf."
He added that Sorenstam was recently selected as the recipient of the United States Golf Association's 2012 Bob Jones Award, the USGA's highest honor that has been presented annually since 1955 in recognition of distinguished sportsmanship in golf. The award will be presented just a few days before the Allianz Championship's Women's Executive Pro-Am on February 4th at the USGA's Annual Meeting in recognition of a person who emulates Jones' spirit, his personal qualities and his attitude toward the game and its players.
Sorenstam's success has changed how women's golf is played, covered and viewed, and in her rise to mainstream athlete and celebrity, she has had a positive impact on all women's sports. She was born in Stockholm, Sweden on October 9, 1970 and began playing golf at the age of 12; her sister Charlotte also plays on the LPGA Tour.
Dillon said he expects with Sorenstam being part of the tournament's experience this year and only 36 openings available, this year's Women's Executive Pro-Am will sell out quickly and encourages those interested to register early. To purchase foursomes and individual tickets by January 6th, contact Anthony Greco at agreco@allianzchampionship.com or 561-241-GOLF (4653).
The week-long sixth annual Allianz Championship schedule of events includes three days of championship play from Friday through Sunday, Feb. 10-12, 2012 plus the second Annual Women's Executive Pro-Am on Tuesday, Feb. 7th with an Executive Pro-Am Pairings Party that evening; two days of Executive Pro-Am play on Wednesday and Thursday, Feb. 8th and 9th; a third annual Golf & Wine Experience held during the second day of championship play, Friday, Feb. 11th; and Family Day on Sunday, Feb. 12th, the closing day of tournament play. The second annual Allianz Championship "Birdies Fore Charity" fundraising program through which any participating nonprofit organizations solicit pledges from supporters based on the number of birdies made by PGA Champions Tour players during the three-day championship play.
The Allianz Championship, with free general admission on all three championship play days generously underwritten by sponsors JM Lexus, the City of Boca Raton and Allianz Life, as well as its Women's Executive Pro-Am will be held on The Old Course at Broken Sound Club, located at 1401 NW 51st Street, (Yamato Road), Boca Raton, FL 33431. For more information On the Allianz Championship that runs from Feb. 6-12, 2012, tournament events, VIP and skybox tickets, Pro-Am opportunities, sponsorships and player roster, visit www.allianzchampionship.com or call 561-241-GOLF (4653).
About Allianz Championship-In addition to bringing the legendary champions of golf to Boca Raton for a celebrated week-long PGA Champions Tour event, the Allianz Championship will be driving all net proceeds to Boca Raton Regional Hospital. The Old Course at Broken Sound in Boca Raton, Florida will play host to the event February 6-12, 2012. The Allianz Championship with a purse of $1.8 million is the Champions Tour's first tournament of the early-season Florida swing with the Golf Channel televising live all three rounds of the championship from The Old Course at Broken Sound Club. Visit www.allianzchampionship.com for updates, to purchase skybox tickets, and learn more about sponsorship and volunteer opportunities.
About Boca Raton Champions Golf Charities-The Boca Raton Champions Golf Charities (BRCGC) is a year 'round 501 (c) 3 nonprofit organization; its board serves as the operational and financial oversight group for the annual Allianz Championship as well as the oversight group for the distribution of all charitable funds. All net tournament proceeds will benefit Boca Raton Regional Hospital with other independent PGA-related fundraising initiatives offered to all South Florida nonprofits such as its Birdies Fore Charity. Champions Tour events generate significant sums of money for charity; the three tours of the PGA and their tournaments reached the $1.5 billion mark in charitable, more than all other professional sports combined.
About Allianz Life-Allianz Life has been keeping its promises since 1896. Today, it carries on that tradition, helping Americans achieve their retirement income goals with a variety of annuities and life insurance products. A leading provider of fixed index annuities, Allianz Life is part of Allianz SE, a global leader in the financial services industry with nearly 155,000 employees worldwide. Based on its revenue, Allianz SE is the 20th largest company in the world (Fortune Global 500, August 2010).
About Broken Sound Club-Broken Sound is considered one of the premier golf course communities in Palm Beach County, FL. It features resort-style, country club living in 28 private villages and has 23 tennis courts, a state-of-the-art fitness/spa center, aquatic area, dining facilities and two of the finest golf courses in South Florida. The original Broken Sound Club, now affectionately known as the "Old Course", was founded in 1978 and designed by Joe Lee. It will host the Allianz Championship. Gene Bates completed a redesign of the Old Course in January 2004. The Old Course features an abundance of trees unique to South Florida and rolling fairways that give it a feel similar to courses in the Pinehurst, NC area. It includes the largest stand of natural Florida maples trees in the county. The Club Course, another Lee design, was opened in 1985 and also recently renovated by Bates. Broken Sound is located on the north side of Yamato Road on Old Course Way between Congress Avenue and Military Trail.
About Boca Raton Regional Hospital-Serving the community since 1967, Boca Raton Regional Hospital has 400 beds and more than 700 primary and specialty physicians with privileges. Areas of expertise include cancer, cardiovascular disease and surgery and women's health. Proceeds from this year's Allianz Championship will support the Ron & Kathy Assaf Center for Excellence in Nursing at Boca Raton Regional Hospital. With our country facing a nursing shortage of unheard of proportions, this initiative becomes an extremely important tool in our mission to attract and retain the highest caliber nursing staff in the country and to help our nurses discover a myriad of personal and professional opportunities, including scholarships that support their professional growth. For almost half a century, philanthropy has been an integral component of Boca Raton Regional Hospital's success. Today, community support is more important than ever. For more information about the Foundation and its fundraising initiatives that support the mission of Boca Raton Regional Hospital, please call 561-955-4142.