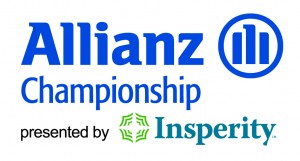 BOCA RATON, FL (November 26, 2012) —
Getting the ladies into "the swing" of championship golf and better business, LPGA legend with 72 LPGA victories and eight-time "player of the year" Annika Sorenstam (
www.annikasorenstam.com
) will give tips on women's business empowerment and golf at the tee-off of the third annual Allianz Championship Women's Executive Pro-Am on Tuesday, February 5th at the Old Course at Broken Sound Club at 10:30 a.m. The women's executive "starter" power breakfast for golfers and non-golfers (with corporate tables) and the Pro-Am tournament for 36 executive women (nine foursomes) is part of the 2013 Allianz Championship, a celebrated week-long PGA Champions Tour event, the first full-field event of the season, bringing the legendary champions of golf to Boca Raton to vie for a $1.8 million purse.
"Chipping in" net proceeds to benefit Boca Raton Regional Hospital, the Women's Executive Breakfast and Pro-Am offers women the opportunity to participate in "a golf and business networking experience like no other" while giving all skill sets a chance to play nine holes with a PGA Champions Tour player. The fun-filled day includes a continental breakfast with an "up close and personal" Q&A session with Sorenstam followed by a private group clinic presented by JM Lexus followed by a shotgun start with golf pros. Registration is $750 per player, and includes Pro-Am gift package, two invites to VIP Draw Party where awards will be presented by Tiffany & Co. for the women's back nine play, and two VIP Partners Club Tickets during the Allianz Championship tournament rounds.
"We are delighted to have Annika return this year at our popular Women's Executive Pro-Am as she is one of the most dominant players in women's golf, and her advice on achieving success in both business and golf was a huge hit with last year's participants," noted Allianz Championship Tournament Director Ryan Dillon. "In addition to a great 'ladies day' on the course, participants will enjoy a rare opportunity to learn from and get to know one of LPGA's storied champions who has rewritten the LPGA and Ladies European Tour record books, won countless awards and events, and brought unprecedented attention to women's golf."
He added that Sorenstam was recently selected as the Vice Captain for the 2013 Solheim Cup, the biennial, trans-Atlantic team match-play competition pitting the best U.S.-born players from the Ladies Professional Golf Association (LPGA) Tour against the best European members from the Ladies European Tour (LET), commonly known as "the most exciting tournament in Women's golf" and Sorenstam's personal favorite.
Sorenstam's success has changed how women's golf is played, covered and viewed, and in her rise to mainstream athlete and celebrity, she has had a positive impact on all women's sports. She was born in Stockholm, Sweden on October 9, 1970 and began playing golf at the age of 12; her sister Charlotte also plays on the LPGA Tour.
Dillon said he expects with Sorenstam again being part of the tournament's experience this year and only 36 openings available, this year's Women's Executive Pro-Am will sell out quickly and encourages those interested to register early. To purchase foursomes and individual tickets by January 6th, contact Anthony Greco at
agreco@allianzchampionship.com
or 561-241-GOLF (4653).
The week-long seventh annual Allianz Championship schedule of events includes three days of championship play from Friday through Sunday, Feb. 8-10, 2013 plus the third annual Women's Executive Pro-Am on Tuesday, Feb. 5th with an Executive Pro-Am Pairings Party that evening; two days of Executive Pro-Am play on Wednesday and Thursday, Feb. 6th and 7th; a fourth annual Golf & Wine Experience as well as the popular Family Day activities held during the second day of championship play, Saturday, Feb. 9thand more.
The Allianz Championship, as well as its Women's Executive Pro-Am will be held on The Old Course at Broken Sound Club, located at 1401 NW 51st Street, (Yamato Road), Boca Raton, FL 33431. For more information On the Allianz Championship that runs from Feb. 4-10, 2013 and related events; Pro-Am opportunities; sponsorships; player roster; tournament admission (Tickets $20 per person, free admission for children age 16 and under) and group ticket packages; and VIP and skybox tickets; visit
www.allianzchampionship.com
or call 561-241-GOLF (4653).
About Allianz Championship

The 2013 Allianz Championship, in its seventh consecutive year at The Old Couse at Broken Sound, will bring the legends of golf to Boca Raton from February 4th to 10th for the first full-field PGA Champions Tour event of the season. Its 2012 champion Corey Pavin is set to defend his title as challengers Tom Lehman (2011 champion; 2011 and 2012 Schwab Cup winner); Bernhard Langer (2010 champion), Mark Calcavecchia, Fred Couples, Fuzzy Zoeller, vie for a $1.8 million purse with all three rounds televised live nationwide on The Golf Channel. The Boca Raton Champions Golf Charities (BRCGC) serves as the operational and financial oversight group for the event as well as for the distribution of all charitable funds, as all net tournament proceeds "chip-in" to benefit Boca Raton Regional Hospital. Managed by Pro Links Sports with title sponsor Allianz Life insurance Company, the annual tournament has attracted 31 of the top 34 professionals on the money list. For skybox tickets and other hospitality, call: 561-241-GOLF (4653) or visit
www.allianzchampionship.com
.