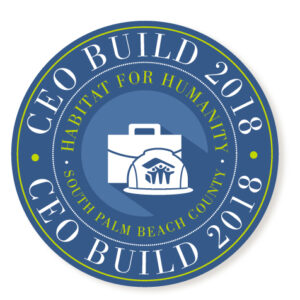 Habitat Seeks 70 Top Executives to "Climb the Corporate Ladder" in a Different Way…
By Raising $150,000 and the Walls of the Second "Home That CEOs Built"
DELRAY BEACH/BOCA RATON, Fla. (August 6, 2018) – Continuing the camaraderie and momentum of Habitat for Humanity of South Palm Beach County's (HFHSPBC) 2017 inaugural CEO Build, area C-Suite and senior executives will again "climb another ladder of success" to create a second "House that CEOs Built" for another Habitat Partner Family on Friday, October 19 and Saturday, October 20. Supported by the leadership of the 2018 CEO Build Honorary Chair, Paul Adkins, chairman of Florida Peninsula Insurance Company, the CEO Build Presenting Home Sponsor, HFHSPBC is actively recruiting 70 empowered, high-ranking senior business leaders to participate. They will join forces to raise "funds and walls" to build a safe, decent and affordable home for a local, hard-working, low-income family.
By participating in creating the "House that CEOs Built", these community-minded trailblazers collectively celebrate and harness the unstoppable power of corporate leaders to come together to help transform their community with an inspiring "hand-up, not a hand-out". By helping to break the poverty cycle for just one family. they collectively make an indelible impact on the community.
As part of this signature fundraising event, the 70 CEOs will not only help with financial sponsorship, but also with hands-on building as they don hard hats, install and finish drywall, paint the interior and exterior, and learn new carpentry skills, or perhaps hone the skills they may already have. No building experience is necessary; C-Suite executive builders and business owners will work under the guidance of HFHSPBC construction professionals alongside the future Habitat homeowners.
CEO Build Helps to Break Challenging Economic Cycles 
One hundred percent from monies raised from the HFHSPBC CEO Build event underwrite the construction materials for the home they are building. These monies are critical to the Habitat "Fund for Humanity" program that helps hard-working, low-income families in the South Palm Beach County community who have been unable to get ahead by qualifying for traditional bank mortgages. When Habitat homeowners qualify for interest-free mortgages, they earn their homes through "sweat equity" programs and financial literacy classes that help change the trajectory of entire families for generations because they are the first in their family line to achieve homeownership.
Proceeds from HFHSPBC's two ReStores, located in East Boca Raton and Delray Beach, support increased financial literacy curriculum classes, new homeowner education and home care maintenance programming, plus education scholarships for children of homeowners to restore hope by breaking challenging economic cycles. Habitat homeowners become taxpayers and engaged citizens who strengthen community.
Honorary Chair and Growing C-Suite Builder Roster Spans Industries
Onboard again are 2018 CEO Build Honorary Chair Paul Adkins, Chairman, Florida Peninsula Insurance Company and 2017 CEO Build Honorary Chair Jerry Fedele, CEO, Boca Raton Regional Hospital. They will be joined by returning and new CEO Builders hailing from HFHSPBC executive and board leadership, construction and landscaping firms, banks, financial advisors, insurance companies, healthcare providers, resorts and private clubs, commercial real estate firms, airports, tech companies and nonprofits.

How to Register and Fundraise
To participate, each "CEO Builder" must commit to fundraise or donate $2,500 via the designated HFHSPBC CEO Build campaign website. Once registered as a CEO Builder by hitting the CEO Build tab at the top of the homepage of www.habitatsouthpalmbeach.org, participants can create their own fundraising page.  If someone cannot commit to being a CEO Builder, they can support a CEO Builder featured on the dedicated fund site.
CEO Builders to Gather at Special Kick-Off Event & Orientation, September 6
A "CEO Build" kick-off and orientation reception will be hosted CEO Sponsor: Boca Raton Resort & Club on Wednesday, September 6 at 5:30 p.m. at BRR&C's 501 East restaurant.  Reuniting and new CEO Builders will enjoy camaraderie in a relaxed, island-themed evening overlooking the newly renovated greens of the Boca Raton Resort and Club.  The evening kick-offs the official CEO BUILD of those who have committed to raising or giving $2,500 and other prospective "CEO Builders" will learn how they can be one of the 70 C-Suite executives who create the 2018 "House that CEOs Built" in South Palm Beach County and meet and work alongside the Habitat Partner Family residents for whom the home is being built.
HFHSPBC, headquartered at 181 S.E. Fifth Ave., Delray Beach, is a nonprofit 501(c)(3) organization that brings people together to build homes, community and hope in the cities of Boca Raton, Delray Beach and Boynton Beach, Florida. The nonprofit depends
upon volunteer labor and tax-deductible donations of money, materials, services and property to fulfill its mission.
To learn more about the HFHSPBC CEO Build, register as a builder and/or team leader and/or recruit volunteers to help fundraise and build, sponsorship opportunities and the kick-off event, contact Kari Oeltjen, HFHSPBC Vice President and Chief Development Officer at koeltjen@hfhboca.org or (561)699-7198.  To learn more about HFHSPBC, its home
dedications, its events and activities, home build sponsorship and year-round volunteer opportunities as well as donating to or shopping its home Improvement center thrift shop ReStores in East Boca Raton and Delray Beach, visit www.habitatsouthpalmbeach.org.
# # #