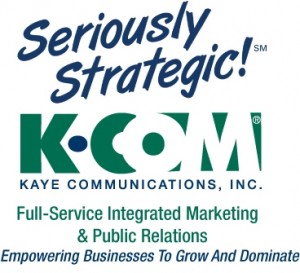 "Writing Right!" Delivers Game-Changing Results
Kaye Communications, Inc., a South Florida headquartered integrated marketing and public relations firm, has established a new KCOM-WRITES division to meet the burgeoning demand by companies for on-going, fresh "original" content strategically developed to grow brand influence and customer engagement via a variety of communication channels. Staffed by a team of professional writers, award-winning journalists, columnists and editors – KCOM-WRITES will focus on developing strategic results-generating content and brand messaging to establish and/or strengthen client brand positioning and influence, awareness, and reputation in today's ever-evolving 24/7 competitive communications age.
The division develops critical content essentials, ranging from brand promise messaging, blog series content, website copy, social media campaigns, news releases, bylined articles, e-blasts, and newsletters to ads, commercials, and brochures; invitations; sales letters; presentations; speeches, and more. The KCOM-WRITES services can be implemented with support from other firm practice areas, including KCOM-Creative, KCOM-Media Relations, KCOM-Online & Social, KCOM-Connect and KCOM-Crisis Solutions.
"Long known for our firm's expertise and track record of success in delivering results-driven 'customized original content' as the strategic foundation for all integrated internal and external communications for our clients, our enhanced dedication in this practice area through KCOM-WRITES will be of significant benefit to small and large companies and organizations throughout the country on so many levels," noted firm President and Chief Strategist Bonnie S. Kaye. "By leaving this art and science to us, businesses can focus on what their focus should be… business generation."
KCOM-WRITES ALLEVIATES THE PAIN,
SO BUSINESSES CAN FOCUS ON THE GAIN
Kaye reported that while most companies competing in today's 24/7 percentage are stymied, often paralyzed, and genuinely fearful of engaging. Business owners and entrepreneurs can easily and quickly recite a number of obvious communications channels, but most will tell you that they are not proficient or know how to even start to effectively use and populate those channels to best share their brand promise and reinforce their brand influence and its company mission. Many of those who have been "in the game" are not sure what they are doing is working.
"'Writing right' is a critical game changer," Kaye noted. "We excel in delivering effectual content, knowing well that 'writing right' is much more than just writing…it means 'writing for results' based on sound strategy. Success is only achieved by intelligently creating specifically-targeted messages and utilizing the vehicles that most impact audiences, from collateral, videos, ads, and presentations to mobile apps, broadcast, and online and social media."
DRAWING ON A PROVEN TRACK RECORD
IN VARIETY OF CLIENT CONCENTRATIONS
With more than 65 years of combined principal experience to draw upon, the firm's strategic client concentrations focus on clients in healthcare, hospitality, lifestyle, professional services, legal, ACE (arts, culture and entertainment), campaigns and conferences, public entities (government agencies, community redevelopment agencies, business improvement districts), sports, and GREEN/sustainability fields.
According to Kaye, the expanded platform and KCOM-WRITES will deliver the level of services the firm principals have successfully developed and implemented on behalf such national and regional brands, including Home Box Office (HBO) and its family comedy, documentary and original film programming; Boston Market; Boca Raton Resort & Club; Promise Healthcare; Allianz Championship, a PGA Champions Tour event; Radisson Aruba Resort, Casino & Spa; Boca Raton CRA for the Downtown Boca destination; Downtown Boca's inaugural Meet Me On The Promenade Streetside Fest; Muvico Theaters; California Pizza Kitchen; Law Offices of Lesser, Lesser, Landy & Smith; the New York National Boat Show, Miami International Boat Show, and the Charles E. Schmidt College of Medicine at Florida Atlantic University.

Kaye Communications, Inc. is headquartered at South City Plaza, 1515 South Federal Highway, Suite 103, Boca Raton, Florida 33432. For more information on the firm's practice areas, overview of client services and KCOM-WRITES, visit www.kcompr.com, call 561-392-5166 or email SmartStrategiesBegin@kcompr.com.