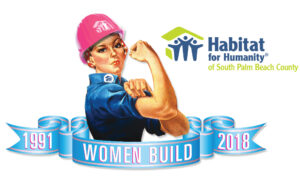 Boca Raton/Delray Beach (March 29, 2018) – Donning pink hard hats and rockin' the sparkle of pink sapphire and diamond earrings, more than 100 gathered for a private mix-and-mingle reception hosted by Sklar Furnishings to kick off Habitat for Humanity of South Palm Beach County's (HFHSPBC) WOMEN Build 2018.  This year's women-exclusive fundraiser scheduled for days leading up to Mother's Day combines fundraising with "camaraderie-of-a-rare-kind" that harnesses and celebrates the unstoppable power of mission-driven women to come together to help transform their community.
WOMEN Builders enjoyed teaming up to take group photos in their "pink" hard hats and being inspired by hearing a compelling woman Habitat homeowner share her story. During the festivities, each tried on the 2018 WOMEN Build "push gift" to be awarded to the largest fundraiser donated by a WOMEN Build Sponsor Jay Feder Jewelers. The incentive award, a pair of $8,000 18-kt rose gold door-knocker earrings, features 27.06 carats of raspberry pink sapphires and diamonds.
As a "hand up, not a hand out" for a hard-working, low-income mom and her family each Women Builder will raise or donate a minimum of $1,000 for a collective $150,000 to underwrite the cost of construction materials of her home. Once each WOMEN Builder reaches her goal, they will build on-site alongside the Habitat Partner Family for whom the home is being built.  The WOMEN Builders will head outside of their "comfort zones" to wield a buzz saw, hammer like a pro and prime and paint walls with other dynamic women who share similar interests and passion for community advocacy.
Poignantly timed for leading up to Mother's Day, Habitat for Humanity International recognizes that women are uniquely positioned to nurture families and build communities. The HFHSPBC build is part of the national "WOMEN Build" — founded in 1991— that annually enlists and encourages women across the country, with or without any construction skills, to fundraise and build homes for families in their local communities.
HFHSPBC's "Sisterhood of the Pink Hard Hats" hails from a cross-section of business, civic and community sectors, including elected officials and civic leaders; business owners and executives in banking and financial services, healthcare, real estate, home design, retail, restaurants, business organizations and associations, nonprofits and foundations, public relations and marketing firms, media, construction, space and city planning, property management, IT, higher education, human resources, law and accounting firms and churches and synagogues.
2018 Habitat WOMEN Build Honorary Chairwoman is Susan Haynie who returns in that role for a second year.  Haynie is a certified general contractor by profession who serves as mayor of the City of Boca Raton and immediate past president of the Florida League of Cities, Inc.
Sponsors include Lowe's; ADT; Sklar Furnishings; Kaye Communications, Inc. (KCOM-PR); Oceans 234; Kaufman Lynn Construction; BB&T; Paradise Bank; Jay Feder Jewelers; Wells Fargo; Listen Learn Care Foundation; Boca Raton Airport Authority, EDENS and Marilyn Simon Weinberg.
To learn more about the HFHSPBC WOMEN Build 2018 and register as a builder visit www.habitatsouthpalmbeach.org or contact HFHSPBC Chief Development Officer Kari Oeltjen at koeltjen@hfhboca.org or (561) 819-6070.
#####