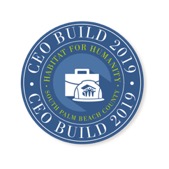 DELRAY BEACH/BOCA RATON, Fla. (August 19, 2019) – "Building" on the rare camaraderie and successful momentum of Habitat for Humanity of South Palm Beach County's (HFHSPBC) previous CEO Build initiatives, HFHSPBC is now actively recruiting 100 empowered, high-ranking senior business leaders to create the third "House that CEOs Built" in South Palm Beach County. Through the 2019 CEO Build, area C-Suite, senior executives and business owners hailing from diverse industries have the unique opportunity to "climb another ladder of success" by joining forces on Friday, October 18 or  Saturday, October 19 to raise "funds and walls" to build a safe, decent and affordable home for a local, hard-working, low-income Habitat Partner Family.
At the recent home dedication of the 2018 CEO Build home, the 2019 CEO Build Honorary Chair Doug Fash, Founder and CEO, Sunflower Landscaping and Maintenance was announced. During the ceremony the "hammer" was literally passed to him from CEO Build Honorary Chair predecessors, Paul Adkins, Chairman, Florida Peninsula Insurance Company and Jerry Fedele, President and CEO, Boca Raton Regional Hospital.  Under Fash's enthusiastic leadership, this year's CEO Builders continue the tradition as community-minded trailblazers who will collectively celebrate and harness the unstoppable power of corporate leaders to come together to help transform their community with an inspiring "hand-up, not a hand-out". By helping to break the poverty cycle for a new family, they will collectively make an indelible impact on the community.
As part of this signature annual fundraising event, the 100 CEO Builders will not only help donate or raise a minimum of $2,500 each to help underwrite the construction materials for the "House that CEOs Built", but also participate in the hands-on building of the home.  It is a unique concentration of South Florida's C-Suite leadership in a completely different and rewarding environment.  They will don hard hats and participate in a full scope of building on the home alongside the Habitat Partner Family who will reside in the home they are building in Boynton Beach. They will do this all while getting the chance to learn new carpentry skills, or perhaps hone the skills they may already have. No building experience is necessary; CEO Builders will work under the guidance of HFHSPBC construction professionals alongside the future Habitat homeowners.
CEO Build Helps to Break Challenging Economic Cycles
Since 100 percent of monies raised from the HFHSPBC CEO Build event underwrite the construction materials for the home they are building, these funds are critical to the Habitat "Fund for Humanity" program that helps hard-working, low-income families in the South Palm Beach County community who have been unable to get ahead by qualifying for traditional bank mortgages. When Habitat homeowners qualify for interest-free mortgages, they earn their homes through "sweat equity" programs (250 hours spent helping to build other Habitat Partner Family homes) and financial literacy and homeownership maintenance classes (100 hours) that help change the trajectory of entire families for generations because they are the first in their family line to achieve homeownership.
Proceeds from HFHSPBC's two ReStores, located in East Boca Raton and Delray Beach, support increased financial literacy curriculum classes, new homeowner education and home care maintenance programming, plus education scholarships for children of homeowners to restore hope by breaking challenging economic cycles. Habitat homeowners become taxpayers and engaged citizens who strengthen the community.
To date, the roster of CEO Builders include:
2018 CEO BUILD Honorary Chair
Doug Fash, Founder and CEO, Sunflower Landscaping and Maintenance
"Lead by Example" HFHSPBC Leadership

Randy Nobles, HFHSPBC President & CEO
Scott Sullivan, Senior Vice President, Wealth Management, Raymond James
and HFHSPBC Board Chair
Rick Howard,  CEO, Sklar Furnishings, the presenting sponsor of the CEO Build Home, and HFHSPBC Immediate Past Board Chair and
Doug Mosley,  Executive Director, Boca Raton Bowl and HFHSPBC Board Member
Leon Silverstein, CEO, Aldora Aluminum and HFHSPBC Board Member
Cheryl Budd, President, Budd Solutions and HFHSPBC Board Member
Jason Katz, CFO, Hill York and HFHSPBC Board Member
Doug Simms, CFO, Kaufman Lynn Construction and HFHSPBC Board Member
Robyn Raphael-Dynan, Vice President of Operations, RCC Associates

Paul Adkins, Chairman, Florida Peninsula Insurance Company,
Jerry Fedele, CEO, Boca Raton Regional Hospital and 2017 CEO BUILD Honorary Chair
Penny Schaffer, Market President/South Florida, Florida Blue
Troy McLellan, CEO & President, Boca Raton Chamber of Commerce
Clara Bennett, Executive Director, Boca Raton Airport
Patricia Maczko, Regional Manager and Florida Market President, Comerica Bank
Charles Deyo, CEO & President, Cendyn
Jason Hagensick, President & CEO, YMCA of South Palm Beach County
Ken Lebersfeld, CEO, Capitol Lighting
Gary Press, CEO, South Florida Business & Wealth and Lifestyle Media Group
Jesse Flowers, Community President, CenterState Bank
Bonnie Kaye, Founder & President, Kaye Communications Marketing & PR
Tim ​Snow, President, George Snow Scholarship Fund
Michael Orr, President, Minuteman Press
Sal Saldana, General Manager, Town Center at Boca Raton
John Tolbert, President, Boca Raton Resort and Club
George Petrocelli, Director of Catering, Boca Raton Resort and Club
Joe Martin, Vice President, Allegiance Home Health & Rehab
Jay Whelchel, Principal, Whelchel Partners
How to Register and Fundraise
To participate, each "CEO Builder" must commit to fundraise or donate $2,500 via the designated HFHSPBC CEO Build campaign website. Once registered as a CEO Builder by hitting the CEO Build tab at the top of the homepage of www.habitatsouthpalmbeach.org, participants can create their own fundraising page.  If someone cannot commit to being a CEO Builder, they can support a CEO Builder featured on the dedicated fund site.
HFHSPBC, headquartered at 181 S.E. Fifth Ave., Delray Beach, is a nonprofit 501(c)(3) organization that brings people together to build homes, community and hope in the cities of Boca Raton, Delray Beach and Boynton Beach, Florida. The nonprofit depends
upon volunteer labor and tax-deductible donations of money, materials, services and property to fulfill its mission.
To learn more about the HFHSPBC CEO Build, register as a builder and/or team leader and/or recruit volunteers to help fundraise and build, sponsorship opportunities and the kick-off event, contact James McLelland, HFHSPBC Manager, Resource Development & Marketing at [email protected] or 561.819.6070 ext. 208. To learn more about HFHSPBC, its home dedications, its events and activities, home build sponsorship and year-round volunteer opportunities as well as donating to or shopping its home Improvement center thrift shop ReStores in East Boca Raton and Delray Beach, visit www.habitatsouthpalmbeach.org.