DoubleTree by Hilton, AWH Partners and The Lane Organization
Announce Multi-Million Dollar Renovation of Iconic Boca Raton Hotel

Waterstone Resort & Marina – a DoubleTree by Hilton
to Debut this Winter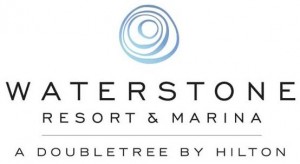 BOCA RATON, Fla. (July 30, 2013) – DoubleTree by Hilton, AWH Partners, LLC and The Lane Organization, LLC today announced the launch of a dramatic renovation of the Boca Raton Bridge Hotel, a waterfront hotel in Boca Raton, Fla, scheduled for completion in late 2013. The hotel's transformation will be centered upon a bold redesign and new name that celebrates its distinctive waterside location – Waterstone Resort & Marina – a DoubleTree by Hilton. The property will continue to be managed by Spire Hospitality.
"The Waterstone Resort & Marina – a DoubleTree by Hilton will offer the perfect convergence of forward design, intuitive hospitality and casual waterfront comfort," said Matthew Lane, principal, The Lane Organization, LLC. "The strength of the DoubleTree by Hilton name and reputation, combined with the power of Hilton Worldwide's global channels, bring tremendous value to this resort."
Gensler, a global design and architectural firm, has been commissioned for the reinvention, which will include a stunning lobby that evokes a heightened sense of arrival, and upgrades throughout guestrooms and public spaces to reflect the property's signature waterside locale. Unveiling a 270-foot wraparound seawall and dock dubbed the "waterfront promenade," Waterstone Resort & Marina – a DoubleTree by Hilton offers the only "dock to dine" option in Boca Raton with the opportunity to arrive by boat and dine on the water at the resort's outdoor restaurant. The new promenade will flank the property's Lake Boca perimeter while providing direct access to the Atlantic Ocean.
Waterstone Resort & Marina – a DoubleTree by Hilton is ideally located on the Intracoastal Waterway among pristine beaches, championship golf courses, world-class dining, upscale shopping at the Boca Raton Town Center and village-style shopping in downtown Boca Raton. Located one block from the beach, the hotel will unveil a new outdoor pool area, expansive meeting and event space, and on-site watersports and bicycle rentals. All of the hotel's 128 guest rooms and 11 suites offer private balconies with panoramic waterfront views.
"With its boutique-style appeal and proximity to key leisure destinations in Boca Raton, this hotel is ideally-suited to join the DoubleTree by Hilton portfolio," says John Greenleaf, global head – DoubleTree by Hilton. "The Waterstone Resort & Marina – a DoubleTree by Hilton is a perfect testament to the unique, upscale hotels offered across our collection."
Following the renovation, guests will enjoy DoubleTree by Hilton brand exclusives, including the welcome of a warm chocolate chip cookie presented to each guest upon arrival, the Wake Up DoubleTree Breakfast™, gourmet in-room tea and coffee offerings from The Coffee Bean & Tea Leaf®, a refreshing array of CITRON body care products by Crabtree & Evelyn and an industry-recognized service culture which is built around the idea of CARE (Create a Rewarding Experience) for guests, team members and the community. Guests can earn and redeem points through the Hilton HHonors guest loyalty program. Gold and Diamond level members will receive complimentary breakfast and high speed Internet access during their stay.
For more information about Waterstone Resort & Marina – a DoubleTree by Hilton, visit www.waterstoneboca.com or call 866.909.2622.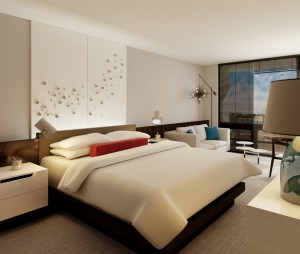 About AWH Partners, LLC
AWH Partners, LLC ("AWH") was formed by alumni from Blackstone and Related to invest in, develop and manage various hospitality-related ventures. Since 2009, AWH and its principals have completed in excess of $200 million of hotel investments, and have managed hotel redevelopment projects totaling more than $75 million. In early 2012, AWH acquired Lane Hospitality, a top-tier national hospitality platform formed in 1980, to expand AWH's capabilities in the hospitality sector by aligning its institutional investment expertise with Lane's first class operating platform and industry-leading executive team. In May of 2013, AWH rebranded Lane: Spire Hospitality. For more information, visit www.awhpartners.com.
About The Lane Organization LLC
The Lane Organization LLC ("Lane Organization") was founded by Clifford P. Lane and his son Matthew in 2011. Focusing on luxury hotels, the Lane Organization enters into cities to reposition assets and team up with management firms who can assimilate to their locations while standing out amongst the competition. The Lane Organization emphasizes building strong partnerships while maintaining the company's core ideas, beliefs, and values to ensure the success of all of its properties. For more information please visit www.thelaneorganization.com.
About Spire Hospitality
Spire Hospitality offers expertise in all facets of hospitality management and is committed to preserving, protecting and enhancing the value of hotel real estate. For more information, visit www.spirehotels.com.
About DoubleTree by Hilton
With a fast-growing, global collection of more than 350 upscale hotels in gateway cities, metropolitan areas and vacation destinations across six continents, every little thing we do at DoubleTree by Hilton inspires us to create a rewarding experience for our hotel guests, our team members and the communities we proudly serve. Our hospitality begins with a warm chocolate chip cookie welcome upon arrival and continues with the award-winning Hilton HHonors® guest loyalty program, an array of fine services and amenities and our longstanding CARE Culture tradition that empowers more than 65,000 team members to provide the special comforts and acts of kindness that make the traveler feel human again.
EDITOR'S NOTE:
What this announcement means to Boca Raton:
First and foremost, the most significant benefit is the transformation of a blighted property in a spectacular location into beautiful luxury boutique property that will now fit the affluent neighborhood it is positioned in, and now offers more of the benefits of a destination resort with new improved waterfront amenities not previously available.
Name change was critical to re-position the hotel in the consumer and business travel and leisure industry as a totally new four-star hotel experience–not just a re-vamp of a previous property. The new name gives the property a fresh, "brand" new slate with a new product on various levels, separating it from previous travel planner and other recommender impressions, online guest reviews.
This is a soft branding with the Waterstone Resort & Marina name headlining all the marketing efforts with a Doubletree by Hilton tagline announcing the affiliation… whereas the typical brand affiliation is headlined DoubleTree by Hilton.
Doubletree by Hilton affiliation:

Gives more exposure globally for Boca Raton via brand marketing, news and social media, promotions, SEO
Increases destination marketing via international multi-brand reservations system and loyalty programs, such as Hilton HHonors®, etc.
Generates stronger business and leisure guest occupancy year 'round resulting in:

increased local spending by hotel guests
exposure to potential buyers of residential and commercial real estate
IMPORTANT NOTE: More than 40% of the rooms business experienced in the DoubleTree Brand is Hilton HHonors® guests. This loyal percentage is huge, and a segment of the business the Bridge Hotel did not previously experience. Having the Hilton HHonors® frequent stay awards program now being available at the Waterstone Resort & Marina will have an extremely positive impact on attracting new leisure, destination-oriented clientele, as well as the numerous corporate HiltonHHonors® travelers participating in the points program…that ultimately results in business to the community.

Increases already established collaborative synergy with Waldorf Astoria Collection: locally the Boca Raton Resort & Club