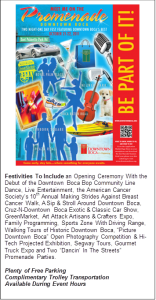 The festival-style event commemorates the recent completion of the $5 million construction of the Boca Raton CRA's enhancement program and the new Downtown Boca Pedestrian Promenade that has created a new destination hub at its centrally located Sanborn Square Park. The new reconstructed paved streets and widened sidewalks strengthen the physical and experiential connection and enhance and promote walkability between the south and north ends of Downtown Boca. With the strategic installation of new pop-up bollards that can easily be raised to close off the streets around Sanborn Square, the new hub provides yet another great outdoor event locale within Downtown Boca for both private and commercial rentals and community activities.
"Meet Me On The Promenade is the perfect example of successful public/private partnership engagement as is hosted by the CRA; developed and implemented by the City's branding and marketing consultants; produced by City staff; supported by the connectivity, participation and collaboration of Downtown Boca businesses and completely underwritten by community stakeholders and partners who understand the important impact a vibrant Downtown community has on lifestyle and economic benefits for an entire community and destination," said Boca Raton Community Redevelopment Agency (CRA) Chair and City Council Member Constance Scott.
In the Sculpture Garden adjacent to Gallery 22, Yaacov Heller will be partnering with the Boca Symphonia and Rotary Club, in conjunction with DowntownBoca.org, for an event that will include sculpture, painting, live and silent auctions, and music. They are planning exhibits all season long, one per month, in conjunction with music and entertainment in the Sculpture Garden.
Complete with a driving range and golf tips by pros hosted by the Allianz Championship, fitness classes and activities hosted by Beehive Fitness and the Peter Blum Family YMCA, visits from South Florida sports team mascots, and more.
Showcased every Saturday at Royal Palm Place from October to May at the intersection of South Federal Highway and South Mizner Boulevard, Boca's GreenMarket is dedicated to local food production and consumption produce that travels from farm direct to the dining table…and through the process supporting the Florida agricultural industry and the economy of our south Florida area. Available for purchase will be fresh locally-grown fruits and vegetables as become available in their individual growing seasons—along with fresh herbs, soaps & lotions, juices, potted orchids, ocean shells, fresh cut flowers, assorted variety of plants, fresh baked goods, prepared foods, oils & vinegars, gourmet foods, hydroponic and organic foods, fresh fish and seafood, fresh pasta, doggie treats.
Attendees can sign up for guided Boca Raton's Historic Downtown at the Welcome Center-Sanborn Square. Guided tours will be given on Saturday at 10:00 a.m. and 2:00 p.m. For those wanting to venture out on their own, a self-walking tour pamphlet will also be available at the Welcome Center and all Downtown Boca Information Booths. Boca Raton's historic downtown is located along East Boca Raton Road from Sanborn Square to Mizner Boulevard. Built mostly in the Mid-Century architectural style and complimented by Mediterranean Revival neighboring structures, this one-block area once thrived as a daily shopping mecca for residents and as a social gathering place for the town. On the tour, you will learn about the people who built the buildings and who had businesses in the area. You will see the buildings that held the old post office, the first department store, one of the first appliance stores, the popular sundry and lunch hangout, barber shop, and the home of prominent citizens who built Town Hall and who began the Boca Pops.