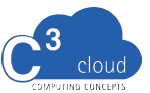 September 3, 2013 (Boca Raton, FL) – Cloud Computing Concepts (C3) has retained South Florida-based Kaye Communications, Inc. as its official public relations and marketing firm of record. Kaye Communications will be tasked with enhancing C3's brand positioning and messaging, developing multi-channel broad-based B2B communications initiatives, interfacing with media, managing online and social media marketing, and broadening support for the Company's community engagement initiatives. Additionally, Kaye Communications' president and Chief Strategist, Bonnie Kaye, will join C3's Advisory Board.
C3 is headquartered in Palm Beach County, and provides both Cloud-based and on-site technology solutions, services, and management for organizations nationwide. Somewhat unique among Cloud providers, C3 offers clients the choice of Hosted Cloud, on-site Cloud, or Hybrid Cloud, thus enabling the development and deployment of true client-driven solutions. C3 currently operates hosting data centers in Boca Raton and New York City, with a third to be announced very shortly.
C3 is a fast growing and award-winning firm that was recently invited to join the South Florida Digital Alliance as the only Cloud-based and custom IT service provider in the state.  Further, C3 was recently ranked as number 84 among the world's top 100 cloud service providers (CSPs) in the Nine Lives Media's second-annual Talkin' Cloud 100 report, and was recognized as a 2012 Florida Company to Watch by the Florida Economic Gardening Institute (GrowFL) at the University of Central Florida. Awards such as these demonstrate C3's intent and capacity to grow, exceptional entrepreneurial leadership, sustainable competitive advantage, outstanding corporate culture, inspired community giving and other notable strengths.
Rick Mancinelli, Founder and CEO of C3, explained that the selection of Kaye Communications was based on several factors including their strategic approach to communications; demonstrated brand messaging capabilities; established business, civic and nonprofit relationships; proven media relations track record; and social media expertise. "IT often comes across as way too techy for even the most savvy of business owners, and Kaye Communications understands how to not only identify niche opportunities and reach new prospects, but they can convey our true value in a way that everyone can understand," reported Mancinelli. "Already an established user of our Cloud and IT support services, the entire Kaye Communications team is uniquely positioned to communicate C3's many advantages to the broader market."
Chief Strategist for Kaye Communications, Bonnie Kaye noted that, "The integrated PR and marketing landscape has dramatically changed with the reduction of traditional channels and the introduction of new mediums seemingly by the minute. With the Cloud era firmly upon us, the technology world is going through a similar transformation.  Success in either field largely depends on the other, and in C3, we have found not only a new client, but also a new partner."
"Since tomorrow was yesterday, it is important to embrace and empower firms which help clients meet whatever future challenges they may face," notes Jon A. Kaye, Chief Marketing Strategist at Kaye Communications. "C3 is one of those firms because they listen to the individual needs of a client and create custom solutions which solve that client's particular challenges. C3 has been instrumental in advancing the technology for many types of organizations, including law firms, charter aircraft operators, public and private schools, financial consultants, and others that require uninterrupted communications, sales, and business operations.  We are simply thrilled to be working with them!"
ABOUT C3
Cloud Computing Concepts (C3) cost effectively brings enterprise grade cloud computing technologies, services, and support to small and medium sized businesses nationwide. C3's cloud based approach eliminates the need for substantial IT related capital investments. Instead, C3 provides on-demand access to computing resources, flexible pay-as-you-go billing, and expert on site support. The C3 solution immediately drives down IT costs, increases stability, enhances security, provides for employee mobility, is environmentally friendly, and ensures business continuity in the event of a disaster. Further information is available at www.c3office.com or by calling 561.939.4035.
ABOUT KAYE COMMUNICATIONS
Kaye Communications, Inc. is an award-winning, "seriously strategic!" integrated public relations and marketing firm that empowers companies of all sizes to grow and dominate their marketplace. The firm develops and implements distinguishing "game changing" brand strategies; multi-channel communications programs; relevant messaging and original content development, and alliance-building and community engagement initiatives (identification, initiation, cultivation and management) for local, regional, and national clients.  Practice areas include "think tank" counsel and implementation for brand re-visioning and launches; consumer, B-to-B, and destination marketing; media relations; digital, online and social media campaigns; and crisis/reputation management communications supported by strategic copy writing and full-service graphic design, including website design and build. Clients include public and private businesses, entrepreneurs, purveyors and retailers of consumer products and services, hotels/resorts/private clubs and restaurants, healthcare providers, commercial and residential real estate developers and trusts, financial services firms, professional service firms, entertainment companies, cultural arts venues and government agencies.
#####