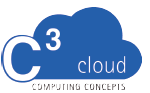 Cloud Computing Concepts
(C3), a leading provider of Cloud-based and on-site technology solutions, services, management and disaster recovery for organizations nationwide, today announced its appointment of William P.
Mulcahy
as COO, effective February 1st.
Drawing from expertise and experience honed through his demonstrated C-suite executive and industry leadership throughout his 29+ year career, Mulcahy will be in responsible for directing C3's daily operations, driving revenue, building industry and customer relationships and guiding C3 through its continued growth. He
will report to C3 CEO Rick Mancinelli.
Prior to joining C3, Mulcahy served as the COO of BCN Telecom, Inc. for 11 years, responsible for planning and managing the telecom company's operations following a tenure as VP of Technology and New Ventures. With a track record of developing processes and procedures to increase overall operational performance, Mulcahy also founded/co-founded two start-up Internet companies that provided advanced services based on multimedia technology, serving global clients such as AT&T, Boeing, Goldman Sachs and Reuters.
"We are delighted to have Bill join our team at this exciting, pivotal time in the evolution of our company," said Mancinelli. "The COO role in a burgeoning IT company in an ever-changing industry is a significant one to fill, and we are fortunate to have Bill with his extensive experience, leadership and diverse array of skills and technical capabilities guiding us through our next phases of development."
"As a former COO and company founder in the technology industry, I understand the necessary operations and service culture and deliverables that C3 needs to capture and maximize opportunities that best serve its clients while growing its own market share," said Mulcahy. "Rick and his C3 team are respected trailblazers; I look forward to helping the organization to develop and deliver even more IT innovation while expanding operations and relevant services platforms for strategic growth."
Mulcahy's appointment at C3 follows the recent relocation of
the firm's headquarters to Delray Beach, in the heart of the city's downtown district. The new penthouse level facility includes a 24/7 Network Operations Center, a state-of-the-art technology demonstration lab, and several additional seats for C3's expanding technical support team.
C3 cost-effectively brings enterprise grade cloud computing technologies, services, and support to small and medium sized businesses nationwide. Its cloud-based approach eliminates the need for substantial IT-related capital investments. Instead, C3 provides on-demand access to computing resources, flexible pay-as-you-go billing, 24/7 remote support, and expert on-site support. The C3 solution immediately drives down IT costs, increases stability, enhances security, provides for employee mobility, is environmentally friendly, and ensures business continuity in the event of a disaster. C3 provides clients a choice of Hosted Cloud, On-site Cloud, or Hybrid Cloud, thus enabling the development and deployment of true client-driven solutions.
C3 was recently tapped by the South Florida Digital Alliance (SFDA) as the only Cloud-based and custom IT service provider in the state. Further, C3 ranks as one of the top fie 2013 Fast Tech companies in region by South Florida Business Journal and as number 84 among the world's top 100 cloud service providers (CSPs) in the Nine Lives Media's second-annual Talkin' Cloud 100 report. In addition was recognized as a 2012 Florida Company to Watch by the Florida Economic Gardening Institute (GrowFL) at the University of Central Florida.
To learn more about C3 and how its unique combination of Cloud-based solutions and on-site support can help organizations grow and prosper, visit www.c3office.com or call (561) 939-4035.