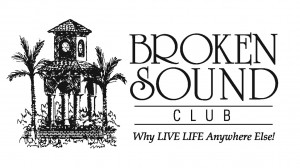 Broken Sound Club — a 5-Star Platinum Club of America — is pleased to announce that its Moonstone Spa and Fitness Center has been awarded LEED® (Leadership in Energy and Environmental Design) Certification from the U.S. Green Building Council (USGBC) for its 2013 total transformation and reorientation at the Club's 38,000-square-foot Spa and Fitness Center. Developed by the USGBC, LEED® Green Building Rating System is the internationally accepted benchmark for the design, construction and operation of high performance green buildings.
To achieve a high standard of excellence in green building Broken Sound Club collaborated with an award-winning, credentialed team throughout the design, construction and operation development phases of the $7 million transformation and expansion of the spa and fitness center. Supervised by Broken Sound Club leadership, the team included Peacock + Lewis Architects, RGD & Associates (Engineers), Weitz Construction, Land Design South, Caulfield & Wheeler, The Spinnaker Group and American Leisure.
"I am convinced that Clubs can be at the front of the push for sustainability and set an example for other communities and businesses," stated John Crean CCE, General Manager and Chief Operating Officer at Broken Sound Club that also boasts two GEO CertifiedTM and Audubon Sanctuary Certified signature golf courses. "Our goal at Broken Sound Club — from our two clubhouses and dining facilities to our golf courses and recreational facilities — has always been to reduce adverse impact on our surroundings and make a significant difference. Earning LEED Certification for our Moonstone Spa and Fitness Center validates that we take sustainability seriously and are steadfast in our mission."
LEED Certification is the most popular and widely used green building rating system globally. It provides independent third-party verification that a building, home or community was designed and built using strategies aimed at achieving high performance in key areas of human and environmental health: Sustainable site development, water savings, energy efficiency, materials selection and indoor environmental quality.
The Moonstone Spa was inspired by the mystical healing power of the stone for which it is named, the 13,100-square-foot spa was conceptualized by Peacock + Lewis Architects with treatment concepts and protocols, product selection, and operational fluidity created by American Leisure.
Designed in warm natural tones, the spa features six treatment rooms, a "Moonstone Suite" couples room, men's and women's locker rooms with showers, steam rooms, and whirlpools. Its Relaxation Rooms, one for men and one for women, offer the comfort of custom lounges, quiet lighting, and calming scents, as guests retreat and enjoy sipping on a hot tea, fruit water and other nutritious indulgences prior to a treatment or service.
The diverse menu of services and treatments includes signature massages, facials, and wraps using cutting-edge esthetics equipment and natural products for women as well as a special "men's only" spa treatment and services menu that includes traditional barber services and manicure and pedicure options. For women there is a 2,200-square-foot salon with stylist, two hair blow dry bars, two princess rooms for private pampering, and manicure and pedicure treatments.
Just outside the door of the spa is the 7,000-square-foot state-of-the-art fitness center offering the latest in fitness equipment, along with scheduled group classes in aerobics, Zumba, cardio kickboxing, tai chi, yoga, Pilates, sculpting, and children's fitness classes in two exercise studios, and by-appointment private training sessions. The fitness center is equipped with 15 elliptical machines, 12 treadmills, 2 stair steppers, 11 recumbent bikes, a weights circuit of 20 machines, and TRX multi-mount monkey bars. Its dedicated Pilates area is furnished with six different types of equipment
A special 2,500-square-foot section of the fitness center is devoted to wellness services, offering convenient on-site physician consultation, physical therapy, and lecture rooms.
For more information on Broken Sound Club, its residential villages, and club membership program, visit www.brokensoundclub.org, facebook/brokensoundclub, or contact the Director of Membership at (561) 241-6820, or [email protected].
About Broken Sound Club:
Whatever one's passion or interest…their active enviable home life, business life, sporting life, and social life complement each other perfectly at Broken Sound Club. Known as the "friendly" club for its signature blend of warmth, elegance and genuine hospitality, this award-winning private gated golf and country club community offers a choice of 27 lushly landscaped intimate residential villages, each with its own character. All are just minutes away from its main 100,000-square-foot clubhouse with indoor and outdoor dining, and two GEO CertifiedTM (the international mark of sustainability assurance of the Golf Environment Organization) and Audubon Sanctuary Certified signature golf courses (one host to the PGA Champions Tour's season opener: the Allianz Championship). This 5-Star Platinum Club of America, also features a two-acre poolscape with bistro, a 38,000-square-foot spa and fitness center and 23 tennis courts. A designated Distinguished Emerald Club and one of "America's Healthiest Clubs", Broken Sound Club is conveniently located to two international airports and, just a few miles from the private Boca Raton Executive Airport, Boca's burgeoning Class A office parks and vibrant Downtown, pristine beaches, A-rated public and award-winning private schools, two universities and one state college, sports arenas and stadiums, and an exciting world of shopping, dining, art and culture, recreation, and nightlife.