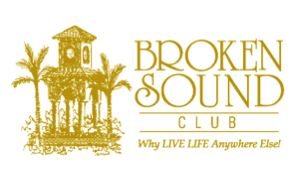 Broken Sound Club (BSC), a 5-Star Platinum Club of America, is the only private club in Florida to be recognized in the 33rd annual United States Tennis Association (USTA) Outstanding Facility Awards Program that was established to stimulate high standards in tennis facilities countrywide and to recognize those facilities whose efforts make a positive statement about the vitality of the game.  Broken Sound Club Tennis Director Greg Wheaton will accept the award at the USTA Semi-annual Meeting at the Grand Hyatt Hotel in New York City on Aug. 30.
Broken Sound Club is one of only five private tennis centers nationwide to be recognized as an outstanding facility this year by the USTA. The Club serves as the host site for a number of USTA events and exhibitions with world-renowned tennis players such as Karel Novacek, Jana Novotna, Kevin Anderson, Mats Wilander, Jesse
Levine, Aaron Krickstein, Rod Laver and Galina Voskoboeva. In addition to boasting its own successful junior tennis academy and youth summer program, BSC also provides its neighboring Spanish River High School and Grandview Preparatory School the use of the courts and the facility for their high school matches and practices.
The Club's philanthropic efforts include hosting a number of fundraising tennis tournaments and other sporting events to support charities, including the Make-A-Wish Foundation, Wounded Warrior Project, Donna Klein Academy and Tunnel To Towers Foundation. In addition, Broken Sound is an environmentally friendly club, enlisting energy-saving measures in their construction and daily practices.
"Broken Sound Club has embraced many of our initiatives, including youth tennis utilizing 36- and 60-foot courts, introducing thousands of new players to the sport each year," said Kurt Kamperman, Chief Executive, Community Tennis, USTA.  "It is outstanding tennis facilities like Broken Sound Club that help us grow the game at the grassroots level, and for that reason and so much more, we are proud to recognize Broken Sound Club for its ongoing impact and contribution to the sport of tennis."
The USTA, a not-for-profit organization of 750,000 members, serves as the national governing body for the sport of tennis in the United States and the leader in promoting and developing the growth of tennis at every level, from local communities to the highest level of the professional game. It owns and operates the US Open, the highest-attended annual sporting event in the world, and launched the Emirates Airline US Open Series, linking nine summer tournaments to the US Open. In addition, it owns approximately 90 Pro Circuit events throughout the U.S. and selects the teams for the Davis Cup, Fed Cup, Olympic and Paralympic Games. Its national charitable foundation, USTA Serves, provides grants and scholarships and helps underserved youth and people with disabilities.
"This recognition from the USTA is extremely meaningful for our Club, membership and tennis pros and staff who work daily to introduce, promote and encourage the growth of tennis in our community across generations," noted John Crean, CCE, Broken Sound Club General Manager and Chief Operating Officer.  "We are meticulous about our facilities, passionate about growing the game and dedicated to inspiring and supporting multi-generation play, from youth to seniors."
Broken Sound Club Director of Tennis Greg Wheaten, who is Florida's former number one ranked head tennis pro who competed and ranked as a finalist at the 2012 USTA National Men's 50 Clay Court Championships, noted that intergenerational play is popular at the 23- court center.
"It is very common for our longtime pros to start teaching member's children and grandchildren at a young age and then see them returning from college to join their parents and grandparents in doubles on the court in interclub and community competitions," added Wheaton who received a 2013 "Distinguished Achievement in Leadership" award from BoardRoom Magazine for his excellence in management and dynamic leadership. "Our junior tennis academy and youth summer program continue to grow and thrive, and our active tennis committee is always looking for new ways in which to introduce and engage more members in the game."
To be considered for an award, facilities must be under the jurisdiction of a parks and recreation department, an educational institution, a non-profit corporation, or private or commercially owned and operated facilities that offer both USTA and public programming designed to help grow tennis. Each of the winning facilities was praised for implementing USTA initiatives like youth tennis utilizing 36' and 60' courts.
Facilities were judged upon the following criteria: overall layout and adaptation to site; excellence of court surface and lights; ease of maintenance; accommodations for players, spectators and press/officials; aesthetics; graphics (including the use of signs and landscaping); amenities such as casual seating for spectators, food services and social areas; and the facilities' participation in USTA programs.
Other private tennis centers recognized this year by the USTA include the Army Navy Country Club – Arlington, Va. (Green Facility); Indian Wells Tennis Center – Indian Wells, Calif. (Featured Facility); LifeTime Tennis Lakeville – Lakeville, Minn. and The Salvation Army – Greenville, S.C.
For more information on Broken Sound Club, its tennis program and club membership, visit BrokenSoundClub.org or contact Maureen Schreiber, Director of Membership at
(561) 241-6820 or [email protected].
Cutline: (L-R) Arnaud Delanoe – Junior Program Manager at Broken Sound Club; Erwan Le Ridant – Galina's long-time professional touring coach who runs the high performance group at the Junior Tennis Academy at Broken Sound Club; Galina Voskoboeva; Greg Wheaton – Director of Tennis at Broken Sound Club.