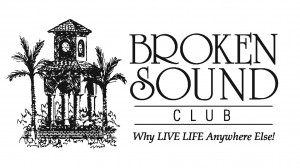 Fitness Institute International (FII) Presented Coveted Award to BSC Director of Spa & Fitness Michael Tompkins and BSC Assistant Director of Fitness Doug Rotondi at Annual FII Awards Ceremony
Broken Sound Club (BSC) Spa & Fitness Center was named the 2013 "Outstanding Fitness Facility of the Year" by the Fitness Institute International (FII). According to FII President & Founder Dr. Anthony A. Abbott, EdD, FACSM, FNSCA, the prestigious FII Merit Award was presented for "setting the standard of excellence and professional service through the employment of a highly credentialed and caring staff with a commitment to providing their members with the safest and most effective fitness instruction along with outstanding personalized exercise programming." He added that the BSC Spa & Fitness Center was also recognized for its unique concern for the health screening of members and the availability of professional medical services.
When presenting the award to BSC Director of Spa & Fitness Michael Tompkins and BSC Assistant Director of Fitness Doug Rotondi, Dr. Abbott noted that this is the first time this honor has been given to a country club spa and fitness center since the award's inception in 1996.
"Broken Sound Club has been a unique contribution to not only the health and fitness of their residents, but also the Club Spa and Fitness Association as well as the fitness industry as a whole," said Dr. Abbott. "We congratulate Broken Sound Club, its Club leadership and the exceptional professionalism demonstrated daily by spa and fitness leadership of Michael Tompkins and Doug Rotondi for their management of a fitness facility that is doing it the right way."
Earlier in the year, BSC — a 5-Star Platinum Club of America — was named as a finalist for the South Florida Business Journal's (SFBJ) 2013 Healthiest Employers Award. The recognition came within weeks of the Club being named one of "America's Healthiest Clubs", scoring the highest overall private club rating to date in the nationwide competition by the club industry's premier wellness expert Prevo Health Solutions, and being named a Distinguished Emerald Club by Boardroom Magazine. Eight members of the administrative staff were also presented with the Distinguished Achievement in Leadership award by BoardRoom Magazine, widely viewed as the most respected and influential magazine in the private club industry.
Named "Moonstone", the spa that opened in April was conceptualized by Peacock + Lewis Architects, constructed by The Weitz Company, and features treatment concepts and protocols, product selection, and operational fluidity created by American Leisure that has developed and managed spa programs for the Spa at Fisher Island, Spa at Williams Island in North Miami, The Spa at the landmark Plaza Athenee, NYC and Setai Club & Spa, Wall Street. The new fitness center offers the latest in fitness equipment, scheduled aerobics classes and by-appointment private training sessions, a dedicated Pilates area, and a state-of-the art spin room with interactive video that would rival any area residential community spa.
"We at Broken Sound Club continually strive to be a trailblazer in the club industry on many levels, with a significant priority on the health and wellness of our members," said John Crean, CCE, CHA, the Club's General Manager and Chief Operating Officer. "We are honored that our new Moonstone Spa & Fitness Center has been recognized by Fitness Institute International, knowing how this award aligns with our Club's core values and commitment to our members."
BSC Director of Spa & Fitness Michael Tompkins – who was presented the Distinguished Achievement in Leadership award by BoardRoom Magazine last month – added that the award "means a great deal to all who call Broken Sound Club home, from employees to residents. Our members' spa and fitness committee, and team of trainers, fitness instructors, spa professionals, food and beverage staff, and even tennis and golf pros collaborate for health and wellness success and it feels gratifying to know that we have been recognized by Fitness Institute International for our expertise and commitment to excellence in service."
"We were so proud to share Dr. Abbott's letter regarding the award recognition with our entire Spa and Fitness team and membership…and now we get to share the Merit Award plaque with them as well as we install it in the BSC Fitness Center for all to see," noted BSC Assistant Director of Fitness Doug Rotondi.
For more information on Broken Sound Club, its residential villages, and club membership program, visit BrokenSoundClub.org or facebook.com/brokensoundliving or contact Maureen Schreiber, Director of Membership at (561) 241-6820 or Maureen_Schreiber@BrokenSoundClub.Org.
About Broken Sound Club:
Whatever one's passion or interest…their active enviable home life, business life, sporting life, and social life complement each other perfectly at Broken Sound Club. Known as the "friendly" club for its signature blend of warmth, elegance and genuine hospitality, this award-winning private gated golf and country club community offers a choice of 27 lushly landscaped intimate residential villages, each with its own character. All are just minutes away from its main clubhouse with indoor and outdoor dining, two Audubon Sanctuary certified signature golf courses (one host to the PGA Champions Tour season opener), a new two-acre $6 million poolscape with bistro, a new $7 million 38,000-square-foot spa and fitness center, and 23 tennis courts. This 5-Star Platinum Club of America is conveniently close to two international airports, and just a few miles from the private Boca Raton Executive Airport, Boca's burgeoning Class A office parks and vibrant Downtown, pristine beaches, A-rated public and award-winning private schools, two universities, sports arenas and stadiums, and an exciting world of shopping, dining, art and culture, recreation, and nightlife.
About Fitness Institute International:
Since its incorporation in 1978, Fitness Institute has been committed to enhancing life through sound education in health and fitness. To date, the Institute has provided for the education and certification of thousands of fitness instructors and personal trainers who in turn have assisted others in improving their personal health behavior. Providing the requisite knowledge base in exercise science and documentation of such training, Fitness Institute offers a premier program of comprehensive education and professional certification. Unlike weekend cram courses, the Institute attracts serious and discriminating students who desire more than cursory instruction and meaningless certification – they insist upon a "first class" education. Its demanding curriculum is taught by professionals with graduate degrees in exercise physiology, nutritional biochemistry and the practice of medicine. Standards are those outlined by the American College of Sports Medicine and the National Strength & Conditioning Association which are the recognized authorities within the field of exercise science. Philosophical and value based concepts are presented within the context of our American heritage and Judeo-Christian values. For more information, visit FitnessInstituteInternaitional.com or call (954) 786-1442.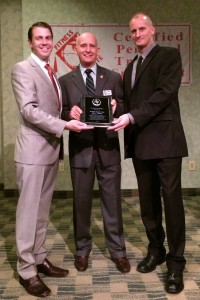 BSC Director of Spa & Fitness Michael Tompkins; FII President & Founder Dr. Anthony A. Abbott, EdD, FACSM, FNSCA; BSC Assistant Director of Fitness Doug Rotondi