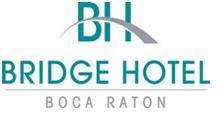 A TASTE FOR EVERYONE AT CARMEN'S AT THE TOP OF THE BRIDGE RESTAURANT DURING THE FALL SEASON OF MUSCIAL LEGENDS
Legends Tribute Show With Johnny T, Dancing With Carl Padilla And Motown Night With Memory Lane
Kick back with the classics and crooners at The Bridge Hotel this October and November with a return to the '40s, '50s '60s and '70s with national recording artist Johnny T, the smooth vocals of Carl Padilla, and the South's best "Motown Review" with Memory Lane. Set amidst the sweeping penthouse-level panoramic views of the Atlantic Ocean and the Intracoastal Waterway from Carmen's Restaurant At the Top of the Bridge, the crooners series features chart-topping favorites from Frankie Valli and the Temptations to Jimmy Buffett and more; coupled with popular gourmet menu selections, it is the perfect nostalgia recipe for enjoying Thursday and Friday evenings this fall.
Every Thursday night in October beginning on the 14th guests can enjoy dinner, dancing and Voices of Legends with Johnny T as he performs his Tribute Show as if he was each original artist, as he sings songs by such icons as Dean Martin, Frankie Avalon and Neil Diamond. Guests can choose from a Prix Fixe Italian three-course themed menu prepared by highly acclaimed award-winning Chef Dudley Rich and show for $49.95 (tax and gratuity included) or show only for $15. Every Friday night in October features Carl Padilla and his eclectic mix of Big Band standards to '70s songs and casual Key West-style songs. On Saturday, November 13th, guests can get into the groove during Motown Night with Memory Lane as they return for an encore after selling out their last performance at Carmen's. Guests can choose from a Prix Fixe dinner and dancing for $40 (plus tax and gratuity).
"Our objective is variety; and for those who are frequent diners and dancers at The Bridge we want to continually offer fresh, exciting, and enticing entertainment," said the The Bridge Hotel General Manager Greg Kaylor. "The combination of the savory Italian menu offered by Chef Dudley Rich with the sounds of Johnny T paying tribute to all these great classic entertainers, dancing with the magnificent surroundings and panoramic views, what a great way to spend an entertaining evening."
To make reservations, check showtimes, and for more information about the Fall Series at Carmen's At the Top of the Bridge, call 561-886-4570, or online at www.bocaratonbridgehotel.com or www.opentable.com.
GREAT FALL ROOM RATES MAKE FOR THE PERFECT DINE & STAY OPPORTUNITY
Guests can extend their enjoyment by taking advantage of the great fall rates at The Bridge Hotel. To book guest room reservations at this dog-friendly, all-balcony waterfront boutique hotel located less than a mile from Boca's pristine beaches and vibrant Downtown Boca , call (561) 368-9500 or toll-free (866) 909-2622, or visit www.bocaratonbridgehotel.com. The hotel is located at 999 East Camino Real in Boca Raton.
#####