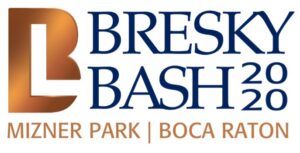 To Benefit Legal Aid Society of Palm Beach County
Evening Headliner "Decades Rewind": A National Touring Music Production, Dance Party and Theatrical Performance
All Wrapped Up in One Blockbuster Show
BOCA RATON, Fla. (August 31, 2019) – To start the new year on a high-energy, "feel good" note, The Law Offices of Robin Bresky invites the public to its Bresky Bash 2020: a "Concert for Community" on Thursday, January 23 at 7 p.m. at the Mizner Park Amphitheater. Benefiting the Legal Aid Society of Palm Beach County (LASPBC), the evening will feature "Decades Rewind", a 90-minute crowd-pleasing, "dancin' in your seats" national touring music production featuring memory-jogging sets of top chart hits from the '80s with a rewind back to the '70s and '60s.
With 60 songs, 100 costume changes, and plenty of big-screen "throwback" video, the show is a music production, dance party and theatrical performance all wrapped up in one blockbuster show featuring rock, pop, disco, funk and Motown favorites from Queen, Billy Joel, Whitney Houston, ABBA, 5th Dimension, Earth, Wind & Fire, Chicago, The Beatles, Michael Jackson, Aretha Franklin, Diana Ross & The Supremes and more. Concert-goers will feel as though they have been transported back to the time when this music was hitting its peak of power, passion, and creativity. All will leave the show feeling uplifted, happy, and energized by this musical journey through time. Food trucks and bar stations will be onsite.
"This 'sing, dance and sway along' evening of unforgettable sounds of rock 'n roll history will be a great new year experience for friends, family and colleagues while shining the bright spotlight on the great work and accomplishments of the Legal Aid Society of Palm Beach County," shared Robin I. Bresky, Esq., founder of The Law Offices of Robin Bresky established in 2000, who serves on the board of directors of LASPBC, is a member of the Florida Bar Board of Governors and a past president of the National Conference of Women's Bar Associations (NCWBA), South Palm Beach County Bar Association (SPBCBA) and the Florida Association for Women Lawyers (FAWL).
According to Bresky, the annual event was created to 1) raise awareness of the LASPBC,  2) increase education on the meaningful work of the LASPBC and 3) raise funds to help expand services to those who need it the most.  Proceeds benefit the LASPBC that is committed to providing high-quality civil legal advice, representation and education to the disadvantaged of Palm Beach County so as to protect their personal safety, enhance their opportunities and living conditions and promote self-sufficiency. Its work helps its clients deal with many of life's most basic needs: a safe home, enough food to eat, a quality education, and protection against exploitation and discrimination.
"We so value this generous initiative by The Law Offices of Robin Bresky in helping us to share the vital, life-changing engagement and impact of the Legal Aid Society of Palm Beach County with the community-at-large," noted LASPBC Executive Director Robert Bertisch, Esq. "Having the added camaraderie with the legal community and collaboration with civic, business and nonprofit leaders in support of The Bresky Bash, makes this a tremendous WIN on so many levels."
Tickets cost $20 per person; One hundred percent of ticket sales and a percentage of food truck and full-service bar purchases benefit LASPBC. To purchase tickets, visit www.BreskyLegal.com. For more event or sponsorship info email breskybash@breskylegal.com or call 561-994-6273.
#   #   #