The 25th Anniversary of Boston Market Brings New Menu Items, Enhanced Guest Experience to America's Kitchen Tables


With Miami-Dade and Broward Conversions To The "New" Boston Market


To Be The First Market Completed In The Chain's National Rollout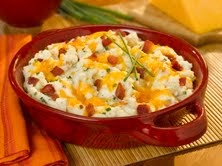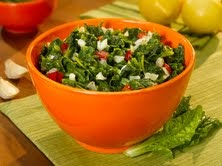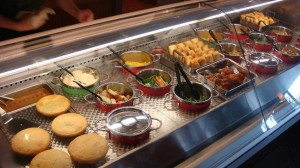 DENVER, CO (October 7, 2010) – As part of Boston Market's 25th anniversary celebration, the restaurant chain announces the launch in Miami/Dade and Broward Counties of a nationwide rollout of upgrades and new menu items designed to significantly enhance the Boston Market guest experience. Following a successful pilot launch earlier this year at 10 locations in the West Palm Beach area, 22 Boston Market locations in Miami/Dade and Broward counties will unveil a new look featuring a warm and inviting atmosphere, with changes such as the replacement of disposable plates and utensils with real plates and stainlessware, and upgraded serving stations to include a Chef's Hot Case and carving stations. The new Boston Market menu features the addition of delicious new entrées and side dishes. Guests will also notice an exceptional level of hospitality from a larger, more attentive staff.
First introduced earlier this year in the West Palm Beach, Florida area from Boca Raton to Stuart, guest counts have increased double digits within the first six weeks and remained at that level since the enhancements. Based on this tremendous success, the launch will be implemented in more than 370 restaurants by the end of the year with the remaining locations to be completed by spring of 2011.
"For 25 years Boston Market has had a respected place on the kitchen tables of homes around the country," said Tony Buford, Senior Vice President of Operations, Boston Market. "For those not able to enjoy our food at home, we now offer the use of our own kitchen table – 'America's Kitchen Table.' We lead busy lives, but we should never be too busy to share a good meal together."
Boston Market begins the conversion rollout in all Miami/Dade and Broward locations to be completed by October 15th, making it the first full market conversion completion in the country. The first 25 visitors to each location at lunch and at dinner on opening days will receive a $25 gift card as part of the restaurant's 25th anniversary celebration.
Specific restaurant enhancements include:
• Guest Experience:
o Increased Staff – More than 2,100 new employees have already joined the Boston Market team nationwide, with 3,000 more positions yet to fill. In Miami/Dade and Broward, Boston Market has created jobs for more than 220 new employees.
o Improved Employee Training Programs – Hospitality and food preparation.
o Addition of Dining Room Ambassadors – Guests will notice a higher level of service designed to make the dining experience more pleasurable in this fast-casual concept.
o New Uniforms – Amplifying the message of quality, the new Boston Market culinarians will wear Chef Whites. Other staff will wear new uniform shirts and bib aprons for a crisp, clean look.
• Food Presentation:
o Chef's Hot Case – One of the most visible changes are colorful enameled stainless steel pots which hold temperature very well. Their small size guarantees that the food will be freshly made.
o Plateware – For guests dining in, Boston Market will serve the food on real plates and stainless steel knives, forks and spoons.
o Hand-Carved-to-Order – Rotisserie Chicken and Oven Roasted Turkey, which have always been carved-to-order, are now carved in stations that are visible to guests.
o Hand-Tossed-to-Order – Fresh entrée salads are no longer grab-and-go, but tossed fresh to order throughout the day.
• New Menu Items:
o Gourmet Sides – Loaded Mashed Potatoes, Garlicky Lemon Savoy Spinach, Squash Casserole, Mediterranean Green Beans.
o Hand-Carved Sandwiches – Rotisserie Chicken Pesto, Oven Roasted Turkey BLT and
All-White Rotisserie Chicken Salad all served on multigrain wheat bread.
o Hand-Tossed Entrée Salads – Mediterranean, Southwest Santa Fe and Asian – Each made with Rotisserie Chicken.
o Soups – Chicken Tortilla and Broccoli Cheese.
o Sauces – Orange Chipotle Glaze, Island Mojo, Zesty Barbecue, Sweet Thai Chili Garlic and Honey Habanero were created to complement the signature Rotisserie Chicken.
o More Healthy Options – Garlicky Lemon Savoy Spinach and Mediterranean Green Beans and have been added to the menu. In addition, Boston Market's home style Rotisserie Chicken now has 20% less sodium and its poultry gravy has 50% less sodium.
Beginning Sunday, October 17, Boston Market locations in the Miami/Dade and Broward area* will offer 25th Anniversary deals to celebrate this important milestone:
• A $4.99 Quarter Dark Rotisserie Meal with choice of two sides has been added to the menu for new every day value.
• The remaining Rotisserie Chicken Meals will feature reduced pricing starting at $5.99 for a Quarter White or Three Piece Dark Rotisserie Meal with choice of two sides, for a limited time only.
As the vision for the new Boston Market becomes reality, the company's leadership has turned careful attention to implementation. Newly-appointed Chief Executive Officer George Michel brings an extensive restaurant and operations background that will ensure efficient execution of the nationwide rollout.
"The investment we're making in physical upgrades and small wares is tremendous, but more importantly, we're making an investment in Boston Market's people and service," said Tony Buford, Senior Vice President, Operations. "We are proud of our new offering but it's more than just paint, pots and poultry – it's the people. The people are the heart and soul of the company, and what makes Boston Market America's kitchen table."
About Boston Market
Boston Market Corporation, headquartered in Golden, Colorado, has been giving time back to busy families and individuals for more than 25 years by offering fresh, home‐style meals in more than 490 locations from coast to coast. Boston Market is a delicious staple of dinner tables across the nation, from fresh, never frozen chickens prepared in signature rotisserie ovens to its extensive selection of high‐quality side dishes. Boston Market offers its guests taste, convenience and value. Its mouthwatering Rotisserie Chicken put quality and wholesomeness on the center of the plate.
Boston Market also is one of the country's largest providers of catering services. Its same‐day ordering and delivery for corporate and personal events of all sizes make Boston Market Catering a welcome relief from traditional sandwich tray selections.
Boston Market's chef-inspired Catered Holiday Buffets feature several packages, including Deluxe, Premium and Create Your Own Buffets. The full menus for Catered Holiday Buffets are available in restaurants and online at http://www.bostonmarket.com/catering. Boston Market also offers no-stress gourmet Heat & Serve Holiday Banquets. Just pick up your chilled meal at any Boston Market, heat for two hours, and it is ready to serve. Heat & Serve Banquet options can be accessed at www.bostonmarket.com.
For more information, visit the company's website at www.bostonmarket.com. For the latest news and deals, follow @bostmarket on Twitter or join our Fan Page on Facebook.
#####
AKT Conversion Dates*
Miami/Dade County:
Aventura-21175 Biscayne Blvd.: Oct. 5th
Cutler Ridge-18601 S. Dixie Highway: Oct. 5th
Coral Gables-3600 SW 22nd Street: Oct. 6th
Doral-8070 NW 36th Street: Oct. 7th
South Beach-1750 Alton Road: Oct. 8th
Miami Lakes/Hialeah-16709 NW 67th Ave.: Oct. 12th
North Miami-16251 W. Dixie Highway: Oct. 13th
South/North Miami-12500 Biscayne Blvd.: 14th
Broward County:
Deerfield-1802 W. Hillsboro Blvd.: 6th
Hallandale-1665 E. Hallandale Beach Blvd.: 6th
Tamarac/Commercial West-3102 W. Commercial Blvd.: 6th
Hollywood-3249 Hollywood Blvd.: 7th
Coral Springs-2525 University Drive: 8th
Weston-1435 North Park Drive: 8th
Pembroke Pines-50 S. Flamingo Rd.: 12th
Tamarac-5815 N. University Drive: 12th
Ft. Lauderdale/Commercial East-1781 E. Commercial Blvd: 13th
Ft. Lauderdale South-1500 South Federal Highway: 14th
Plantation-330 S. University Drive: 14th
Pompano Beach-779 North Federal Highway: 15th
Pembroke Pines/East-8559 Pines Blvd.: 16th