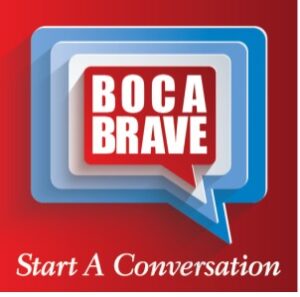 150 City of Boca Raton And Countywide Community, Business, Education, Healthcare and  Spiritual Leaders Embrace Campaign To Advance "Conversation-Starting" Mission
BOCA RATON, FL (July 14, 2014)–More than 150 community stakeholders learned how they can be BOCA BRAVE at Boca Raton's Promise's (BRP) "Shades of Blue" Luncheon to kick-off its new grassroots community awareness and education campaign to break the silence for mental health by starting critical conversations at home, school, work and play. Key campaign objectives are to help reduce the stigma that prevents children and families in crisis to seek help and gain access to much needed mental health services and treatment, raise sensitivity to those in such need, support youth-focused programming, first-responder mental health first aid certification, and raise funds to maximize opportunities to ignite and sustain the vital messaging.
Onboard to learn about and advance the upbeat, youth and family-focused BOCA BRAVE campaign were a cross-section of the community, including leaders in City of Boca, Palm Beach County and state government and agencies; business; healthcare and social services; public and private school education; all Boca Raton-based universities; clergy; service clubs and other nonprofits.  The luncheon program that was led by BRP Co-Founder Rita Thrasher and generously underwritten by Ted and Deborah Bernstein and Life Insurance Concepts, provided riveting insight into the current mental health challenges affecting today's community youth, what BRP has been doing since 2007 to address it, and how all those attending can support the BOCA BRAVE campaign with its branded "conversation" tools that have been created for BRP by Boca Raton-based Kaye Communications Public Relations & Marketing (KCOM).
Following program highlights via video, a YouTube presentation of the campaign's adopted anthem of the chart-topping song BRAVE performed by Sara Bareilles, attendees were asked "How Big Is Your Brave?" as they began the collaborative table discussions with identified conversation starters and pledged their individual and organization support.  These included commitments to host employee Lunch & Learns, register staff or members for mental health first aid training, invite BOCA BRAVE speakers to enlighten at organization and business meetings, underwrite a public service broadcast and print series, join a BOCA BRAVE community event committee and more.
"Through BOCA BRAVE, we are encouraging supporters to say, sing, write, post or share the messaging in their own way," noted KCOM Chief Strategist Bonnie Kaye.  "Since everyone communicates differently, the BOCA BRAVE tool kit is filled with diverse conversation starters. We chose Sara Bareilles's BRAVE to reach across generations as its upbeat music unites, encourages, and inspires while its lyrics are 'spot on'."
Since BRP has ignited collaborative support on "breaking the silence" about mental illness by underwriting the Palm Beach County Action Alliance for Mental Health and assisting initiatives in Boynton Beach, Lake Worth and Delray Beach, Thrasher noted "It is now time for its home community of Boca Raton to 'turn up its volume' with BOCA BRAVE to become a model city on addressing this significant health issue."
In addition to BRP and the Palm Beach County Action Alliance For Mental Health, organizations represented at the "Shades of Blue Luncheon" included the City of Boca; City of Boca Raton Police Services; Palm Beach County Sheriff's Office; The School District of Palm Beach County; Palm Beach County Council of PTA; Florida Atlantic University; Lynn University; Palm Beach State College; Boca Raton Chamber of Commerce; Boca Raton Regional Hospital; West Boca Medical Center; Promise Healthcare; YMCA of South Palm Beach County; Faulk Center for Counseling; Ruth & Norman Rales Jewish Family Services; Schmidt Family Foundation; Bernstein Family Foundation; FAU Foundation; Rotary Clubs of Boca Raton, Downtown Boca, and West Boca; Spirit of Giving Network; Junior League of Boca Raton; P.R.O.P.E.L.; Junior League of Boca Raton; and various physicians, mental health professionals, wellness centers, area churches, synagogues, and public and private schools, and media. Businesses represented included Waterstone Resort & Marina, Coldwell Banker Commercial, Sun Trust, Life Insurance Concepts, Sklar Furnishings, Investments Limited, Croskey Lanni, PC, Kaye Communications, and Duanne Morris LLP.
For more information on the BOCA BRAVE grassroots campaign and Boca Raton's Promise initiatives, visit www.bocaratonspromise.organd click on BOCA BRAVE, "like" Boca Brave on Facebook, follow on Twitter, or call (561) 866-1850 or email [email protected]. For more information about ways in which individuals, businesses, organizations and associations can support the BOCA BRAVE grassroots campaign, programming, events and workshops, funding and sponsorships, contact Jon Kaye at Kaye Communications (561) 392-5166-office, (561) 756-3097-cell or [email protected].