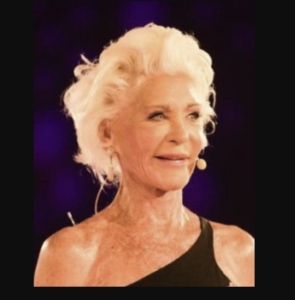 Patricia (Patti) Payne Carpenter, born November 1, 1947, passed away peacefully on August 8th, 2022, surrounded by her family and friends.
A devoted, loving daughter, mother, and grandmother, Mrs. Carpenter is survived by her cherished son, Todd Payne, daughter-in-law, Allison Payne, and granddaughter, Devyn Payne. She is predeceased by her beloved husband William K. Carpenter and mother Eleanor C. Payne. As an ever-present pillar of the Boca Raton community, those who knew her and have worked alongside her on a variety of charitable missions will greatly miss her passionate drive, "hands-on" leadership, genuineness, authenticity, compassion, kindness, generosity of self, signature style, hospitality, and keen sense of humor.
Born in New York City on November 1, 1947 and raised in Riverdale, NY, Patti attended Marymount Schools, The Gerard School for Girls, and The Sacred Heart of Mary Academy.
Since she relocated to Boca Raton, Florida in 1970, Mrs. Carpenter was a devout supporter of many community charitable organizations for five decades. Early on she serving on the Board of Boca Helping Hands and hosting the first major fundraiser for Kids in New Directions (KIND). Mrs. Carpenter served on the regional advisory board for Deliver the Dream, a respite and retreat program serving families facing serious illness or crisis by helping them to enhance coping skills, reduce stress, and cultivate relationships. She has also served as Chair for the Chris Evert Pro-Celebrity Tennis Tournament and twice as Chair of the Lynn University Ball. She also supported the Junior League of Boca Raton that recognized her as Woman Volunteer of the Year in 2001. Mrs. Carpenter has served as President of the Board of the Center for Family Services, South County, was Chair of the 2005 Boca Raton Regional Hospital Ball, and has been involved in many events hosted by the Boca Raton Historical Society.
Mrs. Carpenter graciously opened her home to host countless events for charities, including The Boca Raton Symphonia, The American Cancer Society, The Migrant Association of South Florida, Boca Helping Hands, and The Hospice Building Fund. She eloquently took the floor as a dancer for Boca Ballroom Battle that supports the George Snow Scholarship Fund and stepped up as a Habitat for Humanity Women Builder.
Most notably, Mrs. Carpenter has been a long and trusted supporter of Boca Raton Regional Hospital, graciously and proudly serving as Chair for its annual GO Pink Luncheon for 19 consecutive years. Her voice and well-recognized face helped to grow the community's signature event into one of the most highly anticipated and well-attended women's health and breast cancer awareness gatherings in South Florida. Because of her support, Mrs. Carpenter's tireless efforts have helped Boca Raton Regional Hospital Foundation to raise over $13 million so that the hospital has been able to acquire state-of-the-art technology and equipment to aid in both the detection and treatment of breast cancer, and provide related programs and services. Mrs. Carpenter established the William K. Carpenter Nursing Education Fund at Boca Raton Regional Hospital that supports continuing education, funding for nursing certifications, and tuition reimbursements.​
Throughout the years, Mrs. Carpenter's commitment and dedication to raising the public's awareness of breast cancer prevention has enabled The Schmidt Family Center for Breast Care and the Eugene M. & Christine E. Lynn Cancer Institute to reach tens of thousands of women annually, saving countless lives.
A Funeral Mass will be held at St. Joan of Arc Catholic Church, 370 SW 3rd Street, Boca Raton, FL 33432 on Saturday, August 20 at 11 a.m.  In lieu of flowers, contributions in
Mrs. Carpenter's honor may be made to GO PINK, Boca Raton Regional Hospital Foundation, 800 Meadows Road, Boca Raton, FL 33486.  http://donate.brrh.com/PattiCarpenter