Record-Breaking $96,000 Raised for Medical and Nursing Student Scholarships
Boca Raton, FL (April 4, 2016) — Raising record-breaking funds — topping $96,000 — for medical and nursing school scholarships, this year's Honor Your Doctor (HYD) Luncheon presented by the Rotary Club Downtown Boca Raton honored more than 175 physicians and Medical Professionals with more than 385 in healthcare, community and civic leaders in attendance. The HYD Luncheon funds the Helen M. Babione Medical Scholarship that benefits medical and nursing school students attending four local universities: Charles E. Schmidt College of Medicine at FAU, Christine E. Lynn College of Nursing at FAU, Lynn University and Palm Beach State College.
While each nominated physician and Medical Professional received an appreciation plaque, cardiologist Dr. Philip Oranburg was recognized as the 2016 HYD Doctor of Distinction for generating the most donation votes. He received an engraved platter from Tiffany & Co. as City of Boca Raton Mayor Susan Haynie proclaimed the day March 31, 2016 Dr. Philip Oranburg Day in the city. In addition, engraved crystal "Hospital Hero" Awards were presented to Dr. Louise Morrellby Jerry Fedele, CEO of Boca Raton Regional Hospital and to Dr. Anwar Vardag presented by Mitch Feldman, CEO of West Boca Medical Center.
The program featured remarks from three medical and nursing student scholarship recipients followed by Boca Raton resident Margie Kaye sharing her journey as a heart transplant patient and appreciation for the physicians and staff from Memorial Regional Hospital who performed the critical operation as well as emphasizing the importance of being an organ donor.
This year's Honor Your Doctor luncheon was chaired by Alan Kaye, the founding president of the Rotary Club Downtown Boca Raton.  Honorary Chair was Elaine J. Wold, Helen Babione served as Honorary Advisor with Janice Williams of Matrix Home Care and Dr. Barry Davis, the 2015 Doctor of Distinction, served as Honorary Physician Advisor. HYD Luncheon committee members included,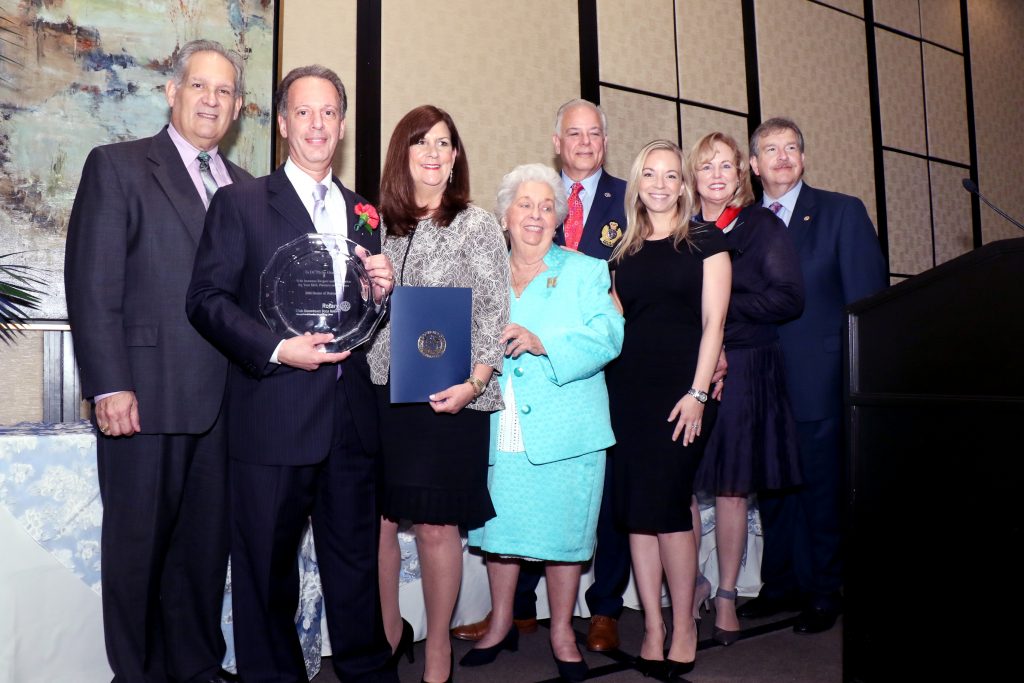 Frank Feiler, Lewis Fogel, Marleen Forkas, Deborah Freudenberg, Ingrid Fulmer, Gary Hickory, Rosie Inguanzo-Martin, Jon Kaye, Steve King, Dr. Allen Konis, Dr. Janne Lomasky, Brian Long, Marsha Mauro, Bill Miller, Penny Morey, Kari Oeltjen, Lynda Palmer, Linda Petrakis, Joe Pores, Dr. Ronald Rubin, Robin Trompeter and Dr. Linsey Willis.
"The patient nomination response this year was unprecedented with more than 175 physicians and Medical Professionals recognized for their medical excellence and successful patient outcomes," said HYD Luncheon Chairman Alan Kaye. "Support builds each year, but the 18th was exceptional with the most doctors nominated, most funds raised and most attendees." He added that the public was invited to nominate their favorite doctor by completing a nomination form available at the  www.rotarydowntownbocaraton.org website and paying $40 per nomination (or $100 for 3 nominations). All nominees were invited to attend the Champagne pre-luncheon reception and luncheon as a guest of the Rotary Club Downtown Boca Raton.
"The Honor Your Doctor Luncheon has become an inspiring tradition in the Boca community that furthers our Club's community health and wellness mission," noted Rotary Club Downtown Boca Raton President Jon A. Kaye.  "Coupled with the addition of our debut this year of the Boca Raton Mayors Ball that benefits the health and wellness needs of Boca Raton's nonprofits, the community continues to embrace our club's initiatives to help make Boca Raton the great place it is in which to live, work, play and educate."
The Rotary Club Downtown Boca Raton founded July 2012 (District 6930 2014-15 Club of the year) is dedicated to impacting the Boca Raton Community through the efforts of "Service Above Self."  Its main mission is Health And Wellness. For more information about the Club, including how to become a member, visit www.rotarydowntownbocaraton.org
Rotary International is a global network of community volunteers. The 1.3 million Rotary members are business, professional, and community leaders who provide humanitarian service, encourage high ethical standards, and help build goodwill and peace in the world. There are over 34,000 Rotary clubs in more than 200 countries and geographical areas that initiate service projects to address today's challenges, including illiteracy, disease, hunger, poverty, lack of clean water, and environmental concerns. Rotarians provide humanitarian service, and build goodwill and peace in the world. For more information visit http://www.Rotary.org