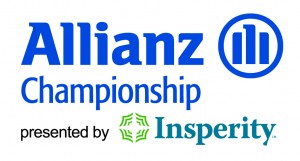 2012 ALLIANZ CHAMPIONSHIP TOURNAMENT
SWINGS THROUGH BOCA RATON,
"CHIPS IN" PROCEEDS TO BOCA RATON REGIONAL HOSPITAL
Eighty-one PGA Champions Tour Players took to the Old Course at Broken Sound Club for 54 holes of stroke February 6-12, 2012 for the 2012 Allianz Championship, all vying for a $1.8 million purse. Spectators were treated to an exciting, down-to-the-wire finish, culminating in two rising stars dueling in a one hole, sudden-death playoff for their first career win on the Champions Tour, as well as many special "events within the event".
2010 U.S. Ryder Cup Captain Corey Pavin won his first Champions Tour tournament in 35 career starts and his first win dating back to 2006, a span of 122 events. Peter Senior birdied the final hole to force a playoff, but Pavin rolled in a 12-foot birdie on the first playoff hole to take home the honors at the 2012 Allianz Championship with

a final score of 205, 11 under par

. Pavin dedicated the win to his late teacher Bruce Hamilton, whom he had worked with since he was 15 years old, on the day that a commemorative bench was named in Hamilton's honor.
In addition to the tens of thousands at the course, more than 83 million national households and 150 million in more than 174 countries tuned into the Golf Channel saw Boca Raton at its best, with all three rounds televised live from The Old Course at Broken Sound Club. Boca Raton hosted the PGA Champions Tour's first full-field event of the season and the first tournament of the early-season Florida swing that included a series of interactive, "up close and personal" pre- and during tournament events for golf fans of all ages, while driving net proceeds to benefit Boca Raton Regional Hospital.
An impressive roster of PGA Champions Tour legends, including defending champion Tom Lehman, 2010 winner Bernhard Langer, Mark Calcavecchia, Fuzzy Zoeller and others teed off to compete for a $1.8 million purse during championship play at the Allianz Championship.
Creating a new Allianz Championship tradition and getting the ladies into the swing of championship golf, LPGA legend with 72 LPGA victories and eight-time "player of the year" Annika Sorenstam gave 36 executive women (nine foursomes) expert golf tips at the start of the second annual Allianz Championship Executive Women's Pro-Am. The event offered the opportunity to participate in a golf and business networking experience like no other while giving all skill sets a chance to play nine holes with a PGA Champions Tour player, as well as a private group clinic with Sorenstam, presented by JM Lexus, followed by an "up close and personal" Q&A session. The events continued with two days of Championship Pro-Am play, with 104 men's foursomes teeing up memorable rounds on the green paired with a PGA Champions
Tour pro.
"It was a great year for all at the Allianz Championship— for players, staff, 600 volunteers and tens of thousands of spectators," said Ryan Dillon, Allianz Championship tournament director. "It was good to have the impressive support of the community with our new GREEN approach."
The tournament aimed to meet ambitious green goals and set green event benchmarks by developing a comprehensive carbon footprint event analysis, taking the initiative to work toward powering the event with renewable energy, and implementing a zero-waste program with education of spectators, players and vendors about the benefits of going green in their daily business and personal spaces. The tournament grounds had 100 recycling bins and 63 signs featuring
"going green" tips to aid in awareness.
More than 100 major sponsors came together to support all aspects of the celebrated week-long event, including Allianz Life Insurance Company of North America, JM Lexus; 3M; Office Depot, Infinity Sales Group/Dish Network, Penn Florida, Konica Minolta Business Solutions, FAU, Kaye Communications, Inc. and more. General admission was free due to the generosity of sponsors.
"Family Day" featured a full schedule of free interactive family activities for all generations, including face painting, a bounce house, putting contests, Don Law golf clinic, children painting their own art on a Lexus vehicle, appearances by South Florida sports team mascots and
much more.
As part of the 2012 Allianz Championship tournament event week, wine connoisseurs and golf enthusiasts got to enjoy a perfect alfresco afternoon with legends of golf while sampling reds and whites from the private wine collections of golf pros' own vineyards while overlooking the 18th green at the third annual "Grapes on the Green" Golf & Wine Experience, presented by the Boca Raton Bridge Hotel. In addition to indulging in the varietals from international vineyards, attendees enjoyed culinary samplings from top area restaurants including Carmen's Top of the Bridge, WaterColors at the Bridge Hotel, Max's Grille, Broken Sound Club, Morton's The Steakhouse, Ruth Chris' Steakhouse and more, appearances by golf legends and a special
VIP experience auction.
Over a dozen nonprofit organizations teed up to participate in the Allianz Championship's second annual "Birdies Fore Charity", a fundraising program in which participating nonprofits solicit pledges from supporters based on the number of birdies made by PGA Champions Tour players during the three-day tournament. According to Allianz Championship Tournament Director Ryan Dillon, participating organizations keep 100% of the pledges collected on their behalf. Nonprofits registered to benefit from participation included 4KIDS of South Florida, AACY-American Association of Caregiving Youth, Audubon International, Autism Society of Broward County, Big Brothers Big Sisters of Palm Beach and Martin Counties, Inc., Boca Helping Hands, Farmworker Coordinating Council of Palm Beach County, Florida Atlantic University Foundation, Inc., Resource Depot, SABR/TOPSoccer, S.B. Idea, Inc., Strategic Business Institute, Take Stock in Children, The Dori Slosberg Foundation and more.
Allianz Life Insurance Company of North America (Allianz Life) had announced that it would be donating $1,000 for every birdie from Allianz-sponsored golfer Tom Lehman at the upcoming Allianz Championship, shared between the southern Florida chapters of Junior Achievement and the Alzheimer's Association. The company donated for each of Lehman's seven birdies during the tournament and added an additional $13,000, bringing the total to $10,000 for each organization. Lehman tallied three birdies on Friday, one on Saturday and three during Sunday's final round, finishing tied for 31st place with a total score of 214. Allianz Life partners with Junior Achievement and the Alzheimer's Association in the Twin Cities because of their focus on organizations that support improving financial literacy and providing services to seniors.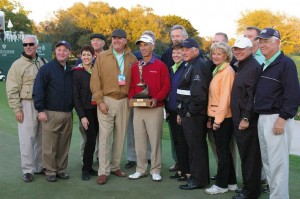 Boca Raton Champions Golf Charities Board of Directors with
2012 Allianz Championship Winner Corey Pavin