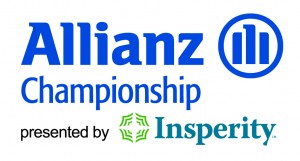 BOCA RATON, FL. (January 4, 2013) – Ryan Dillon, Allianz Championship tournament director, announced today that the PGA Champions Tour tournament will be giving all professional and local amateurs 50 years of age or older one chance to qualify for the Tournament to be held February 4-10, 2013, at The Old Course at Broken Sound.
This Allianz OPEN Qualifier, held at the Seagate Country Club in Delray Beach, Florida, (formerly Hamlet Country Club) will be conducted Tuesday, February 5th and will be available to all touring and club professionals along with local amateurs who are all 50 years of age or older and carry a USGA Index of 3.5 or lower.
"This is a rare chance for local amateurs and professionals to catch lightning in a bottle and test their mettle against the most serious golfers in the area for the grand prize of teeing it up with the legends of the PGA Tour," said Allianz Championship Director Ryan Dillon.
The Allianz Open Qualifier sign up deadline is Friday, January 25th, having a maximum field of 84 and a minimum field of 40 participants with a cost of $400 per participant. If an amateur does qualify for the Allianz Championship, they will have to give up their amateur status for one year, but can reapply after that term.
"We really hope a local golfer qualifies and gets to play in the tournament," added Dillon. "With many PGA Tour careers starting this way, it would be a great bragging right for our community to have one start here with the Allianz Championship."
The Allianz Championship has a purse of $1.8 Million with an economic impact of $15 million to the South Florida area. Last year's winner at the Allianz Championship, Corey Pavin, defeated Peter Senior on the first hole of a sudden-death playoff. The Allianz Championship was Pavin's first Champions Tour victory.
About the Allianz Championship
The Allianz Championship runs from February 4th to 10th, 2013 at The Old Course at Broken Sound Club in Boca Raton. In its seventh consecutive year at The Old Course at Broken Sound in Boca Raton, defending champion Corey Pavin is set to defend his title. Again this year, the Boca Raton Regional Hospital is the beneficiary of the Allianz Championship. The tournament is managed by Pro Links Sports, directing six Champions Tour events on the 2013 schedule, all are continuously voted in the top ten tournaments on the Champions Tour by the players. This reputation has attracted the top 31 of 34 professionals on the money list to Boca Raton along with the golfing legends that are engraved in all our minds. The Allianz Life Insurance Company has been the title sponsor of this tournament since its beginning. For Skybox Tickets and other Hospitality, please call: 561-241-GOLF (4653) or go to www.allianzchampionship.com
Collectively, the Champions Tour has the most recognizable and accomplished players in the game with many of its 30 members of the World Golf Hall of Fame competing regularly in its events and numerous other major championship winners among its members. The Champions Tour is a membership organization of professional golfers age 50 and older. Conceived in 1980 as the Senior PGA Tour, it started with just four events and purses totaling $475,000. Points earned in official Charles Schwab Cup events in 2012 determined Tom Lehman as the Charles Schwab Cup champion, the season-long competition designed to recognize the Champions Tour's leading player. The Champions Tour's primary purpose is to provide financial opportunities for its players, entertain and inspire its fans, deliver substantial value to its partners, create outlets for volunteers to give back, protect the integrity of the game and generate significant charitable and economic impact in communities in which it plays. In 2011, tournaments on all three Tours (PGA TOUR, Champions Tour and Web.com Tour) generated more than $118 million for local charitable organizations, bringing the TOUR's all-time total of charitable contributions to more than $1.7 billion. The Commissioner of the PGA TOUR is Tim Finchem. Mike Stevens is President of the Champions Tour. The PGA TOUR's website is www.pgatour.com, the No. 1 site in golf, and the organization is headquartered in Ponte Vedra Beach, FL.
About Allianz Life Insurance Company of North America
Allianz Life Insurance Company of North America
, one of FORTUNE's 100 Best Companies to Work For in 2013, has been keeping its promises since 1896. Today, it carries on that tradition, helping Americans achieve their retirement income and protection goals with a variety of annuities and life insurance products. As a leading provider of fixed index annuities, Allianz Life is part of Allianz SE, a global leader in the financial services industry with 142,000 employees worldwide. More than 78 million private and corporate customers rely on Allianz knowledge, global reach, and capital strength to help them make the most of financial opportunities.