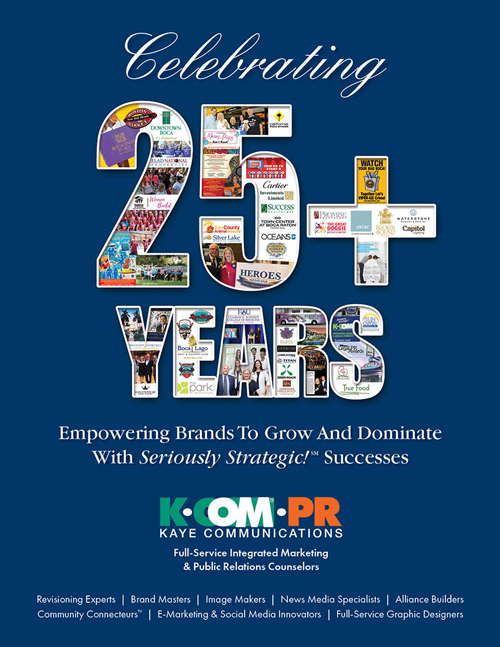 When businesses, nonprofits and destination events seek to launch, grow and dominate their marketplace, they dial the award-winning 561 "Brand Builder" Kaye Communications (KCOM-PR). With a proven 25-year firm track record supported by 65+ years of principal experience in a variety of industries, KCOM-PR has long been a one-stop hub for integrated communications with proven BizGenÔ tools for brand creation, introductions, launches, re-freshments, re-inventions and recovery.
At KCOM-PR, it's never about a single news release, brochure, blog, special event, e-blast or ad…but rather developing and driving a dynamic, multi-pronged communications strategy supported by news-generating brand journalism and long-established strategic alliances and relationships. It's about creating or sharing a brand's story in a way that excites news and feature media and resonates with its customers.
Led by firm principals Bonnie and Jon Kaye, "build-to-suit" account teams work closely with clients to mutually set objectives. Then KCOM-PR identifies a brand's DNA (dynamic news advantage), develops authentic messaging (they call it "writing right") and stewards plan consistency in content, visual branding and community/influencer infusion.
Among those who have engaged the KCOM-PR include City of Boca Raton/Downtown Boca, Boca Raton Resort & Club/The Boca Raton, BRiC, Town Center at Boca Raton, Royal Palm Place (transformation), Park at Broken Sound, ESPN/RoofClaim.com Boca Raton Bowl, El-Ad National Properties, Sklar Furnishings, Capitol Lighting, Broken Sound Club, St. Andrews Country Club, Waterstone Resort & Marina, Boca Raton Mayors Ball, True Food Kitchen, California Pizza Kitchen, Habitat for Humanity SPBC, Tri-County Animal Rescue and Boca Raton's Promise.